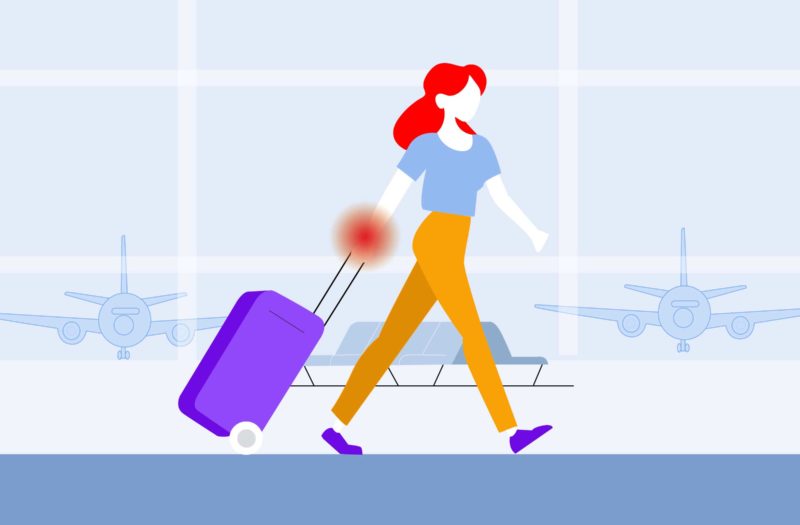 I could not wait for my vacation — 10 glorious days with my girlfriend Sam in Italy. She lives in Newcastle, England, and I live in Palm Springs, California, and we only get to see each other a couple times per year. I can't remember the last time we had that much time to ourselves without family functions, holiday parties, weddings, work events, and random other obligations interrupting our precious alone time.
We planned our trip months ago and were all set for our departure date of March 13, 2020. Flights, hotels, trains, and tours were booked — all non-refundable because, duh, cheaper. I made detailed lists on my phone of the hotspots for cicheti in Venice, mouth-watering truffle and cheese gnocci in Florence, and gelato in Rome.
"Pizza, pasta, panini here we come!" I shouted in a Twitter DM to Sam.
"I need cannoli!" she replied.
"You shall have all the cannoli you want, my Regina!" That's queen in Italian.
I even set up lessons with my Italian-teaching friend Lorena so I could say  "Dove il bagno?" if my rheumatoid arthritis-inspired IBS kicked in.
Yes, most of my plans were food-related. Mangia! I'd even been trying to eat cleaner lately knowing my carb-gluten-sugar-overload in Italy might spark an RA flare. It was worth the risk.
What was not worth the risk was possibly contracting coronavirus and dropping dead because of said trip to Italy.
The First Feelings of Doubt and Fear
Out of the blue, a few weeks ago, I heard the first whispers of a superbug in China. "Fuck Corono virus!" I wrote Sam, spelling it wrong because I was like, they wouldn't name a disease after the most refreshing watery beer, would they?
Next thing I knew, coronavirus had spread like wildfire, a bunch of small towns in northern Italy were under quarantine, the Venice carnival was canceled, and we were all gonna die. Especially the elderly and those with "underlying medical issues" — whatever the hell that meant.
That phrase kept being thrown out there: "underlying medical issues" — along with the stat that 2 percent of people with coronavirus were dying. Two percent was a lot! As I scoured every article coming out about coronavirus, I could not find an explanation for who exactly that 2 percent was. When I saw that somebody died, it might say how old they were, but it never mentioned the underlying issues. Did they have RA? PsA? Diabetes? What!? Tell me!
About a week ago, I wrote Sam, "My mom said today they're already banning travel to and from some countries but I can't imagine they'll do that for Italy." A few days passed. "I haven't heard much coronavirus news today," I DM'd.
Oh so naïve. It was the calm before the storm.
Enter the Storm
Literally, by the next day, coronavirus had seemingly swept around the world and my trip to Italy was in serious jeopardy. Luckily, (I guess?), I happened to have a Remicade infusion scheduled. So I asked my RA doctor if it was safe for those of us with an autoimmune disease to still go to Italy.
"It would be prudent to skip Venice," he told me.
"Okay, so I can still go to Rome and Florence?"
"You have the same chance as anyone else of getting it."
That wasn't reassuring. Then what? He didn't tell me to go or not to go, just reiterated it was "prudent" to avoid the north of Italy. I broke the devastating news to Sam that I wanted to cancel Venice, and her visions of us gliding around Burano in a private gondola, our arms draped around each other in a tender embrace, evaporated just as quickly as the city's recent flood waters. (I realize these are first-world problems but we saved up for a long time to do this trip.)
Sam's young and healthy — not a crippled, chronically ill 50-year-old like me, so my decision to cut bait on Venice did not go over well. Let's just say it took a little more time to respond to this DM message than the cannoli ones.
"I would rather be eaten by a lion in the Coliseum than lose the money," she finally half-joked.
In her defense, Sam has always been so supportive of my RA and all the good times it has ruined. We'd already discussed how, because of my arthritic bum right foot, I might not be able to make it up all the steps of the Duomo or our hilltop palazzo in Positano. How, while she power-walked around The Eternal City, I'd be happy to sit at a café like a local and do cappuccino shots all afternoon. I don't even drink coffee! But I was so excited to try it on this trip because — when in Rome. Sigh.
Now I was asking her to give up her dream of seeing Venice, all because I had a chronic illness and was afraid I was more susceptible to dying from it than 98 percent of the population. But was I? Donald Trump was, at this point, calling it a hoax and information was still scarce. I felt so bad about it, even though we still had Rome and Florence.
From Bad to Worse
Then major airlines started announcing cancellations and refunds, college students on abroad trips got sent home, and corporations banned international travel. It was a few days since my Remicade infusion and I had some of the typical flu-like symptoms it causes, like mild sore throat, body weakness and fatigue. For a hot minute, I was certain I'd contracted coronavirus, even though none had been reported in California yet. What if I had to self-quarantine myself for the next 14 days?
My anxiety kicked into high gear. I sped to Costco and stocked up on toilet paper, bottles of water, and meat. Lots of meat. Maybe some strawberry croissants, too. Have you had them? They're pretty good.
I took my temperature a bunch. Normal. Took a bunch of Tylenol to make sure it stayed that way. And crawled into bed at 8 PM. If I just lie there motionless, I thought, I will stave off coronavirus. I have the power, ohmmmmm.
The next day, I tried to get my money back on my Venice hotel. I only got half, which was total BS, but their economy is in the toilet so I took one for the team. While I was canceling Venice I felt so lame. Like really? I'm not going? I had a better shot at getting struck by lightening — one in 3,000 versus one in 100,000 — than getting coronavirus.
And yet, because I have a low immune system from my RA and the medications I take to treat it, I could not shake the unease I had about the rest of my trip. Millions of people were still wandering around Italy perfectly healthy, gobbling down beautiful little pastries and sipping espresso. It just seemed so silly to be worried.
But I was also concerned I'd never make it back home to the U.S. That I'd get coronavirus and be quarantined for a month on some army base in the Philippines or, God forbid, a cruise ship floating around the Mediterranean while the passengers mutinied. That actually happened. I just saw it on the news: "CRUISE IN CHAOS" was the chyron. I like cruises. But not for weeks on end with backed-up toilets and rubbery eggs from the buffet.
I kept singing the Clash song to myself: "Should I stay or should I go? If I go there will be trouble, if I stay there will be double…." Any time I mentioned to Sam that we might have to cancel the whole trip, I could actually feel her heartbreak beam down from a satellite dish and split me in half.
Crowdsourcing My Conundrum
So I did what any other cold-blooded human being would do in this situation. I posted a question about the Italy trip on Facebook, desperately seeking validation for my inner turmoil from 852 of my closest friends: "Am I being stupid if I go or overly hysterical if I don't go?" I whined.
I got 80 comments, which for fancy Jennifer Aniston might be nothing but for me it was, like, epic. Not one person in the thread said I should go to Italy.
"You are in a higher risk group!" Stephanie screamed.
"It's not worth the risk!" Nancy chimed in.
"It's smart not to chance it, babe!" Chloe offered. Aww, she called me babe.
"Italy will always be there!" my 84-year-old cousin Harriet added.
"Will it add a layer of stress that won't make it fun?" Lisa asked back. Don't answer a question with a question, please!
"Your health is more important than a trip!" urged Phyllis, who owns a hot dog factory so I trusted her the most.
"Don't go," Ann commanded.
Okay, I'm not going to list all 80 responses. You get the idea. I hoped Sam would see my post and understand that it wasn't just me — all Americans were completely cuckoo over coronavirus. In the meantime, the State Department raised the travel advisory level to 3 for Italy, the second highest, which meant "Reconsider all travel to Italy," and the CDC basically was like, "Um, don't go there, you dummy."
Backed by my Facebook army, the CDC, and the State Department, I built up the courage up to tell Sam I did not want to go anywhere in Italy anymore. That I wanted to reschedule for later in the year, when this hopefully died down. No pun intended. Ugh, too soon for coronavirus jokes, c'mon. It was not easy for me to tell Sam. As I mentioned, it's not the first time my RA got in the way of a good time and it wouldn't be the last.
Acknowledging the Unknown
It was impossible to know if either of us would contract coronavirus or survive it. There were too many unknowns and serious questions. So I told her how I felt. In writing, because I'm a coward and we're like a solider and his wife corresponding during the Civil War.
My Dearest Samantha:
 "Honestly, I don't want to go to Italy," I wrote. "I'm uncomfortable traveling right now…I'd rather be alive with you forever than for 10 days in Italy."
And because she's my baby, she agreed.
We canceled the trip.
"It's not your fault but it sucks," Sam replied.
Last I checked, the State Department raised the travel advisory to the highest level, basically forbidding non-essential travel to Italy. People are drowning themselves in anti-bacteria hand soap. I still haven't been able to get my airfare back (you bastards) but all the other hotels agreed to let us come instead in November.
I still have no idea if, as an RA patient, I'm at a greater risk for getting coronavirus or dying from it. The facts are still scarce and Mike Pence hasn't really updated me in a couple days. I do know that my waitress at a German restaurant tonight was wearing gloves and it felt like I was in the opening scene of Contagion.
In the end, bottom line, I made the best decision for my body, mind, and health. Italy will always be there. I will get back there someday. And there will be plenty of cannoli for everybody.
Get Free Coronavirus Support for Chronic Illness Patients

Join the Global Healthy Living Foundation's free COVID-19 Support Program for chronic illness patients and their families. We will be providing updated information, community support, and other resources tailored specifically to your health and safety. Join now.