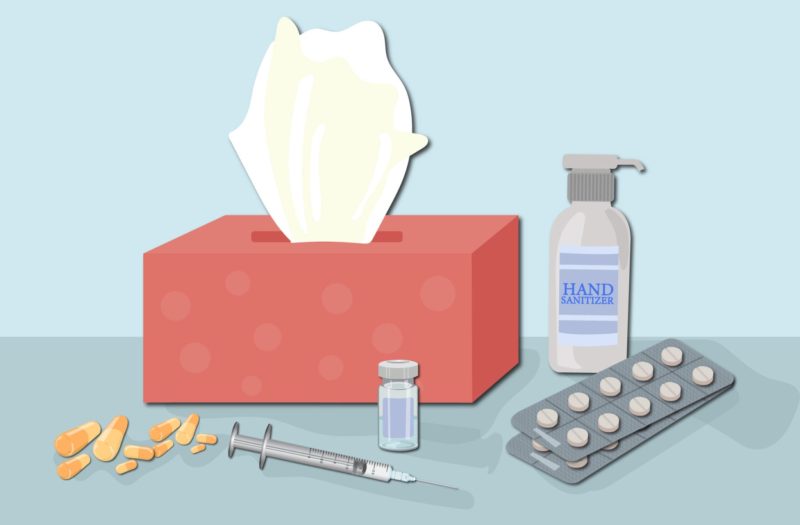 We've been hearing many questions and concerns from our members about the continued spread of coronavirus across the U.S. and around the world. This is a developing news story and patients have a right to be worried about what the increases in cases — and the first confirmed U.S. death from coronavirus — means for them.
Public health experts — and the many rheumatologists CreakyJoints has spoken with who treat patients who are immune-compromised — do not want patients to panic. Stay up to date here on any new recommendations from the U.S. Centers for Disease Control and Prevention.
We put together a comprehensive resource specifically for people with chronic illness and are sharing perspectives of patients who have serious concerns about the outbreak.
Right now, the best thing you can do right now is take common-sense steps to protect yourself from getting sick from any type of virus. The CDC lists these on its website and we included them here:
Avoid close contact with people who are sick.
Avoid touching your eyes, nose, and mouth.
Stay home when you are sick.
Cover your cough or sneeze with a tissue, then throw the tissue in the trash.
Clean and disinfect frequently touched objects and surfaces using a regular household cleaning spray or wipe.
CDC does not recommend that people who are well wear a facemask to protect themselves from respiratory diseases, including COVID-19.
Facemasks should be used by people who show symptoms of COVID-19 to help prevent the spread of the disease to  others. The use of facemasks is also crucial for health workers and people who are taking care of someone in close settings (at home or in a health care facility).
Wash your hands often with soap and water for at least 20 seconds, especially after going to the bathroom; before eating; and after blowing your nose, coughing, or sneezing.
If soap and water are not readily available, use an alcohol-based hand sanitizer with at least 60% alcohol. Always wash hands with soap and water if hands are visibly dirty.
We also know that there's great comfort in knowing what fellow chronic illness patients are saying and doing during this uncertain time. We've curated some of the most reassuring, common-sense advice from our community here.
CreakyJoints Member Tips for Coronavirus Prevention
"I'm trying hard not to stress about it. I'm a full-time student at a huge university that has already had to test several students — all negative, thankfully. We have a ton of Chinese students and some had been in Wuhan over Christmas break. I'm as cautious as possible short of wearing a mask. I've been avoiding the library as I always hear so much coughing and sniffling in there this time of year. I do my best to just go to class and go home and avoid big public areas. However, one class is in a lecture hall full of 300 or so people. Other classes are smaller, thankfully, but even that doesn't matter much if people come to class sick. I just avoid what I can and wash my hands at every opportunity. If we start getting confirmed cases on campus, I'll probably start wearing the dreaded mask." — Lisa P.
"I'm in England and it's now in Italy so not too far away really. I've already decided to not go to anywhere tourists go and I'm more aware of using hand sanitizer or washing hands in public —especially shopping carts." — Amanda H.
"I have to go to work in the city three days per week and I have to catch public transport to get there. I wear a mask on train/bus. I don't touch handrails. I use hand sanitizer gel throughout the day. On the days I am not at work, I stay home. — Amber L. 
"Walmart and many grocery stores offer services where you can order online and they load up your groceries in your vehicle. That helps reduce being around so many sick people." — Ginny R.
"Please remember to wear gloves when in shops as multitudes of people touch shopping baskets and trolleys/carts. I always wear medical gloves under my compression gloves and never touch my face or mouth with them. The compression ones can then be washed and the medical gloves thrown away." — Nikki C.
"The truth of the matter is that anyone who is immunosuppressed has a higher chance of catching something like the flu or coronavirus. Additionally, we are more likely to die because we don't have the immune system to fight them off. Something considered to be 'just the flu' or 'common cold' have the potential to escalate further in a person whose body can't fight back. The less we are exposed to potentially deadly illnesses, the better. I'm keeping an eye on it and, in the meantime, limiting my time in crowded places, washing my hands often, not touching my face while I'm out." — Rene M.
"I wash my hands often. I've long carried an N95 mask and may have to start wearing it when traveling. I am on IVIG infusions and make sure that I keep those appointments. I stay away from people who look/act ill or tell me they aren't feeling well. I flew this week and used Clorox wipes to wipe down my seat and tray table, and also used them in my hotel room. I also travel with Lysol. It can all seem like overkill and at the same time I'm well aware that I might be reducing my exposure but I'm not eliminating it." — Karen D.
"I do what I can and go on living. Got my flu shot, carry hand sanitizer, wash my hands often and thoroughly — like surgeon thorough. I have a mask in my purse in case I find myself where people look or act ill. I don't hold the handle on the shopping cart with my bare hands either. Will this be enough? I just know that I am trying." — Susan S.
"I've become a bit agoraphobic but if this strain can kill us, I'll take boredom over death." — Susy R.
"I avoid busy places. And wash my hands when I get home from being out in public. If someone coughs I move away from them. If it is found in Oklahoma I'll wear a mask for going out to shop. And will limit my shopping as much as possible." — Belinda P.
"I've been bringing home face masks from any doctor appointment I might have. That way I'm ready if it gets even scarier." — Leslie R.
"I am worried about going to my doctor. I will be talking to my [general practitioner] in a few weeks. I'm going to stock up on food and dog supplies, and not go out much." — Laurie C.
"I generally I avoid situations when I know people are ill, but then so many people go to work, shop, etc. when they are ill, it's tough. I do have concerns. I'm not sure there is much to do other than continue to follow good hygiene, maybe stay off planes if travel isn't necessary." — Judy F.
Get Free Coronavirus Support for Chronic Illness Patients

Join the Global Healthy Living Foundation's free COVID-19 Support Program for chronic illness patients and their families. We will be providing updated information, community support, and other resources tailored specifically to your health and safety. Join now.