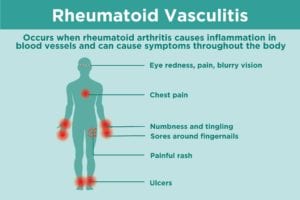 Rheumatoid arthritis (RA) is an autoimmune inflammatory disease that is best known for affecting your body's joints. But the inflammation process in RA can affects the entire body. When rheumatoid arthritis affects the blood vessels and makes them inflamed, it's a condition known as rheumatoid vasculitis. Rheumatoid vasculitis can be serious, and even life-threatening. If you or a loved one has RA, it's important to understand the risk factors, symptoms, and treatments for rheumatoid vasculitis.
What Is Rheumatoid Vasculitis?
When blood vessels are inflamed in rheumatoid vasculitis, they may weaken and thicken. "Vasculitis damages blood vessels and reduces blood flow to organs, which can lead to organ damage," says Bonita S. Libman, MD, rheumatologist and professor of medicine in the division of rheumatology and clinical immunology at the University of Vermont in Burlington.
Because rheumatoid vasculitis can affect blood vessels all over the body, it may involve multiple organs, including the skin, nerves, eyes, heart, lung, brain, kidney, or gastrointestinal tract. Rheumatoid vasculitis can affect both small and medium-sized blood vessels (both arteries and veins), though it rarely involves large blood vessels.
Causes and Risk Factors for Rheumatoid Vasculitis
Fortunately, fewer rheumatoid arthritis patients are developing rheumatoid vasculitis today than in the past, thanks to a greater range of effective drugs that modify the course of disease for rheumatoid arthritis. Experts estimate that fewer than 5 percent of the rheumatoid arthritis patient population develops rheumatoid vasculitis.
"Rheumatoid vasculitis is not as common now because our therapies are better," says David S. Pisetsky, MD, PhD, rheumatologist and a professor of medicine and immunology at Duke University Medical Center in Durham, North Carolina.
However, even though rheumatoid vasculitis is becoming less common, people still get it. William T. Welch Jr., 55, a pastor from Ripley, Tennessee, had rheumatoid arthritis for about 10 months before he was diagnosed with rheumatoid vasculitis. "The rheumatoid arthritis attacked the arteries in both of my legs and feet, causing severe damage," says Welch. "To this day, I have limited feeling in my right leg and foot and extremely little in my left leg and foot." That's why if you have new or unusual symptoms (more on this below), it's important to call your doctor right away to help figure out what's going on.
The cause of rheumatoid vasculitis is unknown, though there are a number of associated symptoms and risk factors for developing rheumatoid vasculitis. "They're mostly related to severe longstanding arthritis, especially if the arthritis isn't well-controlled with medicine," says Dr. Libman.
"The most common risk factor, in my experience, is prolonged disease that hasn't responded well to treatment," says Brett Smith, DO, a rheumatologist with Blount Memorial Physicians Group in Alcoa, Tennessee.
You're more likely to develop rheumatoid vasculitis if you:
Smoke
Have rheumatoid nodules
Have had rheumatoid arthritis for 10 years or more with active, destructive disease (joint damage on X-rays) and severe joint deformities
Have had high concentrations of rheumatoid factor or anti-CCP (anti-cyclic citrullinated antibodies) in your blood
Have many joints with pain and swelling
Have an enlarged spleen
Have a chronic low white blood cell count
Symptoms of Rheumatoid Vasculitis: How Do You Know If You Have It?
It's common for people with rheumatoid vasculitis to have general symptoms like fatigue, weight loss, and fever. While these symptoms are common in rheumatoid arthritis generally, people with rheumatoid vasculitis have them more severely.
Such was the case with Morgan Roberts, 20, of Western Michigan. She experienced symptoms like weight loss, tiredness, weakness, and more. "It took awhile to get diagnosed with rheumatoid vasculitis. I got misdiagnosed and pushed to the side a lot before I finally got help," says Roberts. "Hospitals and doctors were dumbstruck until I got into a rheumatologist. The rash is what gave it away."
Rheumatoid vasculitis can cause a range of symptoms because it can affect blood vessels in many parts of your body. Any organ can be impacted, though the skin, fingers and toes, eyes, and heart are commonly involved. Here are some of the more common manifestations:
Fingernail pitting or sores around the nails
When rheumatoid vasculitis involves the small arteries that nourish the fingertips, skin, and skin around the nails, you can get small pits in your fingertips or small sores that cause pain and redness around the nails. (Nail changes are also common in psoriatic arthritis.)
Painful red rash, often on the legs
If larger arteries are involved, you can experience a painful red rash that often occurs on your legs. You can get ulcers (usually near your ankles) if your skin is very inflamed. You may also have itching or pain. "It's not a simple rash," says Dr. Pisetsky.
Numbness or tingling
Rheumatoid vasculitis can cause loss of sensation, numbness and tingling, or loss of function and weakness of the hands and/or feet.
Eye redness, pain, or blurry vision
Scleritis (inflammation of the white part of the eye) is common in rheumatoid vasculitis. Any eye symptoms require urgent treatment with immunosuppressive medication.
Chest pain
Rheumatoid vasculitis can cause chest pain (as can costochondritis, another arthritis symptom.) Never ignore chest pain. You should always call your doctor or seek immediate medical attention.
How Doctors Diagnose Rheumatoid Vasculitis
Your health care provider will diagnose rheumatoid vasculitis by taking your health history, assessing your symptoms, doing a physical exam, and doing lab work (like blood tests to check for inflammation) to see whether your symptoms could be caused by something else. "History and a physical exam are the bread and butter of what is used," says Dr. Smith. You may also need additional testing depending on the organ, such as an EKG to check your heart.
The best way to diagnose rheumatoid vasculitis is with a biopsy of involved tissue or an angiogram (if the tissue is deep or cannot be easily biopsied.) An angiogram is an X-ray of blood vessels using injection of dye to see the vessels, says Dr. Libman.
How Rheumatoid Vasculitis Is Treated
There is no cure for rheumatoid vasculitis. But early recognition and treatment can help limit blood vessel damage and the severity of your symptoms. Untreated, rheumatoid vasculitis can cause serious complications, says Dr. Pisetsky. "Since it can be serious, it needs therapy promptly."
Treating rheumatoid vasculitis depends on which organs and blood vessels are involved, and the severity of your condition. If you have mild symptoms, like a fingertip sore, you may just need to protect the area to prevent infection.
For a more widespread case, the first line of treatment is high-dose steroids, typically prednisone. It's given by mouth or intravenously to help reduce inflammation quickly.
"A big part of the management of rheumatoid vasculitis is aggressive control of the underlying rheumatoid arthritis itself," says Eric M. Ruderman, MD, professor of medicine/rheumatology at Northwestern University's Feinberg School of Medicine in Chicago. Your rheumatologist may adjust your disease-modifying drugs to stop inflammation and disease progression. Some research suggests that the biologic drug rituximab (Rituxan) should be used as treatment for rheumatoid vasculitis. Advanced cases may also require more aggressive immunosuppression, such as with the drug cyclophosphamide.
You may need a change in medication to manage comorbidities from your RA, such as drugs to treat high blood pressure or cholesterol. You may also need treatment to help manage side effects from other medications. For example, you may need calcium and vitamin D supplements to help prevent bone problems like osteoporosis from using steroids, says Dr. Pisetsky.
To help prevent rheumatoid vasculitis, you need to control your rheumatoid arthritis. Dr. Pisetsky aims to get patients in remission — where they're still on medication but without disease activity. "If you get the disease under control early and as close to remission as possible, that can hopefully reduce the factors that lead to vasculitis," he says.
Dr. Libman reiterates that point. "Undertreated rheumatoid arthritis can lead to complications such as rheumatoid vasculitis," she says. "You need to get your rheumatoid arthritis under control to help prevent rheumatoid vasculitis."
Track Your Arthritis Disease Activity
Join ArthritisPower, CreakyJoints' patient-centered research registry, and track symptoms like pain and fatigue. Learn more and sign up here.
Keep Reading
Subscribe to CreakyJoints
Receive our newsletter and stay informed about arthritis treatments, comorbidities, and more.