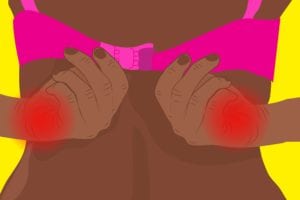 "How much time do you have?" This was Christie G.'s answer when we asked how her rheumatoid arthritis affected her ability to wear a bra. Thanks to pregnancy, aging, and weight changes, the 40-year-old mother of two in Baltimore, Maryland, says her breasts have been through a lot of sizes and therefore a lot of bras. On top of that, her RA diagnosis in 2012 added another layer of difficulty to an issue that many women already find confusing and frustrating.
"I have a lot of hand, shoulder, neck, and back pain so wearing a normal bra is pretty much a no-go for me," she explains. But based on her chest size, "not wearing a bra or wearing a bralette aren't options either." At her smallest she says she was a 34B; at her largest, while nursing, she reached a 40E; now she's a 38DD. And she's had to find bras at each of those sizes that would work with her arthritis. "This bra thing? It's been a journey," she says.
Another issue is the pain that comes from wearing a bra when you have arthritis, says Catherine K., 36, of Seattle, Washington. "Having ankylosing spondylitis doesn't just mean back pain — it also means neck, shoulder, and chest pain," she explains. "By the end of the day my ribs and shoulders feel like they are on fire and even a bra that felt fine in the morning feels like torture. The first thing I do when I get home is take that thing off!"
Christie and Catherine's experiences are not unique. In fact, a popular post on the CreakyJoints Facebook page is a graphic of barbed wire shaped into a bra with the caption "How your bra feels with fibro." A quick look at the comments and you'll see how many women with inflammatory illnesses have bra issues!
One reason that women with arthritis or other illnesses that affect their mobility have such a hard time finding good bras is that, well, companies have long ignored this group, says Kimberly Merejo, a professional bra and patternmaker with over a decade of experience creating bra patterns and construction details for both well-known and private labels.
"Honestly, among mainstream brands this is not a thought or consideration at all," she says. "Although they do provide options that might be easier to maneuver, bras are unfortunately not specifically constructed to accommodate those with physical disabilities."
This doesn't mean you have to embrace your inner hippie and go braless (although that's a fine choice, too!). For starters, there are some smaller companies, like Buck and Buck, that are now designing clothing and undergarments specifically for people with physical limitations. In addition, we asked Merejo and people living with arthritis to give us their top tips for modifying traditional bras and finding supportive alternatives to bras.
Types of Bras That Are Good for Arthritis
Front closure bra
"The best option for women who have arthritis are front closure bras, but pay attention to the type of closure," Merejo says. Most front-closing bras use the same closure for the front as they would the back, called a "hook & eye extender," which is made of two to four rows of small metal loops on one side, and a row of hooks on the other. "Because of their tiny size, even when attached in the front it would be difficult and tedious to grasp for someone with compromised hand mobility," she explains. Instead, look for bras with either a single front clasp or extra large hooks, she says.
Try: This Cottonique front closure support bra comes highly recommended by Elizabeth S., 68, who has osteoarthritis. "I love that the 'hooks' are so easy to see and use," she says.
Zipper closure bra
No matter how large a bra's hooks are, they can still be difficult for people with severe arthritis in their hands. A front zipper closure can solve this problem, especially when you use it with an assistive dressing tool, Merejo says.
Try: "This zip-front bra is my favorite; I wear it everywhere. The zipper is easy to pull up and it still provides a lot of support for my large chest," says Mackenzie T., 23, who has rheumatoid arthritis.
Sports bra
Elastic sports bras can be a great compromise for women with arthritis — they come in a variety of sizes, colors, fabrics, support levels, and styles and most are either pulled over the head or use a front closure. Catherine, who likes to dance and do triathlons, says her sports bras have become a wardrobe staple. "I wear them to work out in but they're often so comfy I end up staying in them for the rest of the day," she says. "It helps that athleisure is in right now!"
Try: Catherine's favorite is the Victoria's Secret Incredible Ultra Max Knockout. It comes in regular bra sizes and has inner cups that clip together in the front with a compression bra that zips over the top, providing comfortable support while avoiding the "uniboob" look that many sports bras have.
Stretchy fabric
Some women with arthritis have very limited hand mobility, making any type of closure difficult. The solution is to buy a bra that can be slipped over your head or stepped into, Merejo says. "Pullover bras are great for ease and convenience, but note that they will not offer the same support as a regular bra so these may be better for smaller-chested women," she says.
Try: The Genie Bra was recommended by many women we spoke with; each with different types of arthritis. It comes in a variety of styles, made in a stretchy-but-supportive fabric.
Adjustable Velcro wrap-around strap
For women who need a customizable fit, Velcro is a great option. Some bras come with adjustable Velcro tabs that allow you to change the shoulders, band size, and back.
Try: The Ultimate Sports Bra by SheFit has wrap-around Velcro straps that can each be adjusted from the front, along with a front zipper closure. "This is so supportive. I love that I can wear it tighter or looser, depending on my chest pain," Catherine says.
Magnetic front clasp
Magnets are a popular feature on adaptive clothing — clothing designed for people with disabilities — and with good reason. All you have to do is get the magnets close together and they do the "hooking" for you.
Try: The Anita Comfort Meggie magnetic closure bra gets high marks for support and ease of use.
Finger loop
One solution to the hook-and-eye problem is to attach loops of elastic to each side of the closure. This allows you to slide your fingers in and simply bring your hands together to close the bra, rather than needing to use finger dexterity. This can be a great compromise as you still get the support and security of a traditional bra but with less pain and difficulty, Merejo says. These also come in a wide range of sizes, making them good for large-breasted ladies.
Try: The Eezee Fasten Bra by Adaptawear comes highly recommended by Marcia L., 49, who has psoriatic arthritis. "It takes a little bit of practice to get used to the loops but now I can do it the dark," she says.
Magnetic bra extender
If you can still reach around your back but are just stymied by the hook and eye connectors, consider attaching magnetic bra extenders. This gives you the ease of a magnetic closure while still allowing you to wear any traditional bra you like. It also allows you to adjust bras for changes in band size without having to buy a whole new bra.
Try: These magnetic bra extenders are an affordable way to make the bras you already own more functional.
Bra Alternatives for Arthritis
Ta-Ta Towel
Sara J., 55, who has osteoarthritis and lupus, shared how some days she simply can't tolerate the constriction or difficulty of a bra so she sometimes uses what she calls "tit towels" — hand towels folded and placed under her breasts to prevent sweat and chafing. Thankfully, there is an invention designed to do exactly this but better. Ta Ta Towels are a long strip of soft fabric you loop around your neck. Each end has an elasticized "pocket" to put your breast in. No closures, wires, ties or anything else irritating. "These have made such a difference for me," she says. It's not a bra replacement but can provide comfort and support when you're resting at home.
Breast Nest
Similarly, the Breast Nest is designed to give your breasts some support and protection while still being totally unrestricting. The tank top style has loose, stretchy breast cups. It's so comfortable it's like you're not even wearing a bra, says Amelita T., 60, who has osteoarthritis.
Nursing bra
Nursing bras are designed to be easy to use from the front while accommodating and supporting large breasts, making them a great option for women with arthritis, whether or not you're breastfeeding. Each cup is lifted and attached by a single front clasp while the band is elastic or a front closure. "I discovered how wonderful nursing bras are when I was nursing my first baby and I just kept using it even after she weaned," Christie says. "I can work the clasp with just one hand, which is helpful since my right side has much more joint pain than my left."
Swimwear top
"If customers are open to thinking outside of the box a bit, a viable option is to wear a swimwear bra beneath clothing," Merejo says. Swim tops often use stretchy straps or G-Hooks that allow you to secure them by simply hooking into a fabric loop, she says. Halter top styles may be easier to maneuver if you have a hard time reaching around your back but don't like front closure bras, she adds.
Cami with built-in bra
If you don't need a lot of breast support, many tank tops and camis come with a built-in shelf bra. These tops have no wires or closures and can be pulled over your head or stepped in to. "I have bra camis in every color and I just wear it under my top," says Gemima P., 19, who has juvenile idiopathic arthritis.
Post-surgical bra
Women who've had any type of breast surgery may already be familiar with the utilitarian surgical bra. Designed to provide compression and strong support during the recovery process, these bras are made to be easy to put on and take off when you're in pain and provide full coverage. Many offer adjustable velcro straps and chest bands, along with zipper front closures. "I have extra-large boobs that can't be contained by normal bras so the 'medical' bras have been a lifesaver," says Louisa C., 36, who has rheumatoid arthritis. "They're not cute but they get the job done."
Tips for Buying a Bra When You Have Arthritis Pain
Get sized
No bra will be comfortable if it doesn't fit you properly, Merejo says. While many women think they know their bra size, your best fit will depend on many things — not just the size of your breasts and your rib cage but also the position of your breasts, the height of your shoulders and other physical characteristics, not to mention the style, brand, fabric, and features that vary between bras. To help you navigate all of this, it may be worth your time to get a professional bra fitting at a local store. Another option is the detailed calculator at A Bra That Fits.
Always try them on
Because fit can vary so much from bra to bra, it is crucial you try each bra on instead of trusting that because one size fits you in a particular brand that you'll be the same size in others, Merejo says. This will also help you gauge how easy the bra will be to put on and remove.
Talk to an occupational therapist
An occupational therapist's role is help you figure out ways to adapt your environment to the limitations of your body and vice versa. An OT may have suggestions for selecting and using clothing, including bras, that will work better for your particular situation.
Keep Reading
Subscribe to CreakyJoints
Get the latest arthritis news in your inbox. Sign up for CreakyJoints and hear about the latest research updates and medical news that could affect you.