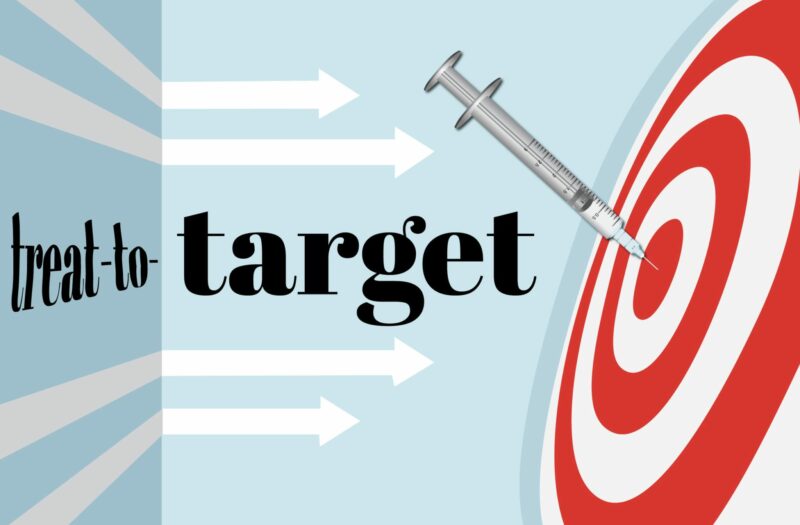 Key Takeaways
A treat-to-target strategy, which often entails making medication changes, leads to better patient outcomes—but many patients are reluctant to get on board.
Many patients trust their rheumatologists and understand the importance of using disease-modifying anti-rheumatic drugs (DMARDs), but still have concerns about changing up their drug regimen.
If you ask a rheumatologist their thoughts about using a "treat-to-target" strategy, they'll likely tell you that it's advisable. This approach, which is endorsed by the American College of Rheumatology, entails setting a specific treatment goal (usually remission or low disease activity) and periodically tweaking a patient's medication regimen in order to reach it. That might mean increasing their dose of medication, adding a new drug to the mix, or changing to a totally new drug.
Treat-to-target has been proven to lower the risk of long-term damage and serious complications in people with rheumatoid arthritis (RA), and research has confirmed that it doesn't usually increase the risk of major adverse events like liver damage or kidney failure. Yet patients are often hesitant to embrace the medication changes that are an integral part of this strategy. Why?
To learn more about what's holding patients back, a group of researchers led by Betty Hsiao, MD, Associate Program Director, Rheumatology, Yale Section of Rheumatology, Allergy, and Immunology, surveyed more than 600 RA patients who are part of ArthritisPower.
ArthritisPower is a patient-powered research network that is run by CreakyJoints in conjunction with experts at the University of Alabama at Birmingham. The study is being presented at the EULAR 2022 Congress, the annual meeting of the European Alliance of Associations for Rheumatology. The conference is taking place online and in Copenhagen June 1-4.
Hsiao and her co-authors previously studied this topic and identified a few key factors that seemed to be preventing RA patients from being willing to change or escalate their treatment. In this new study, they aimed to quantify the importance of specific factors that were driving patient treatment decisions.
"We developed survey items to reflect the concepts that emerged in the [earlier qualitative study], which includes reasons why patients may not want to start/escalate RA medication," Hsiao explains.
The new survey focused on four patient factors:
Access to high-quality care and support
Comfort adding or switching disease-modifying anti-rheumatic drugs (DMARDs)
Endorsement of a favorable DMARD risk/benefit ratio
Confidence that testing reflects disease activity
The researchers used statistical models to put survey respondents into groups based on which factors seemed to be driving patient perspectives about treatment changes the most.
Most patients (32%) fell into the "Successfully Engaged in Care" group. These respondents indicated that they had a good relationship with their rheumatologist and felt well-informed about their care. The second-largest group (24%) was deemed "Worried About Medication." They also said they got ample care and support, but they were less comfortable adding or switching medication and were less confident that testing would accurately reflect their disease activity.
"We found that even though patients endorsed DMARDs as a critical component of treatment, they only had low or moderate comfort levels for adding or switching DMARDs," says Hsiao. "For rheumatologists, the decision to escalate care is often straightforward, as most would agree that a patient with moderate to high disease activity should add or switch DMARDs. Some patients, on the other hand, perceive this decision as involving difficult trade-offs involving possible increased pain while waiting for a new medication to work, uncertainty of response to new medication, and the risk of new toxicities."
"Hesitation in adding or switching DMARDs is common even among patients who have access to high- quality care and understand the benefits associated with DMARDs," Hsiao adds. "Rheumatologists should be aware that trying to persuade patients to add or switch DMARDs by emphasizing the important role of DMARDs in the treatment of RA by itself may not be effective, [and that patients may require] additional information and decision support beyond what rheumatologists typically provide."
What This Means for You
You're not alone if you're hesitant to increase or change your medication to reduce your disease activity, but your reluctance might prevent you from getting optimal care.
Do your best to speak up. Ask you doctor as many questions as needed for you to feel comfortable with your treatment plan. In addition, it's important to connect with other RA patients. Hearing their perspective might give you new insights about the benefits of treat-to-target.
More From the Voice of People Living with Rheumatoid Arthritis
 Research shows that patients seek information from their peers to make decisions about medication and disease management. CreakyJoints produced a series of videos where people from diverse backgrounds who are living with RA candidly share their experiences with RA treatment — from starting treatment to switching medications to dealing with methotrexate side effects. Watch the frank patient-to-patient discussions in our video series here.