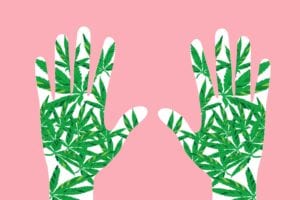 Cannabidiol, known as CBD, is a type of chemical called a cannabinoid that is found in the cannabis plant. It's not intoxicating like THC, a different kind of cannabinoid that causes the "high" you get from using pot. Chances are you've heard of CBD. It's one of the fastest-growing supplements in the U.S. and has become a popular topic among arthritis patients, from online support groups to clinical conversations in doctors' offices.
Unlike many alternative arthritis treatments that get touted online, CBD does appear to have some positive effects, says Elyse Rubenstein, MD, a rheumatologist at Providence Saint John's Health Center in Santa Monica, California. "There really aren't yet any good studies to show that it works for arthritis but I've had patients who have found using CBD very helpful," she says. "I haven't seen any harm from it so it may be worth trying."
[Check out CreakyJoints' recent research on how arthritis patients feel about using CBD, as well as medical marijuana, to manage their symptoms.]
However, for every CBD success story there are plenty of people who see little or no effects from using CBD. The first time Chris G., 37, of Denver, Colorado, tried a CBD oil tincture she felt nothing. "I might as well have been drinking straight coconut oil," she says. Her friend had given her a bottle to help with rheumatoid arthritis pain and told her to just try it. Using CBD didn't help the second time either. Or the third. Or the fourth. "I finished the whole bottle and never saw any difference," she says. "I hear others talking about it and wonder why it didn't work for me."
Then there are the people who feel an effect — but not a good one. "It was like being drunk, but not in a fun way," says Jason J., 46, of Minneapolis, Minnesota. The father of two tried it to treat his chronic pain from reactive arthritis as well as anxiety. He started with pure CBD oil and felt nothing so then he moved up to a CBD oil with a small amount of THC. The results were not great. While it did lessen his pain, he says it also made him feel nauseous and dizzy. He tried it a second time, this time spacing the doses further apart, but had similar results. He didn't like the feeling and as a father was hesitant to do anything that might make him impaired while caring for his kids. "I wish it worked for me, but it did more harm than good," he says.
If either of these experiences sound familiar, don't give up yet. There may be good reasons CBD has not helped you — yet — and ways to make using CBD more effective for you.
1. Your CBD isn't actually CBD
Just because cannabis products are becoming legal in certain parts of the U.S. doesn't mean they are regulated. CBD is the wild west these days: There are a lot of "CBD" products with little or no actual cannabidiol in them, says McKenzie Mann, product development manager for Blue Forest Farms, a farm that grows high-CBD hemp and sells CBD products. The FDA doesn't regulate CBD products and there aren't universal quality standards, so unless you have a basement lab and chemistry degree, it's near impossible to know exactly what you're getting.
The fix: Look for brands that have their products independently tested (they should be able to provide you with test results), shop only at places you trust (preferably in person, not online), and when you find a brand that works for you, stick with it, says April Olshavsky, founder of Herbal Risings, a company that educates people on the proper use of CBD products.
2. You may benefit from a different strain
Not all cannabis plants are the same, which means the chemical makeup of your CBD product can differ widely. For one thing, CBD is one of many dozens of types of cannabinoids found in cannabis plants. Just as when you eat different berries (blueberries versus raspberries versus strawberries) you're exposed to different antioxidants and plant chemicals, different cannabis plants have various amounts and types of cannabinoids and other compounds such as terpenes, which also have anti-inflammatory properties independent of the CBD.
The fix: Unfortunately, there's no such thing as a specific strain being good for a specific disease or symptoms, says Bridget Seritt, co-founder of the Canna-Patient Resource Connection, a Colorado-based organization that is working to protect patient rights and end stigma against those who choose cannabis as medicine. A good CBD supplier should be able to show you third-party tests that include both the terpene and the cannabinoid profile. "There are hundreds of products with different formulations of each component, so knowing what goes into your products is essential. Keep a journal so you know which products worked and which did not. You can use the profile information to find similar products," Seritt advises.
3. You need a different type of extract
There are different types of CBD extracts, and it's important — from both a health and legal perspective — to understand their differences:
Full spectrum: This oil is how it comes raw from the plant and contains a full spectrum of compounds, including CBD, THC, terpenes, chlorophyll, minerals, and other parts of the hemp plant. "This is usually the best for most people and what we recommend — it's the 'entourage effect.' All the compounds in the plant work best when they are together," Mann explains. "Like most plants, it's healthier to use it whole."
Broad spectrum: This oil is similar to a full-spectrum product but with THC removed. In states where CBD is legal, laws can vary as to how much THC is permissible in CBD products in order for them to be legally sold. Many states in which certain CBD products are legal require them to contain less than 0.3 percent THC. A higher amount of THC in the product may make it more effective for certain conditions, Mann says, but this is a good option for people who live in states with THC restrictions.
CBD isolate: This oil is 99 percent straight CBD. While this might look like what you want — especially as it's often labeled "pure CBD" — it's the least effective form, Mann says.
The fix: Opt for a full-spectrum product if it's legal to use where you live.
4. You didn't wait long enough to see results
Many people do not see a difference after one or two doses of CBD. "CBD works on the endocannabinoid system in the brain and everyone's is a little bit different," Mann says. "One person may feel a difference within 20 minutes but others it may take several days to build up enough to where you feel it." It can take up to eight weeks of regular use to feel an impact, says Seritt.
The fix: Give your CBD time to take effect. Try a product for at least two weeks before deciding that it's not working for you.
5. You're not consistent
"The biggest mistake people make with CBD is failing to follow a regular routine. You need to have patience to see the full effects," Olshavsky says. This is especially true for people dealing with chronic pain from arthritis and other illnesses, she adds.
The fix: Do at least one dose once a day for at least two weeks to give the product time to build up in your system, Mann says.
6. You need a different method of delivery
Oral tinctures — drops that you place under your tongue — are the most popular way to use CBD but there are plenty of other options. You can also inhale it with vape pens, rub it on topically with a lotion, take it orally with capsules, or eat CBD-infused foods. Different delivery methods may be better for certain health conditions or personal preference.
For those using CBD primarily for targeted joint pain, a CBD lotion may be the best option. If you need CBD to take effect quickly for intense pain, vaping will work the fastest. Worried about prying questions? Capsules are simple and discreet to use. And for people who don't like pills, edibles such as candy, gum, or other CBD foods are a fun way to ingest it. (However, Mann cautions that some of the potency is lost when CBD goes through your digestive tract, so capsules and edibles aren't his top choice for efficacy.)
The fix: Talk to a reputable company about which form of CBD will work best for your specific needs.
7. You need a higher dose of CBD
People are often hesitant to take CBD because they equate it with recreational marijuana, which can lead them to under-dose, Olshavsky says. Or your dose may be sufficient but you're not taking it often enough. What works for your friend may not be the right amount for you.
The fix: Between dosages, routine, and application method, it can take some trial and error to find the right product and regimen for you, Olshavsky says. "The best thing you can do is to keep a journal and record your symptoms and results."
8. You may benefit from some THC
For many people, CBD works better with some THC in it. The compounds work together, with THC providing pain relief and the CBD helping to manage any negative side effects of THC, Mann explains. Many people who complain about their CBD not working are often using one of the types that has no THC in it, he adds. Even a CBD oil with just 0.3 percent THC may be more effective for you than one without any.
The fix: Consider trying something other than the "pure" isolate version of CBD (though you need to research whether or not these products are legal where you live). If you live in a place where marijuana is legal, consider a CBD oil with a ratio of 3:1 or even 5:1 of CBD to THC, Mann says.
Keep Reading