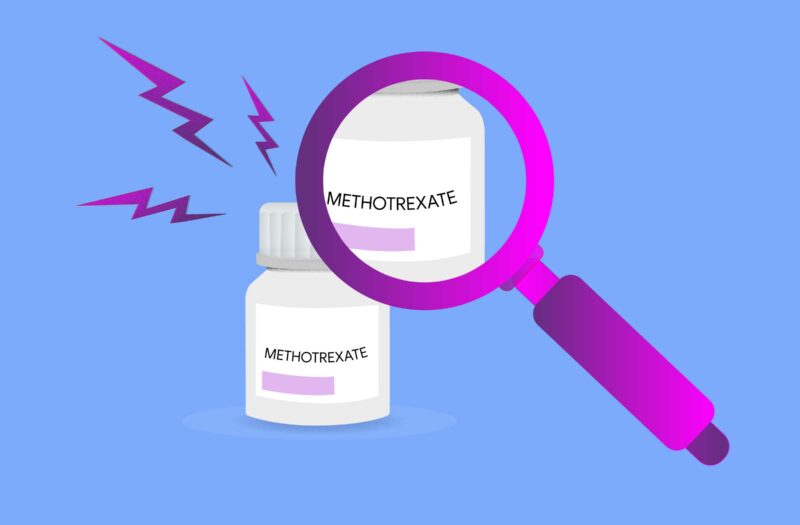 The Friday before the long Fourth of July weekend, Jennifer C. received a message from her pharmacy that her methotrexate refill was denied. She has been taking the disease-modifying anti-rheumatic drug (DMARD) as part of her treatment for inflammatory arthritis since April 2022. 
Jennifer was stumped. Her insurance was the same and she had visited her physician less than two months ago. Unfortunately, her doctor's office was closed until Tuesday due to the holiday weekend, so she couldn't get any answers. And she only had enough medication to last until Sunday night.  
After scrolling through Twitter, she began reading about others having trouble getting methotrexate, which is prescribed for a variety of diseases such as rheumatoid arthritis, psoriatic arthritis, and lupus. It's also used to terminate an ectopic pregnancy. 
Suddenly, it all made sense. The Dobbs v. Jackson decision overruling Roe v. Wade has made it difficult to fill or even get a prescription for methotrexate for some patients in some states, including Tennessee, where Jennifer lives.  
"I tried to be chill about it; okay it's a holiday weekend, we'll get this worked out," says Jennifer. "But if there's hundreds of other people not getting their medication, this is a big problem." 
When Jennifer finally reached her doctor's office, she was told that the delay was due to the fact that her pharmacy would no longer call in a refill — it now needed to go through her doctor's office. 
What We've Heard From Our Patient Community
While it's too soon to know how far-reaching this problem will become, we do know that it's beginning to cause fear and worry for some members of our community who depend on these drugs to lessen inflammation, which reduces pain and swelling and helps prevent joint damage. "My joints got cranky from being delayed," says Jennifer.  
Rheumatologists have been using low doses of methotrexate to treat rheumatic and inflammatory diseases since the 1980s. Since then, it's become the standard of care and globally the most popular drug for the treatment of RA.  
Note: Methotrexate is one of many drugs associated with miscarriage and serious birth defects and patients of childbearing age who take methotrexate are advised to use strict contraception — The American College of Rheumatology strongly recommends the use of hormonal contraceptives and intrauterine devices (IUDs). Patients are also told to stop using the drug at least three months prior to attempting pregnancy.  
"If we are now denied methotrexate, one of the most affordable and long standing 'gold standard' treatments for rheumatoid arthritis, we are left with very few options for slowing down our progressive, systemic disease," says RA patient advocate and occupational therapist Cheryl Crow, who has been taking the drug for over 15 years. "We need to advocate for access to methotrexate, which slows down disease activity; if the disease activity is not slowed down my lifespan is reduced by seven years. We have a right to live too."  Hear more from Cheryl in our podcast Health Advocates: Methotrexate: Confusion and Controversy. 
The patients who are having most trouble getting their methotrexate tend to live in states that have more strict anti-abortion laws — but even in those areas, not everyone is experiencing difficulty. One patient who takes methotrexate for RA and lives in Alabama, for instance, told us that she has yet to experience any issues — unlike during COVID when she had access issues with hydroxychloroquine.  
Other patients have told us they have been denied prescription and had prescriptions delayed until they're able to show documentation that they're taking birth control. In some cases, rheumatologists are no longer prescribing the drug due to potential legal issues.  
"I take methotrexate to control my rheumatoid arthritis. I was told today I could not be prescribed it any longer as I am viably fertile, and it is a medication that can be used for abortion." — @acrowandthed

 
"I received an email from my rheumatologist today that they are stopping all refills of methotrexate because it is considered an abortifacient." — @BeccaLizz

 
What Rheums Are Saying About Methotrexate Access
Jonathan Greer, MD, a rheumatologist at Arthritis & Rheumatology Associates of Palm Beach in Florida, says these reports from patients are "very disturbing," and he doesn't understand why some rheumatologists are not prescribing the drug out of fear. "They should do what is right and what is best for their patients. We're not mis-prescribing methotrexate. I'm not an Obgyn, I'm not an abortion provider; I treat rheumatic diseases and should be allowed to prescribe medicine based on what is best for my patients – based on science," he says. "It has been a staple and first-ling drug for a very long time and should not be restricted for patients who have been given a prescription."  
The American College of Rheumatology (ACR) recently issued a statement on Twitter, saying: "ACR is aware of the emerging concerns surrounding access to needed treatments such as methotrexate after the recent decision in Dobbs v. Jackson Women's Health Organization. We are following this issue closely to determine if rheumatology providers and patients are experiencing any widespread difficulty accessing methotrexate, or if any initial disruptions are potentially temporary and due to the independent actions of pharmacists trying to figure out what is and isn't allowed where they practice. 
"The ACR has assembled a task force of medical and policy experts to determine the best course of action for ensuring our patients keep access to treatments they need. In the meantime, we are asking members and patients who have experienced challenges accessing methotrexate to email advocacy@rheumatology.org with details." 
Like most rheumatologists, Dr. Greer adheres to the ACR guidelines and is hopeful this issue is transient and won't result in any shortages. In the meantime, he urges patients to talk to their doctor if they experience trouble filling their methotrexate prescription. "Make sure your doctor is writing prescription for treatment of RA, for treatment of lupus," or writing diagnostic codes on your prescription. "If you are prescribing for an appropriate disease state, you should not be held accountable."  
CreakyJoints and the Global Healthy Living Foundation understand how upsetting and frustrating it is to be in this position. If you would like to share your concerns or story about accessing medications as a result of abortion bans, please email Zoe Rothblatt, Associate Director of Community Outreach.
Want to Get More Involved with Patient Advocacy?
The 50-State Network is the grassroots advocacy arm of CreakyJoints and the Global Healthy Living Foundation, comprised of patients with chronic illness who are trained as health care activists to proactively connect with local, state, and federal health policy stakeholders to share their perspectives and influence change. If you want to effect change and make health care more affordable and accessible to patients with chronic illness, learn more here.