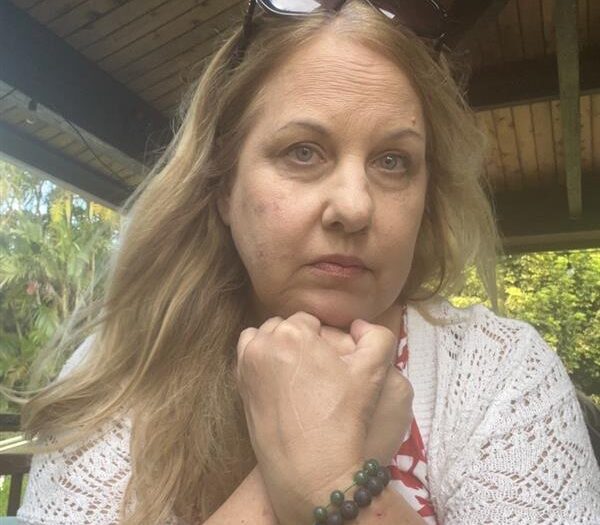 Sweaters in summer, strange sores, and an everlasting flare – along with a new biologic and possibly a new diagnosis – it's all become overwhelming.
That's what I told myself after leaving my rheumatologist's office this summer.
"Maybe you've had psoriatic arthritis all along," he suggested.
My immediate response? A resounding "No, thank you." I preferred to stick with my seronegative rheumatoid arthritis diagnosis, something I'd lived with for over a decade. Familiarity and comfort played a role, and honestly, this conversation was getting a tad uncomfortable.
The saga began in March 2023 when I first noticed what appeared to be a simple cut getting infected. But this "cut" transformed into an oddly-shaped sore that refused to heal. As time passed, some sores vanished, but others made their debut two months later.
Fast forward six months from that initial sore, and some of those same sores were still clinging on — it was closing time, and they needed to go.
This new skin condition didn't discriminate; it appeared on both arms, my stomach, face, backside, and now, it had ventured onto one leg. It wasn't symmetrical, and the sores seemed to play a game of "whack-a-mole: the surprise sores edition."
Imagine sweltering in the summer heat, battling spontaneous menopausal hot flashes, all while searching for a long-sleeved blouse or sweater to conceal my arms. These sores were not just painful; they were highly conspicuous.
Covering them had two benefits: it discouraged unintentional touching, and perhaps it saved me from people staring. Did people think I was contagious when they saw my arms and face, or was that just my paranoia? At times, it felt like I might spontaneously combust.
Solving the Puzzle
My doctors were puzzled. A general practitioner initially thought it might be shingles, but the sporadic appearance of sores ruled that out. Another suspected a bacterial infection and prescribed antibiotics. When that yielded no results, my rheumatologist referred me to a dermatologist, leaning toward a diagnosis resembling pustular psoriasis.
Meanwhile, I halted the biologic infusions of the tumor necrosis factor-alpha (TNF-alpha) blocker I was receiving. My rheumatologist prescribed halobetasol propionate topical cream for the blisters and initiated the insurance preauthorization process for guselkumab, a monoclonal antibody that blocks interleukin-23.
After completing the loading doses of the new treatment, I did experience reduced fatigue. However, relief from the painful sores remained elusive. The headaches, coughing, and diarrhea were manageable side effects, not severe enough to warrant discontinuing the medication. So, I remained steadfast, hopeful that the next dose would bring greater relief.
Steps for Documenting Symptoms
The looming question remained: Was this a temporary setback or a long-term battle? Would the new biologic prove effective? Did I have psoriasis, psoriatic arthritis, or was rheumatoid arthritis still in the mix?
The lack of a definitive answer was torturous. I'm pinning my hopes on my upcoming dermatology appointment for guidance. In the meantime, here's how I'm meticulously documenting my symptoms, capturing time-stamped images of the sores to track their duration and resulting scars.
Snap pictures
Take photographs of skin rashes, blisters, sores, etc., so that if they are not active at the time of the appointment, you still have the pictures to show the doctor. This also helps to track the skin condition over time to note changes.
Track how you feel over time
I use the ArthritisPower app to track my fatigue, pain, sleep, along with other types of data like physical function, cognitive function, and social activities. It helps me to see quantitative data over time. When I tie that to changing my treatment plan, I can better understand whether the new medication is helping me on the inside, not just the outside in clearing up this skin condition.
Bring questions and data to your doctor
I always bring a list of questions, pictures, and data to my doctor. Something weird occurs on the days I have appointments. I get this adrenaline rush because I might be getting some help, so I tend to forget the precise questions I had for the doctor. The worst feeling is sitting in the parking lot or driving away and thinking you missed an opportunity to get answers you needed.
I'll approach my medical appointment with pictures, data, questions, and determination. I'm not missing any opportunity for answers. The mysterious new diagnosis awaits. Stay tuned for more updates.
Be a More Proactive Patient with ArthritisPower
ArthritisPower is a patient-led, patient-centered research registry for joint, bone, and inflammatory skin conditions. You can participate in voluntary research studies about your health conditions and use the app to track your symptoms, disease activity, and medications — and share with your doctor. Learn more and sign up here.