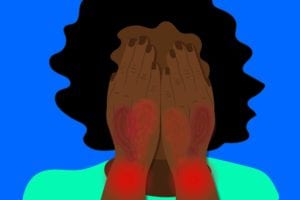 Psoriatic arthritis (PsA) is a kind of inflammatory arthritis known for causing joint pain, swelling, and damage that sometimes even leads to joint surgery. It's also, by definition, closely associated with psoriasis, an inflammatory skin condition that causes silvery, red plaques. But some people with PsA also experience other symptoms, including overwhelming fatigue. In fact, despite joint pain and skin discomfort, many PsA patients consider fatigue one of the most challenging symptoms of managing psoriatic arthritis.
To find out how what factors contribute to fatigue in PsA, European researchers used data from DANBIO, a large registry of rheumatology patients. They identified 1,062 patients with PsA, learned that nearly half of them experienced high levels of fatigue, and analyzed the differences between those who reported high levels of fatigue and those who didn't.
According to their findings, the criteria most likely to contribute to fatigue were "inflammatory factors, including swollen and tender joints, doctors' global assessment, elevated CRP, and high Pain Detect Questionnaire (PDQ) score." Other key factors included being older, having lived with the disease for a longer period, and having chronic pain without inflammation.
"Fatigue in PsA patients may be driven by clinical inflammatory factors, disease duration, and chronic pain in the absence of inflammation," the authors concluded.
The study was published in the Journal of Rheumatology.
If you're feeling exhausted to the point that you're having trouble keeping up with daily activities, talk to your doctor. In addition to discussing how to address your physical symptoms, you may also benefit from exploring mental health treatments. Earlier research has found that depression and anxiety are common in people with chronic diseases such as PsA, and these psychological conditions can further contribute to fatigue.
Use Our ArthritisPower App to Track Your Symptoms, Disease Activity, and More
Join CreakyJoints' patient-centered research registry and track symptoms like fatigue and pain. Learn more and sign up here.
Keep Reading