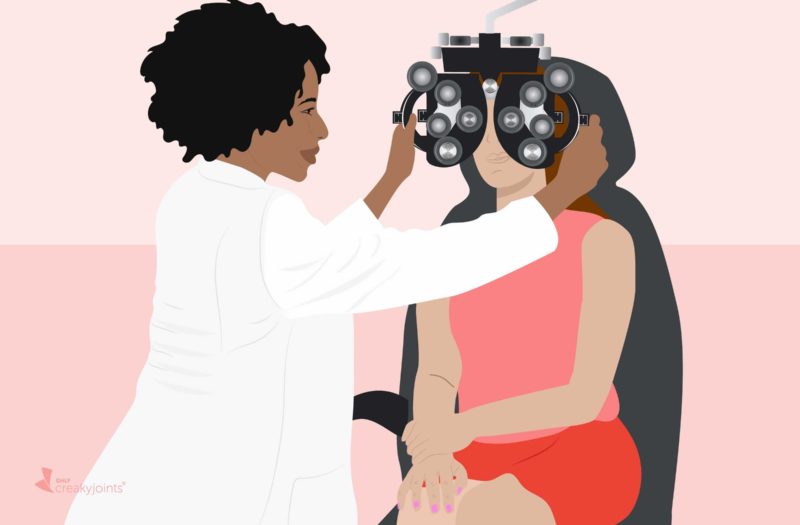 When people take anti-malarial (AM) drugs such as hydroxychloroquine and chloroquine to prevent flare-ups of rheumatic diseases such as lupus and rheumatoid arthritis (RA), an irreversible complication sometimes occurs years into treatment: vision-threatening damage to the retina, known as retinopathy.
Few studies have looked to see whether the risk of AM-induced retinopathy depends on a person's diagnosis, so Canadian researchers combed through the medical charts of 680 patients at St. Joseph's Health Care in London, Ontario, to compare the occurrence of the complication between people with lupus and those with other rheumatic conditions. Their findings were presented at the European E-Congress of Rheumatology 2020, held virtually by the European League Against Rheumatism (EULAR).
Of the 680 patients, 282 patients had systemic lupus and 224 had rheumatoid arthritis, 41 having lupus affecting the skin and 131 having other conditions. All had been prescribed hydroxychloroquine or chloroquine for at least three months. Patients were considered to have definite retinopathy if they had two positive screening tests by an optometrist or a definitive diagnosis by an ophthalmologist.
Among the patients, 12 were found to have definite retinopathy. While 41 percent of patients without the complication had been diagnosed with lupus, almost all of those with retinopathy (11 out of 12, or 92 percent), had lupus.
"The earliest definite retinopathy occurred after 5.4 years of AM use, and the prevalence beyond 5 years was 2.7 percent," said Hsin Yen Liu, lead author of the study and a medical student at Western University in London, Canada, in a presentation at EULAR about the research.
By far, a diagnosis of lupus was the strongest risk factor for developing retinopathy. Other factors that raised the risk were taking a higher dose of HCQ or chloroquine for a person's weight and having received a larger cumulative dose of chloroquine.
A person's age, gender, or the presence of diabetes or hypertension did not influence the risk of retinopathy in the study. In addition, two factors previously identified in other studies did not raise the risk in this analysis: the cumulative dose of hydroxychloroquine and impairment of kidney function.
"Chloroquine is much more toxic than hydroxychloroquine," said Liu.
Looking just at the people who had never taken chloroquine, seven had developed retinopathy, all with lupus. Higher doses and a larger cumulative dose of HCQ significantly raised the risk of the eye complication.
A typical dose of HCQ in lupus is 200 to 400 mg/day. Because of the risk of retinal toxicity, the American Academy of Ophthalmology recommends that people with lupus receive no more than 400 mg/day of HCQ (or no more than 5 mg per kg of body weight per day, if that's a lower dose).
However, in this study receiving a typical dose of HCQ did not eliminate the risk of retinopathy.
"Even patients who are taking an average dose less than the recommended maximum dose can develop retinopathy," said Liu. "This suggests the importance of careful weight-based dosing in reducing the risk of retinopathy."
The investigators concluded that lupus patients are more likely to develop retinopathy because they have a longer duration of anti-malarial medication use, and because they are more likely to have been prescribed the more toxic medication chloroquine than people with other rheumatic conditions.
In addition, the work suggests that just having lupus makes retinopathy more likely to occur.
However, because other research shows how important the right levels of these medications are to prevent blood clots and cardiovascular events, doctors and patients need to work to strike the right balance. Regular eye care is critical for patients with lupus, RA, and others who take anti-malarial medications.
Found This Study Interesting? Get Involved
If you are diagnosed with arthritis or another musculoskeletal condition, we encourage you to participate in future studies by joining CreakyJoints' patient research registry, ArthritisPower. ArthritisPower is the first-ever patient-led, patient-centered research registry for joint, bone, and inflammatory skin conditions. Learn more and sign up here.
Liu HY, et al. Risk Factors of Antimalarial-Induced Retinopathy in Systemic Lupus Erythematosus and Other Autoimmune Conditions. Annals of the Rheumatic Diseases. Volume 79, Supplement 1. 2020.
Marmor MF, etal. Recommendations on Screening for Chloroquine and Hydroxychloroquine Retinopathy (2016 Revision). Ophthalmology. June 2016. doi: https://doi.org/10.1016/j.ophtha.2016.01.058.