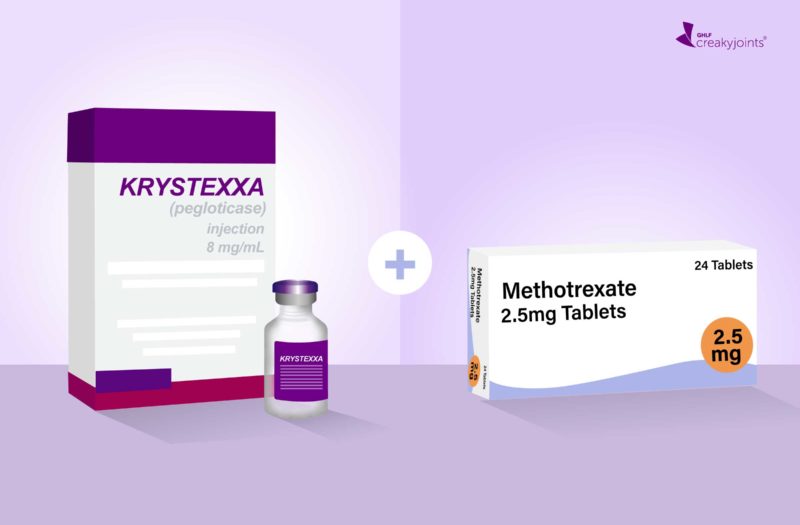 Despite the use of standard medications to reduce levels of uric acid in the blood, such as allopurinol (Zyloprim and Aloprim) or febuxostat (Uloric), about one in 10 people with gout continue to have multiple flares of the disease every year and to develop painful growths containing uric acid crystals called tophi.
In 2010, a new type of drug was approved for those tough cases of uncontrolled gout. Pegloticase (Krystexxa) is an infusion that contains an enzyme that converts uric acid into a substance that is dissolvable in water and removed from the body during urination. The drug is meant to be given every two weeks for about six months, but its success has been limited because many people develop infusion reactions or antibodies against the drug, which makes it intolerable or ineffective.
Now, in two preliminary studies presented at the European E-Congress of Rheumatology 2020, held virtually by the European League Against Rheumatism (EULAR), patients' response to pegloticase was found to double when the immune-modulator medication methotrexate (MTX) was given both before and throughout the infusion treatment.
In the small Methotrexate to Increase Response Rates in Patients with Uncontrolled GOut Receiving Krystexxa (MIRROR) open-label study from a clinic in Alaska, 14 patients (all men, average age 49 years) started with an average serum uric acid (sUA) of 9.2, mg/dL, far above the target of less than 6 mg/dLrecommended by the American College of Rheumatology.
Twelve of the men had visible tophi. For four weeks prior to and during pegloticase infusions, the men received oral MTX 15 mg/week and folate (1 mg/day). (Folate is a B vitamin that is taken along with methotrexate to help minimize some of its side effects, such as nausea.) Pegloticase infusions (8 mg intravenously) were given every two weeks for a year.
Six months after starting pegloticase, 11 of the men (78.6 percent) were considered responders to the dual treatment, with sUA less than 6 mg/dL in at least 80 percent of the measurements made at weeks 20, 22, and 24.
"There was a rapid and sustained decrease in uric acid starting with the first infusion," said study author John Botson, MD, a rheumatologist at Orthopedic Physicians Alaska in Anchorage and president of the Alaska Rheumatology Alliance, in a presentation at EULAR about his research.
Among the responders, the actual decline in sUA was 9 mg/dL, to a minuscule 0.2 mg/dL.
Three men discontinued treatment after 12 weeks because they met standard criteria for non-response to pegloticase, having sUA levels over 6 mg/dL at two consecutive visits.
Prior to the treatment, participants had an average of 12 gout flares each year. Despite the decrease in uric acid levels, five of the 11 responders experienced at least one gout flare (with an average of three) during weeks 12-24 of the study.
The other adverse reactions investigators were most concerned about — cardiovascular events or severe allergic reaction (anaphylaxis) to pegloticase — did not occur, and no new safety concerns emerged.
"A randomized double-blind trial [MIRROR RCT] is currently underway for additional data. However, I am already encouraged that the MIRROR open-label findings support the growing body of evidence that that starting immunomodulatory therapy with methotrexate before pegloticase in refractory gout improves efficacy and, ultimately, patients' quality of life," said Dr. Botson.
In a separate presentation at EULAR, physicians presented real-world experience on methotrexate and pegloticase co-therapy in 10 patients from a community rheumatology practice.
"By adding methotrexate, we doubled the response rate, which means no more pain and a return to normal life for the patient. This approach is now standard of care in my practice," concluded study author John A. Albert, MD, of the Rheumatic Disease Center in Glendale, Wisconsin, in a presentation about his research at EULAR.
Found This Study Interesting? Get Involved
If you are diagnosed with arthritis or another musculoskeletal condition, we encourage you to participate in future studies by joining CreakyJoints' patient research registry, ArthritisPower. ArthritisPower is the first-ever patient-led, patient-centered research registry for joint, bone, and inflammatory skin conditions. Learn more and sign up here.
Horizon Therapeutics, which manufactures pegloticase (Krystexxa), is a corporate sponsor of the Global Healthy Living Foundation.
Albert J, et al. Pegloticase Response Rate in Uncontrolled Gout Patients Co-Treated with Methotrexate: Experience in a Community Rheumatology Practice. Annals of the Rheumatic Diseases. Volume 79, Supplement 1. 2020.
Botson J, et al. Pegloticase Response Improvement by Co-Treatment with Methotrexate: Results from the Mirror Open-Label Clinical Trial in Patients with Uncontrolled Gout. Annals of the Rheumatic Diseases. Volume 79, Supplement 1. 2020.