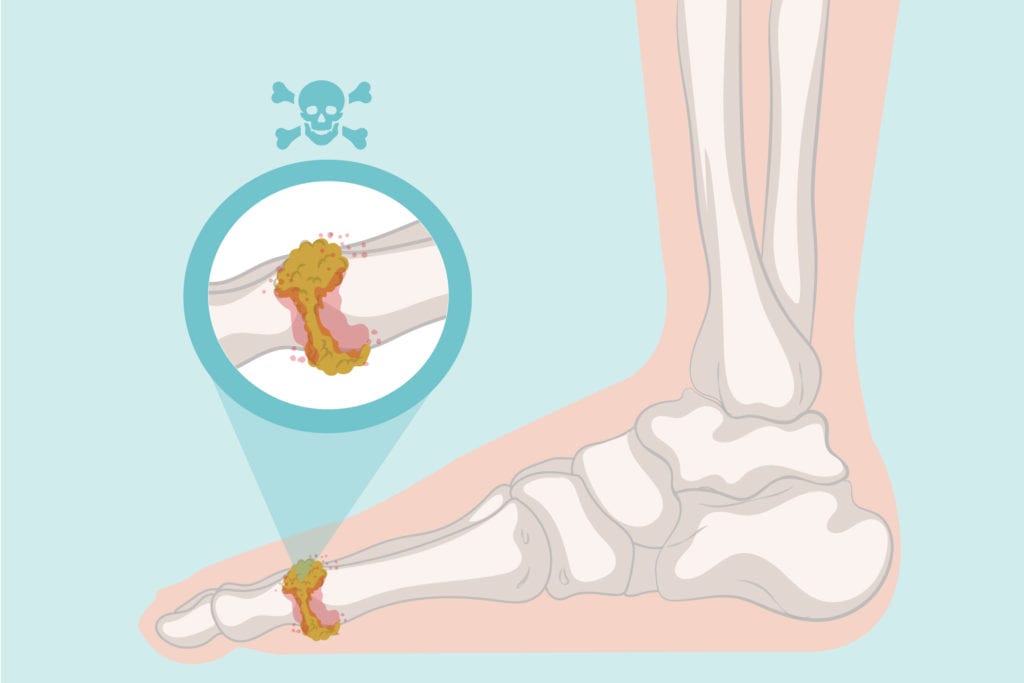 Gout is best-known for causing intense pain, usually in the big toe. But research has shown that this condition may cause much more than discomfort. Gout has been tied to an increased risk of cardiovascular disease and premature death.
Using a "treat-to-target" strategy might be the best way to substantially mitigate that risk, according to new research.
The study, presented at the 2018 American College of Rheumatology/Association of Rheumatology Health Professionals (ACR/ARHP) Annual Meeting in Chicago, is a follow up to earlier research that was conducted back in 2014. The older trial followed 700 patients and concluded that a variety of factors — including uric acid levels at baseline and during treatment — might predict who had a higher risk of premature death.
At that time, it wasn't clear whether people who already had developed severe gout could do anything to change this increased early mortality risk. So the new study, conducted by the same team of scientists from Spain, was designed to determine whether bringing uric acid levels in the blood (serum urate) down to normal (less than 6 mg/dL) would make a difference.
The new trial included data on a much larger group of patients — 1,193 of them who were treated at a gout clinic from 1992 to 2017. Researchers tracked patients' uric acid levels to figure out whether lowering them to less than 6 mg/dL would translate to a lower mortality risk. It did.
When the study began, the average uric acid level of participants was 9.1 mg/dL. Thanks to treatment, most patients were able to get their levels below 6 mg/dL, but about 16 percent still had too much uric acid in their blood. Researchers determined that participants whose uric acid levels remained elevated were significantly more likely to die during the course of the study.
The authors accounted for other variables that might impact mortality risk, including high BMI, alcohol intake, diabetes, and hypertension. High uric acid levels stood out as an independent risk factor.
"There are two current approaches for [excess uric acid] in gout: treat-to-target interventions… or treat to flare unless severe gout develops," study co-author Fernando Perez Ruiz, MD, PhD told the American College of Rheumatology in a press release. This new study suggests that treat-to-target — treating gout patients as aggressively as needed to get uric acid down below 6 mg/dL — may be a better option than simply treating someone enough to ease their symptoms.
Learn About More Rheumatology Research Breakthroughs
Follow our latest ACR meeting coverage to read about the research findings that could affect your treatment, lifestyle, and overall health.
Get Involved with Patient-Centered Arthritis Research
If you are diagnosed with gout or another musculoskeletal health condition, we encourage you to participate in future studies by joining CreakyJoints' patient research registry, ArthritisPower. ArthritisPower is the first ever patient-led, patient-centered research registry for joint, bone and inflammatory skin conditions. You can use ArthritisPower to track your disease symptoms, share patterns with your doctor, and participate in voluntary research studies. Learn more here.