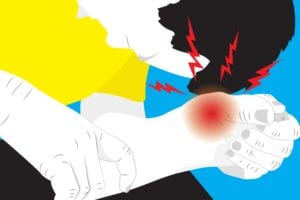 Considering how painful and disabling gout flares can be, you might think that patients and doctors would be doing everything they can to prevent them from occurring. But recent research from Australia, published in the journal Arthritis Research & Therapy, suggests that gout is often poorly managed.
According to the study, a population-based survey of 2,778 people, about 6.5 percent of Australians have been diagnosed with gout. (That's similar to incidence in the U.S., which is estimated to be about 4 percent.) Of the participants with gout, 25 percent said that they had had two or more flares within the past year.
While guidelines say that most gout patients should be taking a drug called allopurinol to keep their urate levels down and prevent attacks, only 37 percent of study participants with gout were taking this drug. Even among those with frequent gout flares, only half were using it.
In what sounds like a contradictory finding, "current allopurinol use, within participants with flares, was most strongly associated with a higher probability of ≥ 2 flares," the authors wrote. But that doesn't imply that allopurinol is ineffective; instead, it likely means that their doctors were not prescribing the correct dose or failing to regularly monitor their blood urate levels.
Earlier research has found that allopurinol is often prescribed at doses that are too low to be effective. Although the recommended initial dose is 100 mg, doctors are supposed to order initial weekly lab tests for patients and keep increasing the dose (up to 800 mg/day) until the tests show that urate levels are 6 mg/dL or less. But that isn't what happens much of the time.
"Prescribing is not always appropriate or effective," the authors wrote. "Subsequently, patients may perceive therapy to be ineffective and continuation rates can be poor. A lack of education for both medical practitioners and patients has been identified as a key barrier for success in establishing and maintaining [urate-lowering therapy]."
Use Our ArthritisPower App to Track Your Gout Symptoms, Disease Activity, and More
Join CreakyJoints' patient-centered research registry and track symptoms like flares, fatigue, and pain. Learn more and sign up here.
Keep Reading