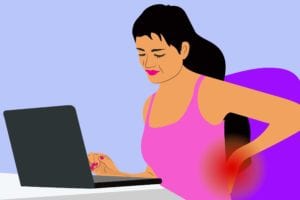 Earlier this year, the FDA approved upadacitinib (Rinvoq) for the treatment of rheumatoid arthritis. The manufacturer (AbbVie) has been studying whether this oral medication, a JAK inhibitor, might be effective for other inflammatory conditions as well. Now they've completed a study that suggests the drug may be useful for ankylosing spondylitis (AS) patients.
The research was presented at the 2019 American College of Rheumatology/Association of Rheumatology Professionals Annual Meeting in Atlanta and findings were simultaneously published in the journal The Lancet.
In this double-blind, placebo-controlled phase 2/3 study, 187 patients with ankylosing spondylitis were randomly assigned to one of two groups. Half of the study participants were given 15 mg of upadacitinib; the other half were given a placebo. After 14 weeks, 52 percent of those taking upadactinib had an improvement in disease activity of at least 40 percent (ASAS 40 response criteria) compared to 26 percent of those who had been taking a placebo.
The authors reported that the rate of adverse events in the upadactinib and placebo groups was similar. Side effects of this drug may include an increased risk of infections, nausea, and fever. The drug label also warns that it may increase the risk of developing serious infections (such as shingles and tuberculosis) as well as lymphoma. There are also concerns in JAK inhibitors generally about an increased risk of blood clots called deep vein thrombosis (DVT).
Unlike biologic drugs that are given by infusion or injection, JAK inhibitors like upadactinib are taken orally via a pill. These medications work by blocking janus kinases (JAKs), enzymes that are involved in the inflammation process.
Ankylosing spondylitis is a type of inflammatory arthritis that primarily impacts the lower spine and sacroiliac joints in the pelvis (though it can affect other joints too). Current guidelines suggest that most AS patients start treatment with an NSAID (non-steroidal anti-inflammatory drug) before progressing to an anti-TNF-blocker if necessary. If JAK inhibitors like upadactinib are ultimately approved for AS, it's not yet clear where would fall in an growing group of available targeted therapies.
Use Our ArthritisPower App to Manage Your Arthritis
Join CreakyJoints' patient-centered research registry to track your symptoms, disease activity, and medications — and share with your doctor. Learn more and sign up here.
Keep Reading