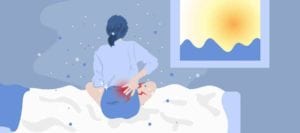 People with active anklyosing spondylitis (AS) now have a new treatment option to consider: Ixekizumab (Taltz), was recently approved by the FDA for this condition.
Ixekizumab is an interleukin inhibitor. A monoclonal antibody (type of biologic drug), it works by blocking interleukin-17A (IL-17A), a protein that would otherwise lead to increased inflammation. As with many other rheumatologic biologic drugs, ixekizumab is taken by injection.
Ixekizumab has been on the market in the U.S. since 2016, when it was approved for psoriasis. Approval for psoriatic arthritis followed a year later (in 2017).
Before approving ixekizumab for people with AS, the FDA reviewed two placebo-controlled phase 3 trials that included a total of 657 adult with ankylosing spondylitis. One of the studies was comprised of patients who had not responded well to TNF inhibitors, which are considered a first-line biologic for treating AS. The other focused on those who had never taken any biologic drug. In both studies, AS patients who used ixekizumab had significantly less disease activity compared to those who had been given a placebo injection by the 16-week mark.
AS, which is sometimes called axial spondylitis, is an inflammatory form of arthritis that tends to cause pain in the lower back and sacroiliac joints that connect the spine to the pelvis. The official first-line treatment for AS, according to the American College of Rheumatology, is to try non-steroidal anti-inflammatory drugs (NSAIDs), but many patients end up needing to turn to other types of medication as the disease progresses.
Ixekizumab can be taken by itself or used in conjunction with other non-biologic medications, such as sulfasalazine, corticosteroids, or non-steroidal anti-inflammatory drugs (NSAIDs). The biggest risk of this drug appears to be an increased risk of infection.
Track Your Medications with ArthritisPower
Join CreakyJoints' patient-centered research registry and log your medications to track side effects and impact on disease activity. Learn more and sign up here.
Keep Reading
Eli Lilly, which manufactures ixekizumab (Taltz), is a corporate sponsor of the Global Healthy Living Foundation.