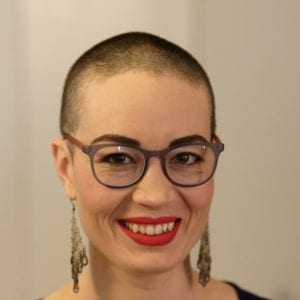 Thousands of models will walk the runways during New York Fashion Week this fall and while they all work to make it look easy and glamorous, there's one model who is working extra hard — struggling just to breathe, much less walk — although you'd never know it from her effortless strut.
Charis Hill, 31, of Sacramento, California, is a model, but she also lives with ankylosing spondylitis, which is a kind of an inflammatory arthritis that tends to strike in young adulthood. AS can cause excruciating chronic back pain, but unfortunately, it's often mistaken for mechanical back pain and misdiagnosed for years. (In fact, a recent study found that nearly one-third of AS patients reported that it took more than 10 years to receive a formal diagnosis from when they began seeking medical attention.)
Walking wasn't always a struggle for Hill. In fact, growing up, she was a high-level athlete. Basketball, running marathons, volleyball, soccer — if there was a sport, she did it and loved it all. She was eventually recruited to play on her college soccer team.
But this constant movement might actually have been an early warning sign of the disease that would take over her life just a decade later.
"I think, almost without knowing it, that I was compensating for the pain and stiffness I was feeling every day," Hill says of the symptoms that started when she was a young teen. "Sports helped me deal with the stiffness and I got really good at pushing through pain."
Getting Diagnosed with Ankylosing Spondylitis: A Surprising Family History
That intensity would come to serve Hill well when she finally decided to get an answer to her chronic health problems. In 2012, after a stressful cross-country move from North Carolina to California, she got an upper respiratory infection. At first, she brushed it off as a cold but after months of feeling sick, she finally went to the doctor. He was no help, telling her that her difficulty breathing was just anxiety. Other doctors told her that her chronic pain was probably due to old athletic injuries (that she never remembered getting). The brush-offs started to make her question her own reality.
Still feeling unwell, Hill refused to accept their non-answers. She wound up calling her estranged father who had also suffered from similar health problems for years.
https://www.instagram.com/p/BFcqfKmLepf/?taken-by=forestfirebears
As soon as he heard her story he told her that he was certain that she had what he did — ankylosing spondylitis. He even had his rheumatologist write a note explaining the symptoms and condition to Hill's doctor. Why was such a note even necessary?
"Everyone thinks AS is a 'man's disease' and there are still some doctors who refuse to diagnose AS in women," she sighs. "Women's AS symptoms can be different than men's but women definitely get it."
While more men than women are diagnosed with AS, the numbers are starting to change, research shows. One Canadian study, published in BMJ Open, found that the male/female ratio of people diagnosed with ankylosing spondylitis changed from 1.7 in 1995 to 1.2 in 2010. The study found annual incidence rates of women with AS have been increasing since 2003.
Adjusting to a New Normal
After getting formally diagnosed in 2013, Hill was finally able to start treatment. Due to AS and post-traumatic stress disorder she is permanently disabled and says she spends more days than not in bed — a far cry from her activity-fueled days as an elite athlete.
However, Hill tries not to let her ankylosing spondylitis bring her down. Rather, she says living with chronic, daily pain has helped her find new passions in life, including advocacy, writing, and working on the CreakyJoints patient council as a member of the 50-State Network. (Learn more about being a patient advocate for the 50-State Network here.)
"It has taught me to choose to do only what I really love and not to push myself so hard," she says.
Modeling as Medicine
She has also found a powerful medicine in modeling. When Hill was first diagnosed with AS, she says it felt like a betrayal, like her body had failed her. But then a friend asked her to walk the runway in a show for a charity. In her athlete days, the 5'10" beauty had laughed whenever people told her she should be a model. But this time she considered it and eventually agreed to do the show.
She loved it.
"Modeling feels so empowering. When I'm doing it I can be whoever I want to be," Hill says. "It was this unexpected gift that helped me restore my confidence."
This upcoming show feels particularly special to her as she's walking for Michael Kuluva, a fashion designer who knows better than most how she's feeling, as he was diagnosed with rheumatoid arthritis at age 28. His fashions highlight the many hidden ways that arthritis affects the body and have details, such as magnetic closures, that make it easier for people with swollen, painful joints to wear them.
Together Kuluva and Hill prove that younger people can and do suffer from arthritis — but that doesn't mean they can't still look and feel fabulous. (Read more of Michael's and other expert's tips about dressing with arthritis here.)
Today, Hill says she still considers herself an athlete — just on a different type of playing field.
In addition to staying physically active through modeling and other activities, she is expanding her advocacy through writing and working in a leadership positions in The Episcopal Church. She also shares her journey in Becoming Incurable, a documentary about living with chronic pain, due out in early 2019.
https://www.instagram.com/p/BN2R2__BAji/?taken-by=forestfirebears
For more on her story, check out her site BeingCharis.
Learn more about navigating an ankylosing spondylitis diagnosis in our patient guidelines: A Patient's Guide to Living with Ankylosing Spondylitis.