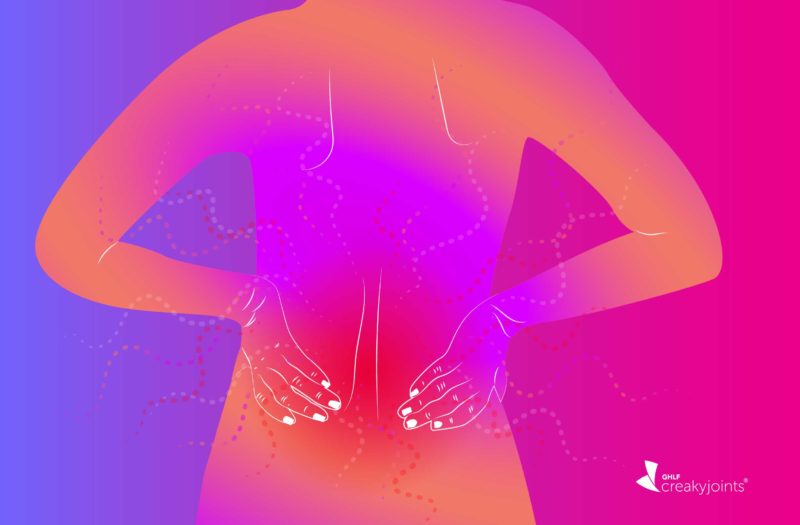 I was diagnosed with ankylosing spondylitis — an incurable, often degenerative inflammatory condition that fuses the spine and causes widespread inflammation throughout the body — a few years ago, though I strongly suspected I'd had it for about a decade before that. When I kept finding myself crying in my doctor's waiting room — my eyes exploding with inflammation, vision loss, and pain — I intuited that something was very, very wrong.
Although doctors initially thought I had "contact irritation" — an oversimplification if I'd ever heard one! — they realized much later that I was experiencing uveitis, an inflammatory eye condition linked to autoimmune diseases.
I was a poor graduate school student who had never experienced anything remotely related to a health concern (besides chronic poison ivy — totally my fault — as a kid). Going to the doctor every few weeks because my eye inflammation was back was disturbing, isolating, and exhausting.
I constantly wondered: What is happening to me? I tried desperately to figure it out, but there were no other symptoms besides extreme fatigue. And that could have been caused by working full-time on top of full-time graduate school, right?
A Hard-to-Come-By Family History
Let's back up to the beginning: I'd had a hard upbringing. My parents both experienced opiate addiction, and eventually I was put into foster care. It would be years before I got close to my father again, so he wasn't readily available to chat medical history with for many years.
When my father and I finally got close again, I had the sense to ask him: Do you have any health conditions? I'm not sure what prompted it, but I felt in my gut that whatever was happening to me was linked, in some way, to something ancestral, hereditary.
My dad said he'd had ankylosing spondylitis and actually had surgery on his spine when he was in twenties to fuse a bone. I looked it up but the description of AS didn't exactly register with me: back pain, hip pain, SI joint pain, problems with the lungs and heart. In my mid-twenties, those problems weren't apparent yet. But one major symptom of AS did stand out to me: eye inflammation.  
When I got better health insurance years later, I eventually brought it up to my doctor, who decided to test me for something called the HLA-B27 genetic marker. HLA-B is a gene that's involved in helping the immune system determine what is part of your own body and what is a foreign invader that needs attacking. There are hundreds of different forms of the HLA-B gene, designated by numbers. One of them, HLA-B27, is strongly associated with ankylosing spondylitis.
(It is important to note that testing positive for the HLA-B27 gene doesn't guarantee that you'll have AS. In fact, a majority of people who do test positive don't develop AS. It is also possible to develop AS and be negative for HLA-B27.)
A Gut Instict and a Diagnosis
When the test came back positive for HLA-B27, I knew — in my gut — that it meant something. I had ankylosing spondylitis just like my father did, even though I hadn't experienced any of the other core symptoms of AS. Yet.
In my early thirties, the disease progressed. The uveitis went away, but the back pain came. My lower back was like tin, my hips were always tight, my digestive system was a mess (also a key symptom), and I'd experienced severe morning stiffness and a lack of mobility for years.
It was clear that something was wrong, and when I went to a rheumatologist (two, actually, for a second opinion) for a diagnosis of what I'd suspected, I was diagnosed (twice) with AS. 
Not only could they now see radiographic evidence of the disease (meaning that there was damage to my joints on X-rays), my blood inflammation was noticeable and they already had the result of my HLA-B27 testing. 
Embracing My AS Family History
In a strange way, I was relieved to be diagnosed. And on some other, deeper, quieter level, I felt a connection to my family in an ancestral way. 
Instead of blaming myself for developing a chronic disease — did I allow my stress to get the best of me? Did I not work out enough? — I realized the wild truth of genetics: We are literally made of those who come before us, and sometimes that means we get sick, too.
In those few years after being diagnosed with AS, I learned that my aunt — my father's sister — also had been recently diagnosed with ankylosing spondylitis. They thought my grandmother had it too, but she was never officially diagnosed. 
When I look in the mirror, I see my father's Mediterranean heritage. His family came by boat from Southern Italy to escape poverty and find a better life. I am olive-skinned and dark haired. I love the summer.
And while I love my mom and her European background, I feel this strong connection to my father's blood — even if it does mean we are also connected by disease. 
In some sense, our bond speaks to resilience. To the body's fortitude. To the need for strength, despite hardship. To the fact that, in many ways, we are all connected through our trauma and our joy and our stories.
And because the likelihood of my developing AS was so high, there was a built-in need for acceptance of the disease. I grieved deeply for a period of time (despite also feeling relief at having a diagnosis and a name for my symptoms).
But seeing how my father, aunt, and my grandmother (who lived to be 96) coped with their AS made me realize that I, too, could accept this disease as part of my identity, and that I, too, could trouble its storm.
Not Sure What's Causing Your Pain?
Check out PainSpot, our pain locator tool. Answer a few simple questions about what hurts and discover possible conditions that could be causing it. Start your PainSpot quiz.
Keep Reading