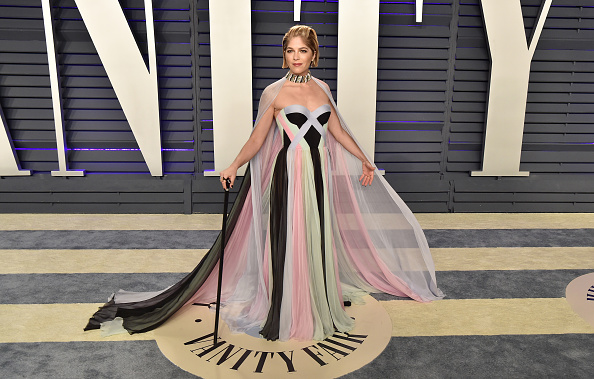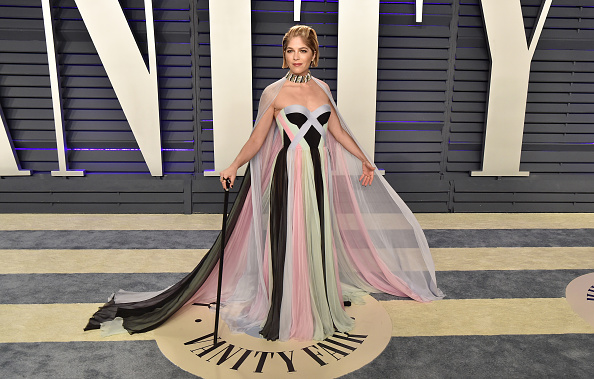 While most of social media was aflutter during the 2019 Oscars trying to psychoanalyze the loving looks exchanged between Bradley Cooper and Lady Gaga, another subset couldn't stop talking about Selma Blair.
The actress, 46, walked the red carpet at the Vanity Fair Oscar party with a custom-designed cane in her first public appearance since sharing in the fall that she was diagnosed with multiple sclerosis (MS). MS is an autoimmune disease that attacks the central nervous system, often causing difficulty with walking and balance.
It was an emotional evening for Blair, who wrote in an Instagram post about walking on the red carpet holding hands — possibly for extra support — with her manager Troy Nankin. "There are moments that define us. This is one of those indelibly watermarked in my heart," she wrote. "So this was a streak of light. To say I am here. I am still in an exacerbation so there was some nervousness. I don't do anything the way I was once able. I will though. I can regain much. Mommas gotta work. And I will be able to do so much more on my own."
Blair's gratitude for Nankin is something everyone living with chronic illness can relate to. Calling him a hero, she wrote of him, "wanting me to shine brightly in a time that can be so challenging. He knew I wanted to be able to stand proudly as the woman I have become and hope to be. To be a part of something so special when my body won't move clearly yet."
A Powerful Moment
Blair's posts and prominent use of her cane was impactful for everyone in the chronic illness community, whether they have mobility issues or not.
Chronic illness means living with the bad and ugly — often more than the good. Assistive devices like canes may become necessary during flares, or even on a regular basis. Read more about how to use and select a cane for arthritis here.
By attending the Oscars with a cane in tow, Blair brought important visibility to living with disability.
"With amazing and courageous people such as Selma Blair, we do not let our illness define us or make us stay at home," says Michael Kuluva, a fashion designer with rheumatoid arthritis who has used his New York Fashion Week shows to raise awareness for RA and other chronic illness. "You might not be able to physically see a disease or the pain it incurs. It takes incredible strength to not let your disease get you down. Having these fighters come out and live their life each day is the best awareness of all."
Blair's appearance resonated with CreakyJoints members for similar reasons. "When a famous person admits an invisible illness, it helps raise awareness for the "regular folks". Kudos to her!" Katie McKewen wrote on Facebook. "She looks like a warrior to me," wrote Jeneen Roberston. "She is bringing awareness in the most amazing way."
"God bless. Ride it till the wheels fall off!" echoed Beverly Doris Weaver McGee.
People following the news on Twitter had similar reactions. Here's a sample of them:
#SelmaBlair in tears as she attends the @VanityFair #Oscars party made me cry. I've often been walking with an aid and the exhaustion can just hit and you think, how am I going to do this? But you keep going. She is amazing. ?? pic.twitter.com/N3qvRJozOa

— Jennifer McShane (@Jenny_McShane) February 25, 2019
Yes, we are doing it. God Bless her. #SelmaBlair #Oscar2019 https://t.co/uif1dVgrrH

— Tracy Downey (@msgoddessrises) February 25, 2019
My grandma had such a debilitating form of MS and I watched an incredible woman become a shell. I wish #SelmaBlair every bit of strength possible in this journey. Take advantage of all meds and physical therapy to live your best life. You are beautiful and amazing.

— The Drinking Diva (@TheDrinkingDiva) February 25, 2019
I love that she worked her cane into her gorgeous look!
(When I can't use my wheelchair, my cane isn't as fancy as hers, but it can a be fun (but necessary) accessory…)#chronicillness #disability #selmablair

— Donia ? ?? ♿ (@DoniaLilly) February 25, 2019
As a person who has #MultipleSclerosis & walks with a cane it's nice to see #SelmaBlair looking elegant & beautiful & totally rocking that cane ? https://t.co/Sws9bKdnuF

— The Hamberderler ??? (@teter45013) February 25, 2019
Become a Patient Advocate
If you're moved by Blair's stance and are looking for ways to become a chronic illness advocate, consider joining our 50-State Network. We support patient advocates with all different kinds of chronic illness — from MS to migraine to arthritis and more — and provide opportunities and platforms to speak out and make a difference. Learn more and sign up here.