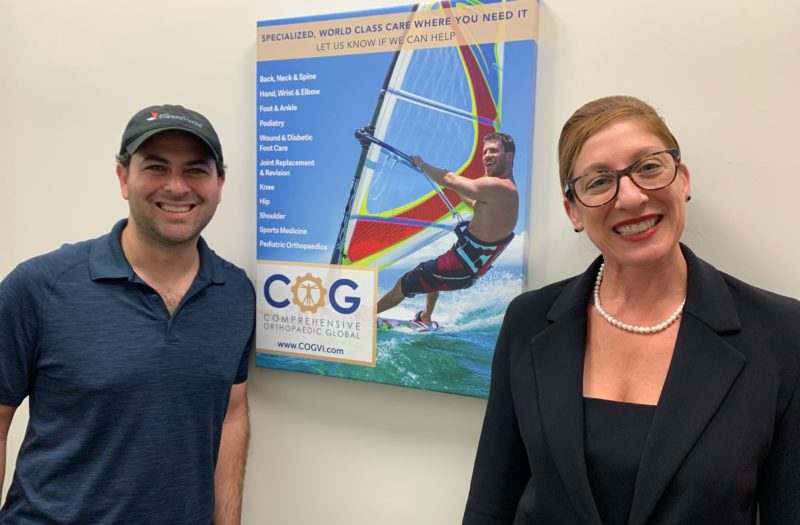 Dr. Manno: "It's just untouched territory here…"
Seth: "So I guess you could say it's… VIRGIN?!"
As part of our commitment at the Global Healthy Living Foundation to understand and improve access to health care in rural geographies throughout the U.S. and its territories around the world, I recently visited a unique clinic in St. Thomas, which combines rheumatologic and orthopedic care along with physical therapy and wellness services.
St. Thomas is part of the U.S. Virgin Islands, which, according to my cab driver and verified by Google, was acquired from the Dutch by the United States in 1917 (a year before the start of World War I) for $23 million. It is comprised of three islands: St. Thomas, St. Croix, and St. John.
While the word "rural" often evokes thoughts of large green pastures or endless vistas of mountains or farmland or glaciers, it technically refers to any population center that is isolated.
In the case of the USVI, the rural population is surrounded by crystal clear blue waters, coral reefs, and sometimes unpredictable Caribbean weather patterns. This may sound tropical and serene, but after sitting down with Rebecca Manno, MD, MHS, a U.S. rheumatologist who relocated to the Virgin Islands full time in 2019 from Johns Hopkins in Baltimore, Maryland, it quickly became clear that there are many challenges facing residents of the USVI who have musculoskeletal conditions, as well as opportunities to improve health care here.
The Only Full-Time Rheumatologist in the USVI
Dr. Manno welcomed me to her clinic, gave me a tour of the facility, and told me about her background and how she came to practice medicine here. She is originally from Maryland, and went to undergraduate school at Johns Hopkins University, then to medical school at the University of Maryland. She did her fellowship and stayed on as faculty at Johns Hopkins for the period following medical school.
Beginning in October 2018, she started coming monthly to the USVI to see patients, and then moved to St. Thomas full-time in August 2019. Dr. Manno was drawn to the region for the change in setting and the unique set of challenges that it offered. Before she came to the Virgin Islands, the number of full-time rheumatologists in the territory was zero. After she arrived, that number jumped up to ONE.
Dr. Manno teamed up with fellow doctors in the USVI, joining as the rheumatologist within the Comprehensive Orthopaedic Global (COG) practice. COG was started 15 years ago by U.S. orthpaedic surgeon Brian Bacot, MD, an Alabama native who attended medical school at The University of Alabama at Birmingham and completed his residency at the University of Miami.
COG is now a multi-specialty practice (which includes orthopedics and rheumatology) with doctors in different orthopaedic subspecialties. It also has its own in-house surgical suite.
COG Restore is the rehabilitation, physical therapy, and wellness center affiliated with the practice. What makes this center stand out is that it offers multiple programs to patients, whether they're dealing with an acute situation (such as pre- or post-operative care for a knee replacement surgery or the diagnosis of an inflammatory disease like rheumatoid arthritis) or need ongoing support for maintaining a healthy lifestyle, including nutrition, exercise, and general wellness coaching and counseling.
The benefit of having a rehabilitation and physical therapy center associated with an orthopaedic and rheumatology practice is the direct and open communication that occurs between therapists and providers, both before and after procedures. Because orthopedic surgeries are so common among people with musculoskeletal disease (for example, joint erosions from arthritis that subsequently require joint replacement surgery), there is natural cross-over and need for coordination of care and communication. In practice, when an orthopedist is doing a scoping of a joint, the rheumatologist can receive a biopsy for pathology to help determine future treatment options.
The Challenges of Working with Rural Patient Populations
Small rural communities have complicated specialty care frameworks. First and foremost, is there enough business for a specialist doctor to sustain working within that community? This is always a challenge for specialty care in rural communities, but eventually, as in the case of the USVI, the demand (for care) grows until the inevitable supply (of doctors) is needed.
In the USVI, the need for rheumatology care is increasing and will continue to grow in tandem with an aging population. People with rheumatic disease had to go to Puerto Rico (more than 100 miles due west), Miami (more than 1,000 miles northwest) or to visit family elsewhere (such relatives who live in the continental U.S.).
Every day since Dr. Manno began practicing full-time on the island, she meets new patients whom she diagnoses with rheumatic conditions such as rheumatoid arthritis, lupus, gout, or psoriatic arthritis. Because Dr. Manno is a full-time provider who resides in the territory, patients have constant access to rheumatologic care because Dr. Manno's schedule is flexible to meet patients' needs.
This becomes particularly important early on in rheumatic disease, because you may need to see a doctor often in order to adjust and alter medication doses and regimens, watch for side effects, and monitor lab results. Frequent access to a rheumatologist also allows the doctor to make sure things are improving on treatment regimens, and if not, then make adjustments. This is hard to do when an airplane ride and overnight stay is involved.
Rheumatology Care in 'Paradise'
In addition to the challenges of providing care to rural populations in general, patients in the USVI have some specific issues unique to their geography and culture.
St. Thomas (population ~50,000) is the most densely populated island and by far the most developed. St. Croix (population ~50,000) is the largest geographically, with a largely Spanish-speaking population. St. John is the smallest by population and size (population ~5,000), with 75 percent of the St. John landmass designated protected park land, and the only U.S. Virgin Island accessible only by boat (there is no airport). This means that St. John has a smaller long-term residency population and chronic disease management is serviced by St. Thomas (the closest) or St. Croix.
Affordability is another major problem, compounded by the fact that the cost of living is so high (electricity, water, and disposable goods are much more expensive due to the need to ship them in). All potable water — water that is safe to drink — in the U.S. Virgin Islands comes from the sky and is therefore very limited and extremely expensive. When it comes to health care costs specifically, copays for medicines infringe on people's daily budget at a higher rate, since the cost of living is so high.
Of course, natural disasters also have a dramatic effect on health care. The main impact of the hurricanes, most notably Hurricanes Irma and Maria in 2017, was the resulting decrease in accessibility. This impacts the continuity of care in both short- and long-term ways. Natural disasters also contribute to physical as well as psychological stressors, which further complicate rheumatic (and all chronic) disease management. "Displacement from natural disasters adds a level of stress to people's lives that can compound symptoms and disease activity for inflammatory diseases like RA," says Dr. Manno. Unfortunately, she saw firsthand how this has affected in the USVI patient community in recent years.
Given these circumstances, it comes as no surprise that there is limited specialty care in the U.S. Virgin Islands. There are two cardiologists among all three islands, no full-time pulmonologists or dermatologists, and now, thanks to Dr. Manno, just one full-time rheumatologist.
There is a big need for patient education — about rheumatologic diseases in general as well as the medications used to treat them. People rely on word-of-mouth from friends or relatives, which don't always include accurate or thorough information.
Additional challenges facing residents of the USVI with musculoskeletal conditions include:
There is a lack of organized sports throughout the territory, which is the case in many rural communities.
The local diet is high in starches and can lack adequate fruits or vegetables. Fresh produce is expensive to import and therefore not as readily accessible.
Past negative encounters with the health care system may make patients skeptical of physicians and health care systems.
A Role for Telemedicine
Telemedicine can be a solution for some, but not all, of the issues facing rural communities, like the U.S. Virgin Islands. But this can be challenging for a specialty which requires palpation (touching) to check for tender and swollen joint counts, which is necessary for optimal care.
There are hybrid solutions that may be especially helpful to rheumatology patients. Primary care doctors can be taught to do joint counts in person, and rheumatologists can oversee treatment options and monitor blood test lab results remotely. There is great promise here and this is an area Dr. Manno and her colleagues intend to explore.

Beyond Medicine: Physical Therapy
COG Restore launched a wellness program called "Move It or Lose It!" in May 2019. The innovative program is designed to facilitate a healthy lifestyle, beginning with physical exercise and movement, and supported by motivational thinking and positive attitudes coached by friendly trained health care providers. In the "Move It or Lose It!" program, people learn proper technique and receive motivation and inspiration to continue exercising on their own time, within the parameters of their pain or physical limitations.
The core principle of this program, as its name implies, is that being sedentary has profound negative impacts on your joint health and overall health. This wellness physical therapy and exercise program is meant to build and maintain activity levels and provide support and motivation to patients while holding them accountable for their attitudes and actions.
The program is an hour a day, three days per week (Mondays, Wednesdays, and Fridays from 7:30 to 8:30 AM). It begins with a one-on-one evaluation by a physical therapist technician named Isaiah to determine peoples' physical fitness and athletic capabilities and set goals and manage expectations. Then, beginning the following Monday morning, Isaiah supervises a structured rotation of exercises focused on lower body, upper body, and full-body or core-strength training.
The idea is to learn, refine, and practice exercise techniques that are good for musculoskeletal or post-rehabilitation (post-surgery) patients, and to empower patients to take those skills home and into personal lives.
This is a model program with great merit, and we applaud these efforts and commend COG Restore for its innovation and patient-centricity.
Overall, it was fascinating to observe a thriving and innovative rheumatology practice addressing the unique needs of patients in this rural Caribbean population.
I've talked directly with many thousands of rheumatology patients and providers over the years and around the world. With every conversation, it becomes clear that all patients, doctors, and other providers have many of the same challenges and goals. Among the most important: diagnose patients quickly, start a good treatment regimen promptly, and help people feel better and healthier to prevent long-term damage.
The Global Healthy Living Foundation and its patient community CreakyJoints is eager to keep working with USVI providers and patients — as well as those in other Caribbean rural populations — to do our part to help achieve those goals.
Not Sure What's Causing Your Pain?
Check out PainSpot, our pain locator tool. Answer a few simple questions about what hurts and discover possible conditions that could be causing it. Start your PainSpot quiz.
Keep Reading