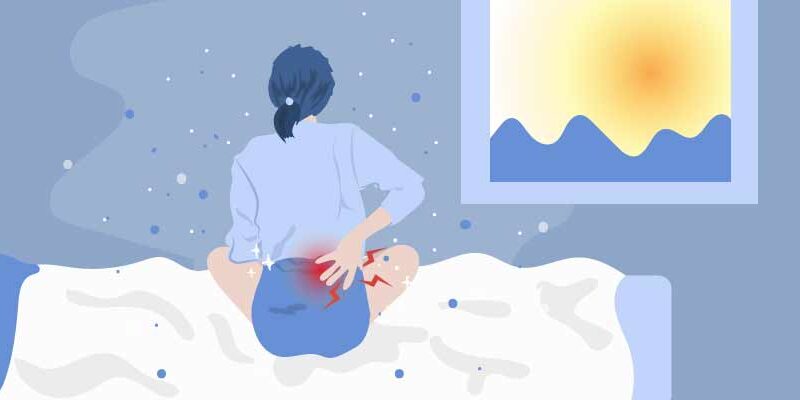 Emerging evidence shows that a free "DIY" therapy may help improve symptoms of chronic low back pain: self-administered acupressure.
Acupressure is different from acupuncture, in which a practitioner inserts thin needs into specific points in your body. Many people with chronic low back pain have found acupuncture to be helpful, but evidence to support the claims has been mixed, per the Mayo Clinic.
Acupressure, on the other hand, is a technique that involves placing pressure on specific "acupoints" using a finger, thumb, or wooden device — and you can do it yourself. That's exactly what researchers asked participants to do in a small study on chronic low back pain published in the journal Pain Medicine.
 In traditional Chinese medicine, certain acupressure points are termed relaxing for their use in treating insomnia. Another set of acupressure points are called stimulating for their purpose of increasing energy. During the six-week randomized controlled pilot trial, researchers compared relaxing acupressure, stimulating acupressure, and usual care for individuals with nonspecific chronic low back pain. Nonspecific means the low back pain is not due to a known underlying cause.
Patients in both the relaxing and stimulating acupressure groups experienced a decrease in pain levels (35 and 36 percent, respectively) over the course of the study. Meanwhile, fatigue was reduced by 26 percent in patients using stimulating acupressure compared with those receiving standard care, but this did not reach clinical significance, which researchers considered 30 percent or higher.
The researchers found no differences in quality of sleep or reported disability in any of the groups.
This is the first study to investigate self-administered acupressure for people with chronic low back pain to reduce both fatigue and pain. There were some risks involved with participants self-administering acupressure, all of which involved applying too much pressure to acupoints. For instance, one person experienced bruising and another experienced a muscle spasm after applying pressure to the arch of the foot.
However, these effects were quickly resolved once participants learned how to modify their acupressure by replacing the acu-ki (a wooden acupressure aid) with a finger, thumb, or pencil eraser.
It's worth noting that since this study was small, a larger sample size is needed to further determine the effects between the two types of acupressure used in the study. Because participants knew they were receiving a treatment intended to impact outcomes, there is also potential for response bias. (People may report feeling better because they were optimistic about the treatment, for example.)
Still, the findings are important because they suggest that those living with chronic low back pain may have an efficient, inexpensive, and convenient way of treating their pain and fatigue at home, which may improve adherence to treatment. Acupressure treatments conducted by a therapist "have potential barriers that could prevent widespread adoption, requiring time and resources to administer and travel for participants," note the researchers.
Other research has supported the benefits of acupressure. For instance, both relaxing and stimulating acupressure was found to significantly reduce fatigue in a large cohort of breast cancer survivors in a November 2016 study published in the journal JAMA Oncology. Relaxing acupressure also had significant effects on sleep quality and quality of life.
Not Sure What's Causing Your Back Pain?
Check out PainSpot, our pain locator tool. Answer a few simple questions about what hurts and discover possible conditions that could be causing it. Start your PainSpot quiz.