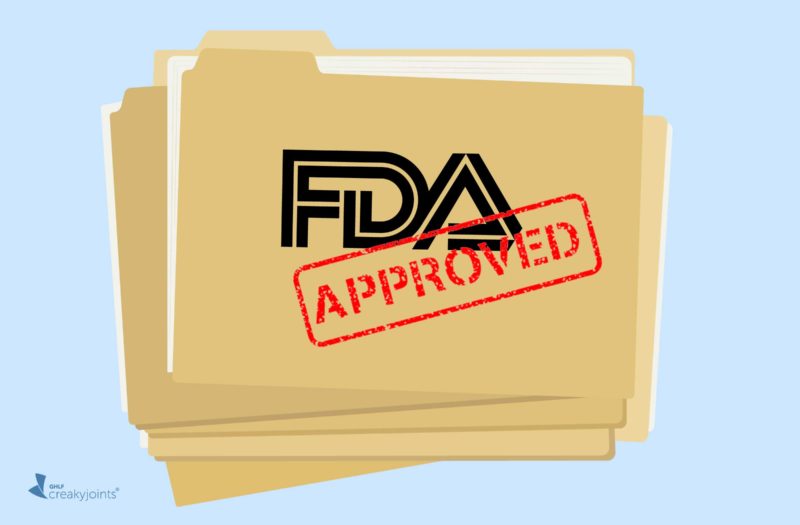 As of this week, people with ankylosing spondylitis (AS) or psoriatic arthritis (PsA) have some new options for treating their condition.
On December 14, the U.S. Food & Drug Administration (FDA) approved tofacitinib (Xeljanz) for the treatment of AS, making it the first Janus kinase (JAK) inhibitor that can officially be used for AS. On the same date, the agency also approved upadactinib (Rinvoq) for the treatment of PsA.
Tofacitinib was initially approved for rheumatoid arthritis (RA). Since then, it has also gained approval for PsA, ulcerative colitis, and polyarticular course juvenile idiopathic arthritis.
Upadactinib was previously approved for the treatment of RA.
The FDA approved tofacitinib for AS after reviewing a phase 3, double-blinded study. The study found that about 40 percent of AS patients who took tofacitinib had a 40 percent improvement in disease activity scores compared to a 12.5 percent improvement in AS patients who got a placebo.
The FDA approved upadactinib for PsA after evaluating two phase 3 studies. In one, more than 70 percent of PsA patients who used upadactinib had significant improvement in disease activity scores (ACR20 response) compared to 36 percent of those who used a placebo. In the second study, 57 percent of the upadactinib group improved significantly versus 24 percent of those who got a placebo.
Tofacitinib and upadactinib — along with baricitinib (Olumiant), which is approved only for RA — are the only three JAK inhibitors for inflammatory rheumatic conditions on the market. These drugs are targeted disease-modifying medications that decrease your body's production of specific enzymes associated with inflammation. Unlike biologic medications, which are infused or injected, JAK inhibitors are taken orally.
All three of these drugs come with the caveat from the FDA that patients should only use them if they have not responded well enough to a tumor necrosis factor (TNF) biologic (or if they can't take a TNF drug for some reason).
Recently, the FDA added boxed warnings to JAK inhibitors noting that these drugs carry an increased risk of cardiovascular disease, blood clots, and cancer. The agency added this warning to all JAK inhibitors after reviewing a post-marketing study that looked at the use of tofacitinib in RA patients.