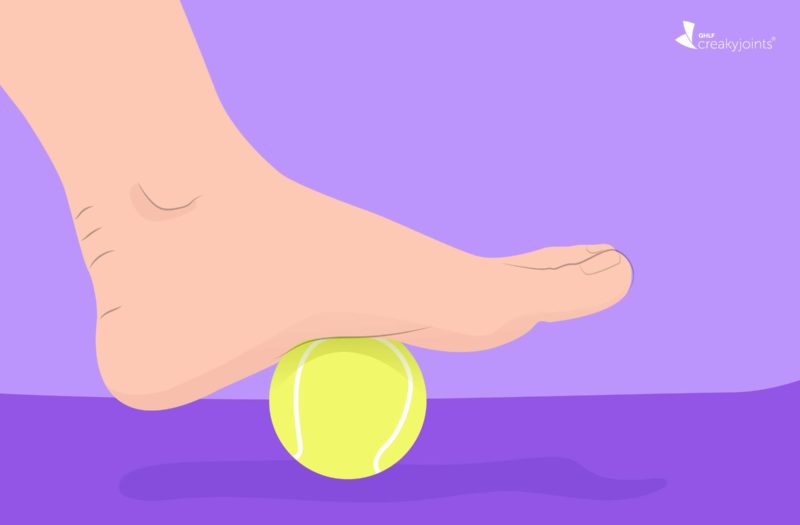 Adaptive utensils — you have a bunch. In your kitchen lives an electric can opener; in your closet, you've got a sock aid. You even bought a long grabber tool to help you pick up things high and low with less strain. Assistive devices exist to make life easier for people with arthritis and other forms of chronic pain or disabilities.
But some everyday items that you already have at home might help you manage your arthritis too — without spending a dime.
We asked a group of occupational therapists for their best tips and tricks to using everyday household objects to help save energy, reduce stress on your joints, and ease arthritis symptoms. Try some of their favorites or talk to an occupational therapist to find solutions that work for you.
Rubber Bands
Helps with: Better grip
Weakness or pain in finger joints can make it tough to grip small objects — like a zipper pull, for example. Thread an elastic or rubber band through the hole so you can hook a few fingers into the band when you pull the zipper up and down, suggests Cheryl Crow, MOT, OTR/L, an occupational therapist in Washington who has been living with rheumatoid arthritis for close to two decades. "That will help compensate for poor hand strength by allowing you to use the bigger muscles of your forearm and upper arm," she explains.
Wrapping rubber bands around rounded doorknobs or jar lids can also help enhance your grip, making them easier to open.
Foam Pool Noodle
Helps with: Easier grasp
Larger handles are generally easier to grasp for people with arthritis or hand pain, says Crow, who also runs an educational company called Arthritis Life to help people with arthritis improve their quality of life. Use a piece of a foam noodle to bump up spatulas and slotted cooking spoon handles, pot and pan handles, even a toothbrush if its small and narrow. Self-adherent wrap (the kind you find in the first aid section of any drug store) works great too, adds Casimiro "Casey" Degliuomini, OTR/L, an occupational therapist at Hospital for Special Surgery in New York City. "It's foamy to the touch and sticks to itself, so there's no need for an adhesive to hold in place."
Hanging Shoe Organizer
Helps with: Storing cleaning supplies
Sure, you can — and should — use it for shoes so you don't have to bend and reach into the bottom of a closet to find a matching pair. Using the same rationale, get another organizer for all your cleaning supplies and stash them into the slots instead of under the sink, suggests Karen Jacobs, OT, EdD, OTR, CPE, FAOT, occupational therapist and clinical professor of occupational therapy at Boston University. It'll help keep them organized and eliminate the need to bend down.
Wheeled Office Chair
Helps with: Transporting large items
Turn your desk chair or other wheeled chair into a makeshift storage cart to push along flat surfaces in your home, says Crow. You can use it to rest a laundry basket, your latest Amazon delivery, or anything heavy on the seat and then roll it where it needs to go.
Non-Slip Rolls or Shelf Liners
Helps with: Stabilizing and gripping
Put some non-slip material under a cutting board or mixing bowl to help keep it firmly in place while you cook, suggests Jacobs, who recommends Dycem Non Slip Rolls to her clients. It can also be used to stabilize plates on a tray, a notepad while you write, or even calculator on a desk. You can also use a piece non-slip roll or shelf liner to help you twist off the top of a jar or bottle, adds Crow. That increase in friction makes it easier and less painful because it requires less force to be applied to your joint as you twist it.
Socks
Helps with: Heat therapy
Fill a large thick sock with rice, tie it at the top, pop it in the microwave for a minute or two, until it reaches a comfortable, warm temperature — and voila — a homemade heating pad. Heat helps decrease pain and improve muscle and joint flexibility in people with arthritis, say experts. Here's more information about how heat therapy works to soothe arthritis.
Another use for an old pair of socks: dusting. Instead of gripping a rag, slip a sock on your hand and swipe away.
Freezer Bag
Helps with: Cold therapy
During an acute flare of rheumatoid arthritis, or if you have inflammation with osteoarthritis, cold helps reduce swelling and pain. Enter the freezer bag. You can fill it with ice cubes to make a cold pack, or to get a little fancy, combine two cups of water and one cup of rubbing alcohol in a bag and freeze for about an hour, suggests Crow. "This version will conform to your body slightly better than ice cubes," she says. Here are more ways to use cold therapy at home.
Rope or Heavy Ribbon
Helps with: Closing your car door
A bungee cord works too, as does a belt or shoulder strap from an old duffle bag or purse. Really, anything along those lines can be used to outfit the door handle of your car so you can pull it closed — no reaching required, says Degliuomini. Wrap it around and before getting in, grab a hold of the strap (making sure you leave enough slack so to not pull it closed too soon), he says. Once you're seated, pull the door closed with the strap, using two hands if needed to reduce the force and no reaching required.
Furniture Glides
Helps with: Moving kitchen gadgets
Those pads you stick under chair legs or large pieces of furniture to help protect your floors can also lend a hand in the kitchen. Put them under those smaller-but-still-heavy appliances that sit on your counter, like a stand mixer or blender. That way you can slide them forward when you need them, instead of lifting.
Tennis Ball
Helps with: Morning foot pain
Foot pain and inflammation due to plantar fasciitis is common in many forms of inflammatory arthritis — and especially in spondyloarthritis such as psoriatic arthritis and ankylosing spondylitis. Rolling the arch of your foot gently back and forth over a tennis ball can help stretch the plantar fascia ligament. You can roll your foot side to side (so the ball crosses the arch) and along the length of your foot from heel to toe.
You can also use tennis balls to massage other body parts, such as the lower back.
Hair Rubber Bands
Helps with: Less painful grip while brushing hair
If you're using a flat brush, you can place two or three hair ties around your hand to hold the back of the brush in place against your palm so you don't have to grasp it as hard, says Degliuomini.
Throw Pillows
Helps with: More comfortable chair seating
If you're working from home or sitting at a table or desk for an extended period of time, make sure it feels comfortable ergonomically. If the chair feels too low, you can build up the seat height with pillows or extra cushions.
Mop
Helps with: Cleaning the shower
When you think of a mop, you think of cleaning the floor. It's time to think outside the box. "Bending down and reaching in to clean a shower or tub can be a very awkward task that is harsh on joints," says Degliuomini. He suggests designating a mop to clean the tub and shower "so you can reach every corner without having to bend down or lean forward."
Not Sure What's Causing Your Pain?
Check out PainSpot, our pain locator tool. Answer a few simple questions about what hurts and discover possible conditions that could be causing it. Start your PainSpot quiz.
Keep Reading
Interview with Casimiro "Casey" Degliuomini, OTR/L, an occupational therapist at Hospital for Special Surgery in New York City
Interview with Cheryl Crow, MOT, OTR/L, an occupational therapist in Washington
Interview with Karen Jacobs, OT, EdD, OTR, CPE, FAOT, occupational therapist and clinical professor of occupational therapy at Boston University
Living with Arthritis. The American Occupational Therapy Association. https://www.aota.org/About-Occupational-Therapy/Patients-Clients/Adults/Arthritis.aspx.
Three Exercises for Plantar Fasciitis. Orthopedics & Sports Medicine. Uconn Health. https://health.uconn.edu/orthopedics-sports-medicine/2017/08/01/three-exercises-plantar-fasciitis.
Tips for Every Room. Versus Arthritis. https://www.versusarthritis.org/about-arthritis/living-with-arthritis/your-home.