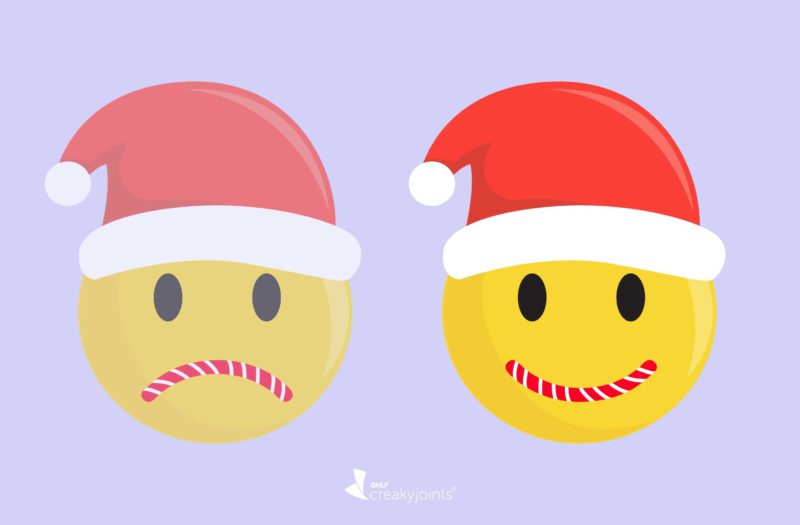 Back in my younger years, I used to be the merriest mofo you ever saw in a winter wonderland. The day after Thanksgiving, I tuned my radio to the station that played Christmas music 24/7 and got instantly jolly when I heard "Grandma got run over by a reindeer" or that unmistakable first line of Elvis' "Blue Christmas":
"Ahl, hahl have a Blueeee Christmas without you…."
I shopped 'til I dropped, drove down Candy Cane Lane to see the most over-the-top neighborhood Christmas light displays, accepted every party invite, and voluntarily ate fruitcake. I even once waited hours in line to lunch under the famous, 45-foot tall Christmas tree in the Walnut Room at the Marshall Field's department store on State Street in Chicago.
"We have a table away from the tree! Away from the tree!" the hostess shouted. Pfft, nobody wanted that. It had to be under the tree!
How Rheumatoid Arthritis Threw a Wrench in My Holidays
Unfortunately, about 10 years ago my holiday cheer began to dissipate when I was diagnosed with rheumatoid arthritis. The 30-odd days between Thanksgiving and New Year can be rough for many people and many reasons, but they are especially tough for those of us with a chronic illness like RA, psoriatic arthritis, ankylosing spondylitis, fibro, lupus — you name it. The added seasonal stress and fatigue are hard on our already aching bodies — and they can also do a number on our emotional well-being and mental health.
For me, at first, the limitations that my RA put on a having good time were devastating. I believe I had a case of what the kids these days call "FOMO," or a "fear of missing out." I couldn't do a lot of things I used to do, like sprint toward a giant TV, elbows out, at Best Buy on Black Friday; inject candy canes into my veins without a flare, or stand in line for eternity so I could eat chicken pot pie under a three-story tall evergreen.
But over the last decade, I've managed to turn my FOMO into JOMO, or a "joy of missing out," and now I kind of love the holidays again. I learned that it's all about the pivot and perception. I found new ways to enjoy myself and I've rethought some of our old traditions. For example, is getting shoved to the ground for a Furby enjoyable? Jiminy Christmas, no. I started to look at my glass of eggnog half-full instead of half-empty and… hallelujah! The holidays became fun again, even with the chronic disease of RA.
Turning Holiday FOMO into JOMO
Here's how I went about changing my mindset:
Old FOMO: I used to be the hostess with the mostest
I used to be able to host a dinner party for 20 people no problem! Now, there's no way in hell I could stand on my feet all day cooking and cleaning without being crippled for a week.
New JOMO: I love being a guest
There's no shame in being that guy who brings the fruitcake and chills in front of the fireplace watching The Sound of Music for the 157th time.
Old FOMO: Poor me, I can't eat 400 Christmas cookies
For many of us with arthritis, sugar can be a mortal enemy, causing flares, contributing to weight gain, and making us feel all-around crappy. If I stuff my face with all sorts of peppermint bark or Linzers or thumbprints, my hands and feet swell up like a Macy's Day Parade balloon.
New JOMO: I won't have to lose weight
 If I don't wolf down two tons of sweet treats daily for a month, on January 1, I won't have to make a New Year's resolution to diet, like an estimated 71 percent of America, then fail at it two weeks later and hate myself. Trying to lose weight and keep it off is enough of a year-round struggle.
Old FOMO: I'm a party pooper
With RA, I can no longer commit to attending events too far ahead of time. I cannot commit to staying long at an event once I am there. However, I can pretty much guarantee that I will ghost your party rather than admit five minutes after I got there that I don't feel well and have to go home and watch The Sound of Music for the 158th time.
New JOMO: I'm saving a sackload of money
Here's the upside of never showing up anywhere. You can skip the Secret Santa exchanges and stockpiling Yankee Candles and Two-Buck Chuck to bring as hostess gifts. Now that's what I call smart financial planning.
Old FOMO: I can't drink anymore
When my doctor prescribed methotrexate, he told me I was allowed to have a glass of champagne a few times per year or risk destroying my liver. The no-drinking ban, especially during the most festive time of the year, seemed like a cruel and unusual punishment for someone whose nickname in college was "The Hedonist." (Read more about drinking alcohol while taking methotrexate.)
New JOMO: No alcohol? Now that's the spirit
The good news is that after I quit drinking, I never made out with a stripper at the office after-party at Scores in front of all my co-workers ever again. It was a decade ago — please forgive my youthful indiscretions.
Old FOMO: I can't send Christmas cards anymore
Unfortunately, my RA makes my right hand stiffen up like a pterodactyl claw. So, the days of writing two-page long, personal letters to 100 of my closest friends about every detail of my life for the last 365 days are over.
New JOMO: Nobody wants them anyway
I don't think anyone really wants to know that the highlights of my 2019 included a gushing nosebleed that put me in the hospital, herniated discs in both my back and neck, surgery on said neck, moonface from steroids, and explosive diarrhea pretty much every single day. I guess I could type it up on the computer, but that's so impersonal! I'll just stick to posting a Disco Christmas JibJab on Facebook.
Old FOMO: I miss throwing punches at Forever 21
Okay fine, I've never actually assaulted anyone on Black Friday … but I really wanted to when I worked at Target on the craziest shopping day of the year. Yeah, yeah, you can order everything online now, but having packages left on my doorstop to be stolen is not quite as fun as strolling Christmas markets, taking the kids to sit on Santa's lap, and stopping for a steaming hot chocolate with marshmallows.
New JOMO: The holidays are about more than materialism
Maybe I don't get the best gifts browsing on my computer, but I've learned to let go of the idea of buying the perfect gift. In fact, in recent years I've ditched the Christmas list. It's so boring when someone knows exactly what you're going to give them. It's way more special give a gift from the heart. So, if my 6-year-old great niece doesn't like the Coyote Poop Candy I got her, that's on her, not me.
Old FOMO: Will I ever see the Nutcracker live ever again?
Some old theaters have seats that are absolute torture devices for RA patients with bad knees, feet, and backs. Plus, what if I can't sit on the end and have to get up in the middle of the show to go the bathroom? Those of us with IBS can't take that chance. Oy vey. (I'm half Jewish, so I wanted to get at least one reference in here.)
New JOMO: The show must go on (from your couch)
Vulture.com just released a list of 91 great Christmas shows and movies airing this month. With all the streaming services, you can watch everything from It's a Wonderful Life to Hallmark's insane holiday schedule, which is like 24/7 original movies that all look exactly same but are actually different. (It's a Christmas miracle!) If all else fails, have you watched The Sound of Music yet?
Old FOMO: I can't skate away at the local rink
No way I can squeeze my sore tootsies into an ice skate with arthritic feet. It's a bummer, because twirling around the rink like Nancy Kerrigan (and NOT Tonya Harding) with my scarf waving in the wind used to be such a lovely Christmas tradition. Fine, I didn't twirl so much as stumble and fall flat on my ass. But it was still so much fun.
New JOMO: The triple axel has been done to death
There are plenty of outdoor holiday activities I can do without snapping my ankle in half. I can go caroling. I mean, Norah Jones once told me I had a nice voice at a karaoke bar. Or maybe sledding! I might not be able to get up off the ground afterward, but surely someone will be there to help me up?
Old FOMO: I can't go out on New Year's Eve
I'm missing getting dressed up, going to big fancy parties, and dancing with drunk people! Boo! No fair!
New JOMO:  I can't go out on New Year's Eve
I'm missing getting dressed up, going to big fancy parties, and dancing with drunk people! Yay! No thanks!
Old FOMO: I can't travel to see my family
With a chronic disease, it's more like to grandmother's house we don't go. Long car rides when you have crushing fatigue and throbbing joints are no fun. Nor are long walks through airports while carrying baggage. Not to mention sodium-drenched airplane/port food and the puffiness that causes arthritis patients.
 New JOMO: Home is where the heart is
I read that almost 5 million people in Southern California were expected to drive more than 50 miles over this year's Thanksgiving weekend. Once, it took me 7 hours to get home in LA during the holidays. This is not an exaggeration. Not having to travel during the holidays is a blessing.
Old FOMO: Everyone is having more fun than me
RA patients are not Grinches. Depression and seasonal mood disorder are real issues we're dealing with, and the holidays are an incredibly stressful time.
New JOMO: I'm happy with what I have
When I finally learned to let go of the idea of the "perfect holiday," this time of year started to feel a lot more fun. Let me end this with a story. One year, when I was a kid, I wanted the biggest present under the tree, and cried and pouted when I didn't get it. The next year, the biggest present was for me and I was so thrilled. But when I opened it, it was just boxes of potato chips. In that moment, my parents taught me a valuable lesson I never forgot. Bigger is not always better. The small things count, too — maybe even more.
Your holiday season may be pared down now because you have a chronic illness, but that doesn't mean it's not as good or as special as the old days. It's just different. It's time to create new memories and cherish them. It's all we got!
Want to Make a Difference Next Year? Become a Volunteer Patient Advocate
If you're looking to channel your experience living with chronic disease or being a caregiver for someone with chronic disease — without having to donate money or participate in fundraisers — consider joining our patient advocacy group, the 50-State Network. We help patients tell their stories to fight for better access to quality health care. Learn more and sign up here.
Keep Reading