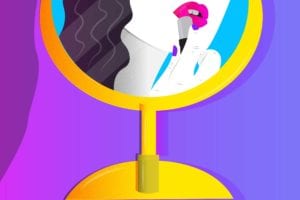 You thought doing your hair and makeup was tricky before? Having arthritis cranks the difficulty dial up to 11. Arthritis can make beauty care difficult in two ways, says Lindsay Bierman, a professional makeup artist, beauty and wellness expert, and former cosmetic chemist. All those little tubes, brushes, and twist-off lids can feel incredibly painful to use with arthritis in your hands, fingers, wrists, shoulders, and arms. And even if joint pain isn't a problem, the getting ready process can exacerbate fatigue also associated with arthritis. Have you ever tried doing a full hair blow-out on yourself? You may end up in so much pain and so tired that you won't even feel like going out afterward.
The solution isn't to forget about your hair and makeup. Your beauty routine may be a vital part of your identity and self-esteem, which are already taking a hit from living with chronic illness. Rather, managing your beauty routine with arthritis is all about streamlining and simplifying so you get the most bang for your buck from every product and step, Bierman says.
We asked beauty experts and people with arthritis to share their go-to hair and makeup tips to make life simpler.
Makeup Tips for Arthritis
1. Apply makeup with sponges
Beauty sponges, as opposed to brushes or fingers, are easier to hold if you have arthritis in your hands, fingers, wrists, or elbows, Bierman says. "I recommend them to all my clients with mobility issues," she says. The sponges come in rounded shapes that can cover large areas of skin and also get into small areas, like those around your nose, which saves time and energy in blending liquid and powdered foundations. To use: Run them under water, squeeze out the excess, and then use the dampened sponge to "tap" the makeup onto your skin. There are many options but the go-to for many makeup experts is still the original Beauty Blender.
2. Try a long-handled makeup brush
In some cases, a long-handled makeup brush may be easier and less painful than using a makeup sponge. "The long handle means you can rest your elbows on the table to take some of the pressure off while you apply your makeup," says Christina Maria, a professional makeup artist who also has a chronic illness that causes debilitating fatigue and pain. This may be easier for people whose arthritis is in their elbows, wrists, or shoulders, or for those who tire easily. She prefers brushes from Real Techniques or Eco Tools.

3. Add a rubber gripper to your makeup kit
Many makeup products require twisting off tiny caps to use — a feat that can feel impossible on bad arthritis days. Keeping a rubber jar opener in your makeup kit will allow you to open them with far less effort, Maria says. You can also purchase silicone or foam sleeves to improve your grip on slippery items like eyeliner.
4. Use a lighted makeup mirror
Leaning over the sink to apply makeup in the bathroom mirror or, worse, trying to hold a tiny compact mirror in your hand, is a recipe for a major makeup malfunction, not to mention pain and exhaustion, says Maria. Her favorite tip, both for herself and clients, is to use a standing, lighted mirror that you can place on a table or counter. You can even buy them with built-in magnification for easier use. She likes this Boots Makeup Mirror.
5. Stash a tinted lip balm in your purse
"I have many clients who skip their lips because they are unable to grip a lipstick or liner well enough to achieve the precision needed to makeup lipstick look good," Bierman says. Tinted lip balms are much more forgiving. "Tinted balms provide an instant dose of color and if the client colors outside of the lines a little bit, all is good and well," she says.
Bonus: They can also double as a cheek tint, which saves time and money. Look for brands with a wider tube to grip and an easy-open cap. Emilia S., from Spokane, Washington, swears by the Eos shimmer tinted lip balm, as she says the wide spherical shape makes it easier to hold when her rheumatoid arthritis is flaring.
6. Make tinted brow gel your new best friend
Big, defined brows are the It Trend of the makeup world now, and for good reason. Eyebrows frame the face, which makes them an important part of any beauty routine, Bierman says. Unfortunately, brow products often come in tiny precision pencils and pomades with fine tipped brushes. Instead, she recommends using a tinted brow gel to help fill out your eyebrows. Think of it like a mascara wand for your eyebrows. "These are perfect for those who may not be able to hold a brush and precisely fill in brows, as the gels come with a spooled applicator that can be swept gently through brows for instant color and shaping," she explains. She recommends Anastasia Tinted Brow Gel.
7. Invest in multi-purpose makeup
Why wrestle with separate pots of blush, eyeshadow, highlighter, and lipstick when you can get a product that does all of those things? "I always advise my clients to look for lower maintenance products that apply faster," says Hannah Maruyama, a licensed cosmetic tattoo artist and microblading author. "A large blush stick gives you more control. You can use it as blush, eyeshadow, and a natural lip color." She recommends the Burt's Bees All Aglow stick.
8. Try the new 'no-makeup makeup' trend
Doing a full face is difficult and time consuming even on days when your body is cooperating. Add in an arthritis flare-up and you may be tempted to just head out bare-faced. While there's nothing wrong with showing off your natural beauty, if you do want to brighten up your features a bit there's now a nice middle ground.
"There has been a revolution in the beauty space when it comes to how much makeup is worn," Bierman explains. "The 'no makeup makeup' look has become increasingly popular and that has been to the benefit of many of my clients with arthritis." The idea is to apply light products in just the areas needed — say, a touch of concealer under your eyes, a swipe of blush, and some mascara. Check out hip, young brands that specialize in this trend, like Glossier, for inspiration and products.
9. Mist on a setting spray
What's the point in trying to get your makeup on point just to have it wear off an hour later? It's a common complaint for makeup wearers in general but it can be extra frustrating for people with arthritis who can't manage multiple touch-ups during the day. Setting sprays allow your makeup to last hours longer, even through heat and rain, Maria says. Simply mist your face after finishing your makeup. This NYX setting spray gets rave reviews and is affordable.
Hair Tips for Arthritis
10. Get a good dry shampoo
Dry shampoo can extend the time between washings by several day. It can also give extra body and volume to hair that might be thinning (which can be a side effect of certain arthritis drugs), says LaBelle Franklin, a hair stylist in Houston, Texas. "Dry shampoo is a godsend for my clients with disabilities. I tell them all to get a can and don't be afraid to use a good amount," she explains. "Anything that means you have to lift your arms up less will help. The less hair washing you have to do, the better." Her favorite brand is Batiste as it has product options for both light and dark hair, is affordable, and smells "delicious."
11. Dry your hair with a bonnet
Remember those funny-looking hair-dryer bonnets salons used to have in the fifties? Well, they are available in a small, portable version now — perfect for people who want to dry their hair but can't hold a heavy hair dryer. "Getting a bonnet revolutionized my hair," says Courtney M., of La Jolla, California, who has rheumatoid arthritis. "I put large Velcro rollers in my hair, put the bonnet over them and sit for about 20 minutes. When I'm done I have the most gorgeous, bouncy hair," she says. This Revlon Hair Drying Bonnet gets great reviews.
12. Learn some easy styles that work with your hair type
You should have two or three easy styles you can choose from when you're having a bad flare-up, Franklin says. "Everybody's hair is different, so ask your stylist for advice about styles and products that would work for you," she says. For instance, curly-headed folks can make a ponytail look like a fancy updo with just a few bobby pins; people with straight hair can rock a quick bun, she explains. Headbands and pretty clips are another simple style option to make your hair look polished and put together without a lot of work.
13. Find a stylist who does home visits
During bad flareups, Elizabeth L., of Fort Lauderdale, Florida can't leave her house, sometimes for several weeks at a time. Thankfully, her hairstylist — a woman she met through her church group — will come to her to touch up highlights or give her a trim. "Not only does she make me look great, but she also makes me feel great, which is such a gift at a time when I'm usually feeling pretty down," she says. "It saves me from having to sit with my head over a salon sink, which I can't really tolerate because of my neck pain."
14. Ask for a low-maintenance hairstyle
Let your stylist know upfront about any limitations from your illness so they can help you get a cut that will work for you and not against you, Franklin says. "For instance, that trendy wavy look right now with blunt ends wouldn't be good for someone who can't hold a curling iron so I'd never do that cut on them," she explains. Other trends, like the "lob" (long bob), a pixie, or beachy waves are more arthritis-friendly as they don't require a lot of styling, she says.
15. Try a hair supplement
"Methotrexate made like half my hair fall out, to the point I had bald spots," says Mary R., of Atlanta, Georgia, who has juvenile arthritis. Then she read in an online forum about vitamins that can help with hair regrowth. She now takes folic acid (which is critical to take with methotrexate) and biotin daily and says she's noticed a difference with less hair falling out and her remaining hair feeling thicker and stronger.
Showering and Cleansing Tips for Arthritis
16. Buy automated dispensers for the shower
Automatic dispensers aren't just for soap in public restrooms. "I recommend to all my clients with hand issues to get automatic, hands-free liquid dispensers for not just their soap but also for facial cleansers, body wash, shampoo, and conditioner," says Linda Roman, a licensed esthetician who specializes in clients with disabilities. "This eliminates having to pick up heavy bottles, twist open caps, or press difficult pumps, especially in the shower where they are extra slippery." Just make sure to label them clearly — no one wants to end up with conditioner in their eyes! The Vminno automatic dispenser gets high marks on Amazon.
17. Use a child's toothbrush on teeth and lips
"Being a former dental assistant, I advise my clients with severe arthritis to use a child's toothbrush because it's not heavy and they will have better control of it," says Roman. You can also use it as a way to gently exfoliate chapped lips, a common side effect of many arthritis medications.
18. Wash your face with a cleansing brush
Having a good skin care regimen is essential not just for makeup application but for your health and confidence. Keep your face clean and exfoliated with an electronic cleansing brush, Bierman says. "I have heard from many of my clients with various disabilities that washing their face is difficult in terms of appropriate amount of pressure and even rinsing," she says. "Cleansing brushes like the Clarisonic are revolutionary in helping fix this problem." Choose one with a wide handle with a no-slip grip, add a drop of cleanser, and let the brush do all the work.
19. Clean your face with a makeup eraser
Keep your skin fresh and glowing with a makeup eraser. This double-duty sponge removes makeup and exfoliates skin, reducing the need for bottles of soap, makeup remover, and a separate exfoliating tool, Roman says. "It's reusable and because of the fabric you can remove your makeup using just water which is another bonus," she explains. "My clients all love this and say it's made their lives easier." She recommends the original Makeup Eraser.
20. Buy a pack of sheet masks
Regular facial masks require a lot of manual dexterity to apply and rinse off but sheet masks go on and off with almost no effort at all. "Sheet masks have answered all of our beauty masking prayers — they are simple to apply in one piece and even easier to remove," Bierman says. She adds that you don't even have to rinse off the excess left on your skin afterward. You can simply allow it to absorb into your skin. Emilia recommends this reasonable mega-pack of Korean beauty sheet masks.
"Sheet masks are one of my favorite ways to pamper myself when my arthritis is making me depressed," she says. Her pro tip: Warm the mask up with your blow dryer before taking it out of the package so it's not a cold shock when you put it on.
21. Smooth on a CBD-infused facial moisturizer
Cannabidiol, a compound derived from the marijuana plant but doesn't makes you feel high, is one of the hottest products in arthritis these days. Many patients report that using moisturizer with CBD on arthritic joints lessens pain — which could be particularly useful for if you have arthritis in your jaw or neck — and it helps balance out the oil levels in your skin, leading to a more youthful glow, Roman says. She recommends a skincare line called Color Up Therapeutics. They also come with a dispensing lid so you don't have to twist off the top, she adds.
If You Want to Splurge
22. Do microblading for fuller eyebrows
Microblading is a fancy name for getting your eyebrows enhanced using a special type of tattoo ink, says Hannah Maruyama, a licensed cosmetic tattoo artist and microblading author. The tattoo artist uses a semi-permanent ink to enhance your brows in a realistic, flattering way, she explains. You'll have a few days of some discomfort but after that you'll have beautiful brows that last for months, sometimes up to a year. And unlike real tattoos, the semi-permanent ink gently fades back to your original color. "Instead of trying to deal with eyebrow tubes or pencils, I do microblading every four to six months," says Mary. "All my friends are jealous of how perfect my eyebrows look when we get out of the pool."
23. Try eyelash dye or extensions
Another option for those afraid of needles near their eyes is to have a beauty technician apply a semi-permanent dye to your eyebrows and/or lashes. This doesn't last as long as microblading, though. Lash extensions are another option for the look of big, defined eyes without the hassle of daily mascara. "I get my lashes done every three weeks," Mary says. "You have to stay on top of it, but I think they actually look better, more realistic, than using mascara." A quality set can be pricey — this is not a DIY job — but getting them done helps her feel like herself, even when her arthritis is bad, so it's worth every penny.
24. Consider permanent makeup
"The top reason I hear from my clients for coming in is that it was taking them far too long to do their makeup, due to pain or discomfort in their joints, shaky hands, or glaucoma or other eye issues, and that they weren't happy with the end result even if they managed a full application," Maruyama says. Using semi-permanent dyes, she can tattoo on eyeliner and lip blush. She says she uses a topical numbing cream so the procedure is quick and painless. "My clients are so happy with the results and it saves them so much time, money, and pain in the long run," she says.
25. Get keratin straightening
Elizabeth says she'd basically given up on trying to control her unruly wavy hair. The humidity plus joint pain from her inflammatory arthritis made it feel pointless to do anything other than wash and wear, which seriously limited her style, she says. Then she discovered the Brazilian blowout. A stylist applies a keratin treatment to your hair that works like a reverse perm, taming curly hair into straight, smooth, shiny locks. The results last up to three months. "It's expensive but completely worth it for me, especially when I'm having a bad pain day," she says. "I don't have to lift a finger and my hair looks great."
Make Your Routine Fun and Simple
26. Put on a glam playlist
It can be hard to feel beautiful when your body is not cooperating due to a chronic illness, Maria says. And it's hard to even want to try to style your hair or put on makeup when you don't even want to look in the mirror. One simple way Maria boosts her spirits is to turn on her favorite feel-good playlist. "I do this a lot myself, and it helps as I might physically be feeling awful, but it can help lift my mood and get into a more positive head space to face to the day," she says.
27. Get your makeup routine down to a science
Arthritis necessitates simplicity, especially with beauty routines. Having a simple everyday makeup look, with products you know you love and work for you, will allow you to get your face done quickly and with less pain, Maria says. "When your chronic illness is flaring is not the time to experiment with new products or try a fancy new look," she explains. Not sure how to create a simple but beautiful look or which products to choose? Pay for a session or two with a professional makeup artist, preferably one who specializes in clients with chronic illnesses.
Keep Reading