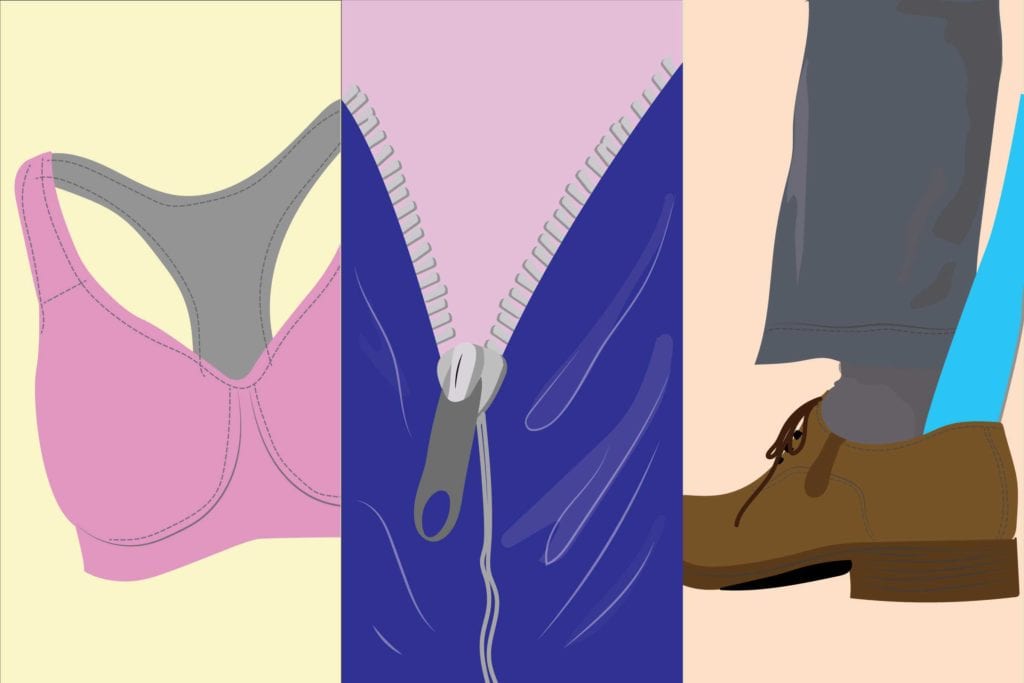 Putting on a blouse, zipping up trousers, tying a shoelace: It's the kind of stuff you do every day without a second thought. That is, until pushing a button through a hole hurts your fingers unbearably and grabbing a zipper pull seems near impossible.
It's a reality of rheumatoid arthritis that Patty Hartman knows all too well. A few weeks before she was diagnosed at age 66, and until sometime after her medications kicked in, her swollen and stiff hands made everyday life skills challenging. "I couldn't pull a shirt over my head or buckle a belt on my own," she says. "I couldn't even put on a bathing suit because I lost power in my hand."
Until her pain became more manageable through a combination of medicine, diet changes, and light exercise, Patty's wardrobe had to change: blouses with buttons were replaced with baggy sweaters and T-shirts, and anything she couldn't fasten, she relied on her wife, Laurie, for help.
Patty's story strikes a familiar chord among people with RA: Shona Collins shared on a CreakyJoints® Facebook post that she stopped wearing socks because they were too difficult to put on. Other women shared they avoid small buttons and lace-up shoes; one CJ member has completely given up on pantyhose; many others have a tough time putting on a bra.
In fact, a survey of nearly 800 people with rheumatoid and osteoarthritis reported that turtlenecks; long, fitted sleeves; and clothes with back closures are among the most difficult to manage. Other research showed invisible zippers (set behind seams) and snaps are tough to manipulate with arthritis.
Why RA Causes These 'Wardrobe Malfunctions'
RA occurs when the immune system, which normally helps protect the body from infection and disease, attacks the membrane lining the joints. The resulting inflammation thickens the lining, which can damage the cartilage and bone, and lead to tender, swollen, and stiff joints. RA is a systemic disease, which means it can affect your entire body, in addition to your joints. It can make you feel fatigue and feverish, like you have a low-grade flu.
RA most often affects your smaller joints first — particularly the ones that attach your fingers to your hands and your toes to your feet.
That's why snaps, small buttons, and hooks are difficult to manipulate, especially in the morning hours when pain and stiffness is often worse, says Lenore Salomon, PhD, an occupational therapist and fellow of the American Occupational Therapy Association.
Finding Arthritis-Friendly Fashion
But being diagnosed with RA doesn't mean you have to live the rest of your life in shapeless clothes. For one thing, fashion designer — and RA patient himself — Michael Kuluva is making sure of that. Diagnosed with RA while in design school at the age of 28, Kuluva has since collaborated with CreakyJoints to create collections of young, fun, and trendy garments that are both accessible and arthritis-friendly. (Read more about how Kuluva copes with RA here.)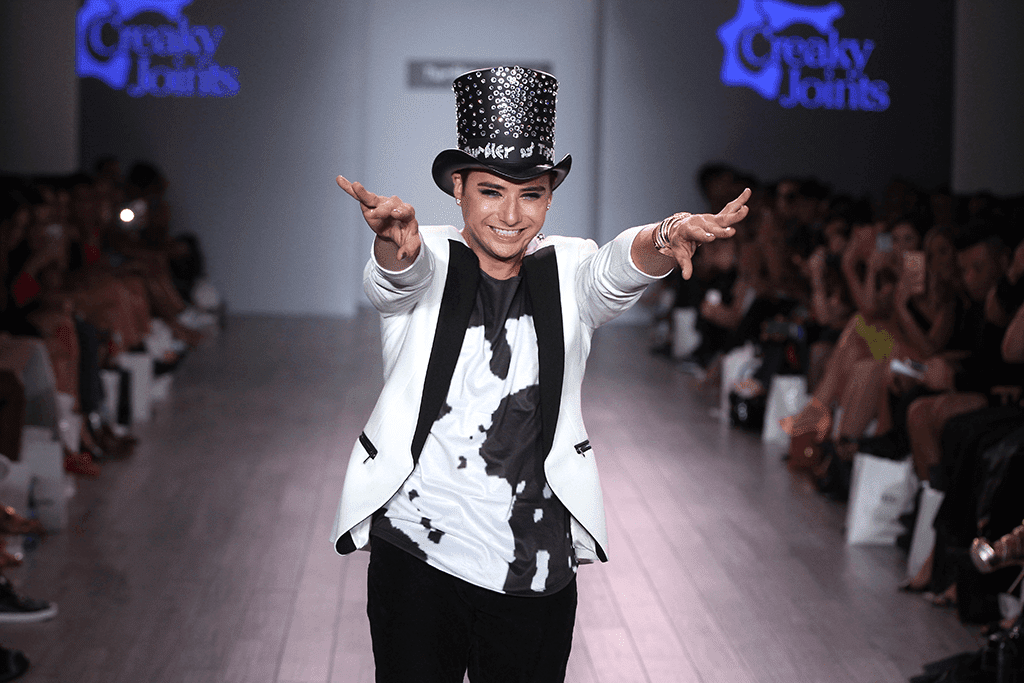 For this year's collection, Kuluva found inspiration in his own closet: "My hands hurt all the time," he says. "At the end of the day, when I'm getting ready to go out to dinner or to an event, the last thing I want to do is put on a button-up shirt." Magnets came to mind as a solution, and ultimately became the crux of the 2019 Tumbler and Tipsy by Michael Kuluva collection. The clothes are inspired by street culture with a downtown feel. "It's very on trend, but instead of buttons or zippers, we used magnets so the clothes are most accessible for people with RA and other disabilities," he says. His collection also includes magnetic belts and arthritis-friendly rings.
How to Make Getting Dressed with RA Easier
Whether you're shopping for new clothes or finding ways to make your current wardrobe work with your RA symptoms, here are some tried-and-true tips that may help make dressing with RA a little easier:
1) Choose loose-fitting clothes. Think jogger sweatpants or Palazzo pants instead of skinny jeans. They may be easier to pull on, particularly when you're having a flareup, suggests Salomon.
2) Seek soft and stretchy fabrics. Clothes that have a bit of elasticity may be simpler to don and doff. Leggings are the pant of choice for Cheryl Crow, an occupational therapist who has rheumatoid arthritis.
3) Look for an elastic waist. Drawstring waistbands may be a good choice as well, suggests Salomon. If you prefer jeans, CreakyJoints Facebook member Rebecca Kate recommends the looser boyfriend fit. "You don't have to struggle [pulling] them up over calves and thighs," she wrote.
4) Use zipper pulls or button hooks. These little helpers make tough-to-grasp zippers easier to pull, suggests Salomon, who is also a retired clinical associate professor in the graduate program in occupational therapy at Sacred Heart University in Fairfield, Connecticut. DIY zipper pulls work, too. Ask someone to loop a piece of string into the little hole in the zipper tab. Buttonhooks can help you draw buttons through their holes.
5) Make sure fasteners are in the front or side. And if the closure is Velcro or magnet instead of buttons and zippers, even better.
6) Switch to a sports bra. One-piece bras avoid fasteners all together; otherwise a bra that closes is the front may be your best bet.
7) Replace your laces. Elastic shoelaces eliminate issues with tying. Velcro closures work too, as do slip-on shoes. And one CreakyJoints member swears by her shoehorn: "I can't live without it," shares Donna Wilson, who has several long-handled ones stashed around her house and a smaller one in her purse.