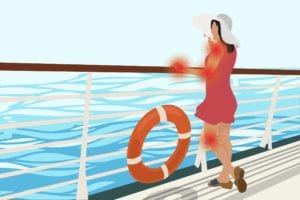 Tis' the season to be jolly — and to book a cruise somewhere tropical when the weather outside is frightful.
Compared with other kinds of vacations, cruises do offer arthritis patients like me many benefits. Today's beautiful, modern ships are known for being able to accommodate people with mobility issues. Restaurants and activities are all relatively self-contained. And each ship has a medical facility and staff that can help in the event of an emergency, or even if you're just not quite feeling your best.
All those perks are part of what spurred me to book a cruise last month, and I just got back from an amazing trip around the Caribbean Sea. While I had a blast swimming with dolphins in Mexico, I also had an epiphany that may be helpful for anyone who has rheumatoid arthritis or another kind of arthritis: While cruises do offer patients like us many benefits, if you're not prepared, cruising can still wreak havoc on your aches-and-pains-prone body.
Before you embark, check out these tips to ensure the best possible cruise experience when you have arthritis. Believe me, it's more fun to lie on a white sandy beach with a fruity drink in your hand than on a gurney in the infirmary in the windowless bowels of the ship.
1. Apply for Global Entry and TSA Pre-Check
If you have inflammation in your feet, ankles, or knees, standing in long security lines can be excruciating. Also, my particular trip set sail from Fort Lauderdale, Florida and getting there took an entire day of travel with seemingly endless walks through at least two airport terminals, then standing in line for awhile to check in. Start your vacation off on the right foot (literally) and skip ahead with TSA Pre-check. Also, some airport terminals, including American at Miami International Airport, are gargantuan, and offer really efficient wheelchair and/or electric cart drop-off to get from gate to gate. Use it.
Global Entry is the U.S. Customs and Border Protection's service that allows "pre-approved, low-risk travelers to receive expedited clearance upon arrival into the United States." That's a godsend during disembarkation. The customs line to get off my cruise ship was insanely long. Without Global Entry, it was an hour of standing and dragging my giant, heavy suitcase. With it, I would've been whisked through in five minutes. Check out cbp.gov and tsa.gov/precheck for more information.
2. Make sure your room is appropriate for you
Standard cruise staterooms are narrow and the bathrooms are tiny. If you have mobility issues or use a wheelchair or walker, some older ships may not be completely upgraded to accommodate you. Look at floor plans and the special needs section on the cruise ship's website for complete information and to make sure your room will meet your needs.
3. Be prepared with your medications
Cruises can run anywhere from four nights to two weeks (or even longer, if you're lucky!), and you'll want to pack your medications appropriately. Make a list of all the medications you take regularly (daily, weekly, biweekly, monthly) and, if necessary, ask your doctor about what you need to bring. Always err on the side of caution. If you take a biologic injection drug you give yourself every other week and you're going on a five-day cruise, you might not need to take it during the cruise, but you may want to have a dose with you just in case, depending on the timing of when your next dose would be. If there are drugs you only take during flares, you may want to pack them so you have them if you need. Don't assume the cruise's infirmary will be able to provide medication — my ship's was a pretty bare bones operation.
Your doctor can provide a letter that explains why you need certain prescriptions, including opioid painkillers or those that require a syringe or pen to be injected. It's a good idea to let your doctor know of your travel plans and see if they have any advice for precautions to take beforehand. This could include being up to date on certain vaccines (more on that below) or having a copy of your medical records handy in the event of an emergency.
Also: Bring all your medications in their original packaging to make it easier to get them through airport security.
4. Doublecheck your vaccines
We immunocompromised travelers need to take certain precautions when we visit certain places. Having RA or other inflammatory arthritis weakens the immune system, so we may be more vulnerable to local infections or even foodborne illness. You can read more about travel tips for people with weak immune systems on the CDC website, but one thing to keep in mind is vaccines. If you're traveling abroad, tell your primary care doctor and rheumatologist and ask them if there are any specific vaccines you might need.
5. Beware the buffet
Can we just admit that almost everybody eats like an animal on a cruise because there's free food everywhere you look, step, and sleep. (Did I mention that room service is FREE?). There are some questionable studies that claim cruising can pack on anywhere from a pound a day to 10 pounds a week, depending on your alcohol consumption. I'm not suggesting going on a diet while you're on vacation because that's just idiotic.
It's just that with rheumatoid arthritis, studies show we are already more prone to heart disease and type 2 diabetes. Maybe it's possible to have balance? Like eating a salad or fish for lunch? Or share a dessert, instead of ordering two for yourself just because you can? Asking for a "friend" who may or may not have eaten a hot dog and cheese fries every day at the Dive-In restaurant by the pool and two crème brulees every night after dinner…
6. Pre-order water, avoid soda packages
So, back to that diabetes thing… according to a Tufts University study, regular consumption of sugary beverages is associated with increased risk of prediabetes and increased insulin resistance. Diet soda may not be a good solution either; research shows it can mess with your taste buds and appetite by making you used to eating very sweet foods.
On some cruises, you can get an unlimited soda card for a fairly low price, so it's quite tempting to guzzle the sweet stuff. The problem is, I found myself ordering a Diet Coke more than I normally would because I wanted my money's worth. And they kept bringing me refills, even when I didn't ask. I was drowning up to my eyeballs in Diet Coke. For your health, you're better off getting one here or there, a la carte, and instead order a 12-pack of large water bottles that they will deliver to your stateroom. Not only will you stay more hydrated, you can take the bottles anywhere on and off the boat, which comes in handy in countries where Montezuma's Revenge is rampant. Arthritis peeps already have enough gastrointestinal problems — let's not add to it.
7. Research your excursions
When signing up for activities off the boat or onshore, not only should you look at the physical activity level (easy, medium, strenuous), but also consider the length of time and read reviews from former passengers who have done them. For example, the description of my eight-hour walking tour of Havana sounded lovely but didn't include uneven cobblestone streets, that there was nowhere to sit down, random holes in the sidewalks, and oppressive humidity (an RA patient's nightmare).
Getting on and off the ship can be difficult, especially if you have to tender in small boats instead of dock at ports of call. There are often lots of steps and ramps to negotiate. Plus, some excursion transportation required climbing in and out of small, sliding door vans, which is not easy for arthritis patients with mobility issues. Hi, that's me. When in doubt, ask as many questions as you need to assess whether an excursion will be comfortable for you, or if any accommodations can be made to make it more comfortable.
8. Pack a good pair of walking shoes
On a cruise you can walk 10,000 steps a day without even trying. You'll be walking like a maniac to and from dinner, the theater, to Bingo, back down to your room because you forgot your selfie stick, back up to the casino, over to the test kitchen, outside to the pool, over to trivia night, and so on. I also enjoyed walking on the outdoor track around the top of the ship to get some fresh air and stare at the glorious deep blue sea. On my ship, the elevators were always crowded and often broken, which meant going up and down several flights of stairs — whether I wanted to or not. You can wear your fancy shoes on formal night. The rest of the time, I highly suggest donning your best sneakers.
9. Be open to assistive devices
Even if you never or rarely use assistive devices like canes or electric scooters at home, you may want to consider having one handy for you on the cruise. You might not realize just how much walking the cruise or its excursions will entail, and using these can help make the difference between feeling relaxed and rejuvenated or needing a vacation from your vacation when you get home.
I saw plenty of passengers tooling around on motorized scooters on my ship. The ship infirmary rented walkers and canes for a fee. Special Needs at Sea can also arrange to send a scooter or wheelchair to your cruise ship.
10. Get a massage
Cruises are hard work for arthritis patients, between the excursions, the walking, the pickleball classes, and tripping the light fantastic at the club into the wee hours of the morning. Though everyone reacts to massage differently, the American Massage Therapy Association has found that therapeutic massage treatments can "positively affect the physiological systems of a patient with RA and help alleviate the deteriorating effects of the disease."
Another study found that moderate pressure can help patients with upper limb RA. If your feet or shoulders or hands are throbbing, an appointment at the spa might just be what the doctor ordered. (But ask for specific details before you sign up because the one I got felt like I had been whacked 200 times with a tree limb.) You should let the person booking your appointment know that you have inflammatory arthritis and where your problem areas are. Ask for a therapist who has experience working with patients like you.
Whatever you do, don't let them upsell you the "essential" oils after, like a certain "friend" I know. What can I say, I was very relaxed and easily manipulated.
11. Take your medicine at night
If you are susceptible to being seasick and sometimes get a little nauseous from your methotrexate or other RA prescriptions, take your pills before you go to sleep so you don't spend all of your days feeling queasy. I also highly recommend taking or bringing along something to quell motion sickness, like Sea-Bands. They don't work for everyone but did the trick for me.
12. Be smart about booze
It's tempting to go wild on a cruise because there are bars and karaoke and frivolity! Heavy alcohol consumption has been thought to be dangerous to RA patients, contributing to problems like liver damage, low bone density, and stomach bleeding for those who take medications including methotrexate, corticosteroids, and NSAIDS. A recent study published in the journal Annals of the Rheumatic Diseases found that alcohol consumption by RA patients on methotrexate may not be as problematic as once believed. Nevertheless, some doctors still insist that their inflammatory arthritis patients abstain completely, depending on the medications they take, their comorbid diseases, and other factors.
My rheumatologist, Gary Feldman, MD, of the Pacific Arthritis Center in Los Angeles, is less stringent and believes his otherwise healthy patients can drink up to five drinks per week, just not at the same time. So, consult your doctor before you embark. If you're not supposed to have any booze, maybe this will help a little: Alcohol is one of the main reasons people gain weight while on vacation, according to a University of Georgia study.
13. Get the cruise medical emergency insurance
Cruises seem so affordable when you first see the price — $1,500 for a week at sea?! You gotta be kidding — sign me up! But what you quickly realize is that you have to pay for a ton of add-ons, everything from drink cards to excursions to tipping. As the fees add up, it's tempting to tell yourself, "Oh, I don't need the cruise travel insurance for medical emergencies. I'll be fine." Get it. It's way more important than signing up for a class that teaches you how to turn a towel into an elephant.
On my trip to Cuba, I was okay health-wise but my mom got sick and almost had to be airlifted home. With arthritis, our bodies have pain and fatigue and our immune systems are lower, so we are more susceptible to all of the germs floating around the ship. Use that hand sanitizer they have in every doorway and get the medical insurance. But make sure it covers pre-existing conditions like arthritis.
Keep Reading