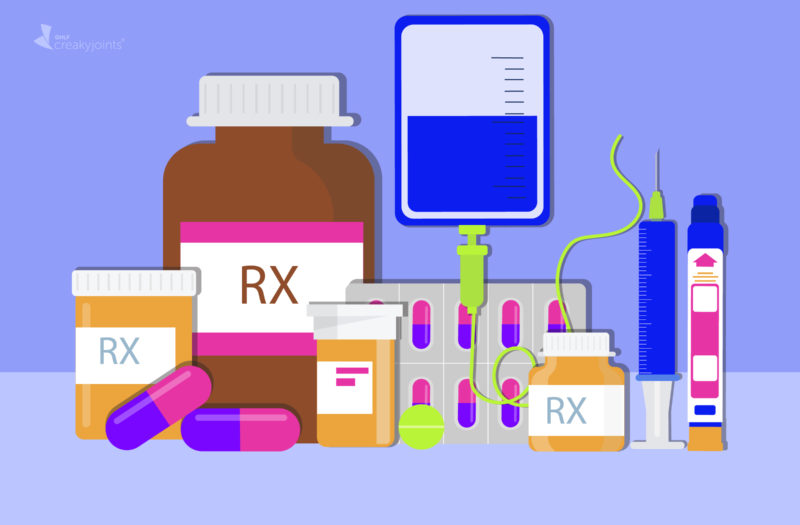 If you're among the many people with an autoimmune, inflammatory, or rheumatic disease who regularly take medications that suppress your immune system, you've likely been concerned about their impact on COVID-19.
While it's still crucial to take as many preventive measures as possible — including getting vaccinated as soon as you're eligible, mask wearing, and social distancing — new research confirms what your rheumatologist or other doctors have likely already told you: Keep taking your medication(s) as prescribed.
The study, which was published in the journal Clinical Infectious Diseases, was based on data gathered on more than 2,000 adults who were hospitalized with COVID-19 in Maryland, Virginia, or Washington, D.C. between March and August 2020. The researchers, led by Kayte Andersen, MSc,a doctoral candidate in the Johns Hopkins Bloomberg School's Department of Epidemiology, divided those 2,000 patients into two groups based on whether they had been taking an immunosuppressive drug at the time of their hospitalization.
For the purposes of this study, immunosuppressive drugs were defined as those that the World Health Organization classifies as "selective immunosuppressants," "antineoplastic agents," or prednisone higher than 7.5 mg or equivalent. "While prednisone was the most common medicine that we examined, smaller numbers of individuals were using other medicines that may cause immunosuppression, such as TNF-alpha inhibitors or interleukin inhibitors used for rheumatic diseases," says Andersen.
According to the findings, people who were taking immunosuppressive drugs when admitted to the hospital with COVID-19 fared no worse than anyone else who was hospitalized with the coronavirus. They weren't any more likely to be put on a ventilator or to die in the hospital. They didn't need to stay in the hospital for longer, either.
"Our study provides welcome news to people who may take chronic immunosuppressive medicines, as it suggests that these medicines — in and of themselves — don't increase the risks of poor outcomes among those who are infected with COVID-19," says Andersen.
While that should come as a relief to many patients, it's also important to know that this study leaves some questions unanswered.
For starters, it does not provide any information about whether someone taking an immunosuppressive drug is more likely to contract COVID-19 in the first place, nor does it tell us about whether they would be more likely to become ill enough to require hospitalization.
It's also not clear from this research whether taking a broad immunosuppressant, such as prednisone, might be associated with a higher risk of COVID-19 complications than taking a more selective immunosuppressant like a TNF inhibitor, which targets only a specific part of the immune system. That's certainly a possibility, as rheumatologists know that extended use of high-dose steroids, including prednisone, often significantly raises the risk of contracting infections.
"We included dozens of medicines that may cause chronic immunosuppression in our analysis," notes Andersen. "Our study didn't allow for us to separately examine each of these potential medicines, and it remains an important area for further study."
Overall, however, this study appears to be largely good news for people who take any medications that impact the immune system. "Of course, as with all medicines, [immunosuppresssants] have risks and benefits that must be carefully balanced," says Andersen. "While some individuals might be tempted to discontinue these medicines to reduce the possible risks of severe COVID-19, our study suggests that individuals should be reassured and that there is not a need to do so."
Andersen adds that "immunosuppressive medications are an important cornerstone for many individuals with rheumatologic disease," and that "they help to manage disease activity and in many cases, to prevent long-term damage from occurring."
Get Free Coronavirus Support for Chronic Illness Patients

Join the Global Healthy Living Foundation's free COVID-19 Support Program for chronic illness patients and their families. We will be providing updated information, community support, and other resources tailored specifically to your health and safety. Join now.
Andersen KM, et al. Association Between Chronic Use of Immunosuppresive Drugs and Clinical Outcomes From Coronavirus Disease 2019 (COVID-19) Hospitalization: A Retrospective Cohort Study in a Large US Health System. Clinical Infectious Diseases. January 7, 2010. doi: https://doi.org/10.1093/cid/ciaa1488.
Interview with Kayte Andersen, MSc, doctoral candidate in the Johns Hopkins Bloomberg School's Department of Epidemiology
WHO Collaborating Centre for Drug Statistics Methodology: Antineoplastic and Immunomodulating Agents. World Health Organization. December 17, 2020. https://www.whocc.no/atc_ddd_index/?code=L&showdescription=yes.