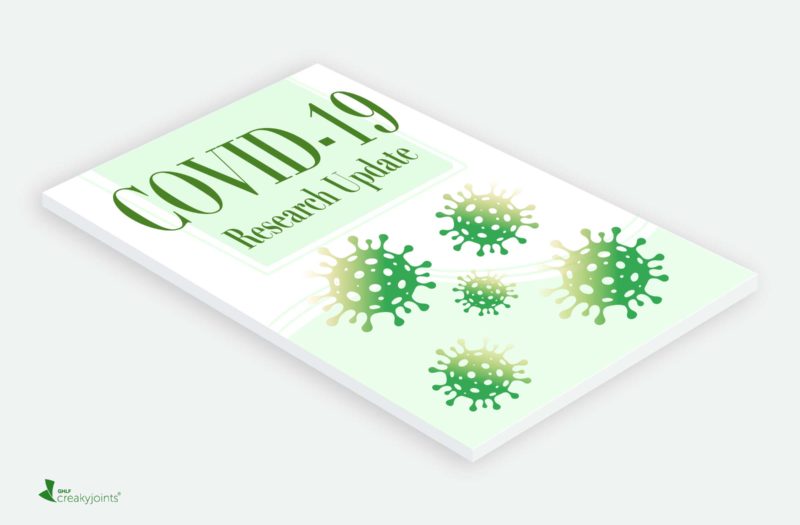 In recent months, doctors and scientists have been experimenting with drugs typically used for rheumatic disease to see if they can treat severe cases of COVID-19.
Some of these medications, such as TNF biologics, have shown promise in stemming potentially deadly "cytokine storms" that occur in some critically ill hospitalized patients. But the first anti-inflammatory drug to be sanctioned by the FDA for COVID-19 isn't a TNF inhibitor but rather a newer type of targeted medication called a JAK inhibitor.
On November 19, the U.S. Food and Drug Administration (FDA) granted emergency use authorization (EUA) to baricitinib (Olumiant), in combination with remdesivir (Veklury), for the treatment of seriously ill COVID-19 patients. The combination is intended for specifically for hospitalized adults and children age 2 or older who require supplemental oxygen, invasive mechanical ventilation or extracorporeal membrane oxygenation
Emergency use authorization is not the same as FDA approval. EUA means that a drug (or, in this case, a combination of drugs) is temporarily allowed to be used for a specific purpose because there is an ongoing emergency, initial research is promising, and there are no better alternatives.
Some medications that get emergency use authorization go on to get official FDA approval, such as remdesivir last month. Others do not. For example, earlier during the pandemic, the FDA initially granted EUA status to chloroquine and hydroxychloroquine (commonly used in lupus, rheumatoid arthritis, and other rheumatic conditions) but later revoked it after finding that there was insufficient evidence to support it.
Baricitinib is a Janus kinase (JAK) inhibitor, a small molecule drug that's taken orally. It has been FDA approved for the treatment of rheumatoid arthritis (RA) since 2018. It works by interfering with the production of enzymes that lead to RA symptoms.
According to data submitted to the FDA, hospitalized patients who were given a combination of remdesivir (an antiviral drug) and baricitinib were more likely to recover from COVID-19 more quickly than those given remdesivir and a placebo.
Whether the impact is truly significant remains to be determined: Patients given the combo that included baricitinib were less likely to die within 29 days, but those who "recovered" only recovered one day faster than those who did not get baricitinib (seven days versus eight days for the control group).
Patients were considered to be in recovery if they were discharged from the hospital, or if they remained hospitalized but no longer required oxygen therapy and constant medical care.
Leonard Calabrese, DO, Chief Medical Editor of Healio Rheumatology, penned a perspective on this EUA in which he expressed skepticism. Dr. Calabrese said that he was "surprised at this rapid approval based on the minimal data provided" and noted that JAK inhibitors, including baricitinib, may increase the risk of serious infections and dangerous blood clots. (Blood clots are also a known complication of COVID-19.)
"I am most concerned now in how this agent will be positioned vs. [the steroid] dexamethasone, for which the data are strong, particularly in patients with severe disease," he wrote.
The FDA notes that "the safety and effectiveness of this investigational therapy [baricitinib] for use in the treatment of COVID-19 continues to be evaluated."
In a separate article for Healio Rheumatology, Cleveland Clinic rheumatologist Cassandra Calabrese, DO (she is the daughter of Leonard Calabrese) said that she and her colleagues "will proceed with caution until more data are available to us. The biggest elephant in the room is how to approach this EUA when dexamethasone has already demonstrated efficacy in patients with severe COVID-19, as we do not feel they can be used together safely."
She noted that trial data on dexamethasone is "far more robust, reducing death by one-third in patients receiving invasive mechanical ventilation."
Eli Lilly and Company, which manufactures baricitinib (Olumiant), is a corporate sponsor of the Global Healthy Living Foundation.
Get Free Coronavirus Support for Chronic Illness Patients

Join the Global Healthy Living Foundation's free COVID-19 Support Program for chronic illness patients and their families. We will be providing updated information, community support, and other resources tailored specifically to your health and safety. Join now.