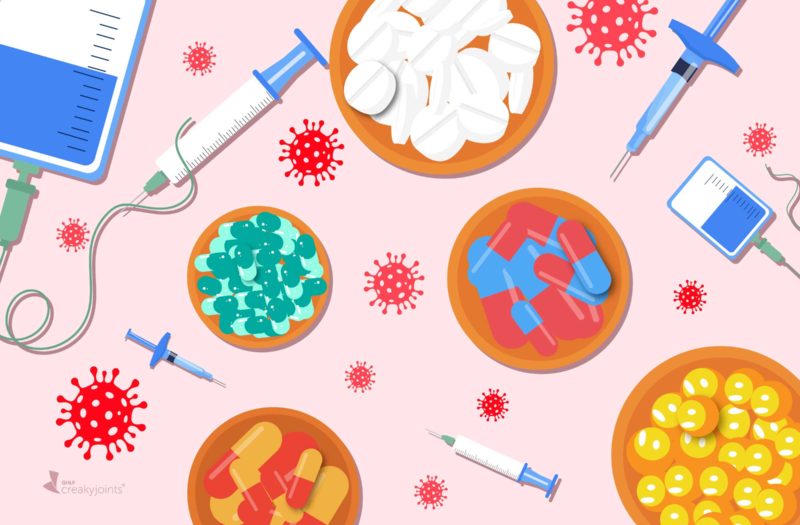 Since the start of the COVID-19 pandemic a year ago, researchers have been studying how the coronavirus affects people with inflammatory and autoimmune disease. Studies have shown conflicting results in terms of whether or not people with rheumatic diseases or other inflammatory conditions have a higher risk of severe outcomes from COVID-19.
However, new research now adds to the evidence showing that having autoimmune and chronic inflammatory disease in and of itself does not increase the chances of getting very ill with COVID-19 — but there are risks with the use of certain medications.
In a study published in the journal ACR Open Rheumatology, researchers studied nearly 7,000 patients with confirmed COVID-19 infection between March 1, 2020 and May 12, 2020 at five different hospitals in New York. About 2 percent of patients had at least one autoimmune and chronic inflammatory disease. The most common were rheumatoid arthritis, inflammatory bowel disease (Crohn's disease and ulcerative colitis), and lupus.
The researchers found that having an autoimmune or chronic inflammatory disease was not significantly associated with severe COVID-19, which they defined as requiring mechanical ventilation and/or death. The use of biologics or nonbiologic immunosuppressant medications among patients with autoimmune and chronic inflammatory disease was also not associated with greater risk of mechanical ventilation or death.
However, corticosteroids were associated with a nearly seven-fold increased risk of severe COVID-19.
"Steroids have always been one of the major risk factors for infections, so this finding is consistent with prior research," says gastroenterologist Ryan Ungaro, MD, lead author of the study and an Assistant Professor of Medicine at Mount Sinai Hospital. "The hypothesis is that during the first stages of SARS-CoV-2 infection, steroids may decrease the body's ability to clear the virus and allow for more replication of the virus and higher viral load, which may increase risk of more severe infection."
In the study, the patients with autoimmune and chronic inflammatory disease were more likely to be female, white, obese, have a history of asthma, and have prior or current cancer than people without autoimmune and chronic inflammatory disease. While these patients were more likely to be admitted to the hospital (84.3 percent versus 68.1 percent) than other patients in the study, having an autoimmune or chronic inflammatory disease was still not an independent risk factor for severe COVID-19.
Several other factors, however, did show a significant associations with severe COVID-19:
Over the age 70
Male sex
Cardiovascular disease
Diabetes
Chronic kidney disease
COPD
Obesity
Dr. Ungaro notes that many patients and doctors were concerned about the impact of immunosuppression on COVID-19 at the start of the pandemic. Previous research on inflammatory bowel disease has found that certain infections occur at a higher rate in patients on immunosuppressive medications, so he says his research team was somewhat surprised that most drugs did not appear to increase the risk of severe COVID-19. 
"However, as we've learned more about COVID-19 infection, it appears that more severe disease may be driven, at least in part, by a 'cytokine storm' — so immunosuppressing medications may blunt the progression of COVID-19 to more severe states," adds Dr. Ungaro. "Further studies are needed to confirm these observations, but the data are in general reassuring to date."
A cytokine storm refers to an immune response in which the body over-responds and begins to attack its own cells and tissues, which tends to happen in autoimmune diseases. Cytokine storms are also known to occur in very sick COVID-19 patients.
The researchers note that patients with autoimmune and chronic inflammatory diseases should remain on their medications during the pandemic with the exception of corticosteroids, which ideally would be tapered to the lowest possible dose under a doctor's guidance (and after weighing the risks and benefits of the therapies).
Patients need to keep taking their corticosteroids may need to follow COVID-19 infection prevention strategies even more strictly than the general population.
"Sometimes we are unable to get patients off steroids completely and quickly, so in those cases, some extra precautions may be warranted," says Dr. Ungaro. "However, it is important to note that most of the severe cases we have seen in studies have been in older patients, similar to the general epidemiology of COVID-19. So for older patients on steroids, it is likely prudent to follow more strict precautions, particularly in areas with higher transmission of SARS-CoV-2."
That may involve doubling up on masks or screening family members before they come to visit to ensure they've been mitigating risk in a similar way, but it's best to speak to a doctor for guidance based on your individual risk level.
The researchers emphasize that despite the increased risk associated with corticosteroid use and severe COVID-19, patients shouldn't make any changes to medication before speaking to their physician. The study results are promising in that many patients (like those on disease-modifying immunosuppressants and biologics) don't need to stop their medications to prevent severe COVID-19.
"One of the main take-homes is that these data are reassuring in that patients with immune-mediated conditions should maintain their therapies to keep their disease controlled, and that appears to outweigh risks of having a more serious case of COVID-19," says Dr. Ungaro. "As always, before making any changes in your medications, you should discuss with your doctor."
Get Free Coronavirus Support for Chronic Illness Patients

Join the Global Healthy Living Foundation's free COVID-19 Support Program for chronic illness patients and their families. We will be providing updated information, community support, and other resources tailored specifically to your health and safety. Join now.
Interview with Ryan C. Ungaro, MD, a gastroenterologist and Assistant Professor of Medicine at Mount Sinai Hospital
Ungaro R, et al. Autoimmune and Chronic Inflammatory Disease Patients with COVID-19. ACR Open Rheumatology. February 1, 2021. doi: https://doi.org/10.1002/acr2.11221.
Zabana Y, et al. Relevant Infections in Inflammatory Bowel Disease, and Their Relationship With Immunosuppressive Therapy and Their Effects on Disease Mortality. Journal of Crohn's and Colitis. July 25, 2019. doi: https://doi.org/10.1093/ecco-jcc/jjz013.