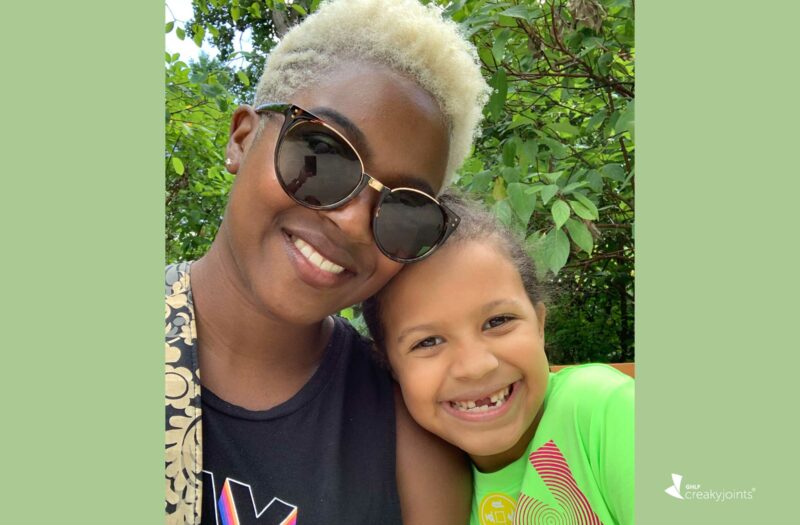 The last two years of the COVID-19 pandemic have shaped the world in unimaginable ways. Trying to balance understanding, empathy, and safety against grief, anger, and confusion continues to feel like an insurmountable task. And during a time that was already so difficult to begin with, the pandemic took my life in a completely different turn late last year.
I was diagnosed with rheumatoid arthritis (RA) in December 2020, after months of trying to get to the bottom of unexplained pain, after years of getting used to having several other debilitating chronic conditions.
So, how hard is it navigating a pandemic as a single parent with a newly diagnosed autoimmune disorder and keeping your child safe? Spoiler alert: It's hard.
Losing My Grip on My Chronic Diseases
When you get diagnosed with one chronic disease, you quickly learn it's often not your last. But after years of adjusting to the conditions I kept racking up since the birth of my child a decade ago, I had finally started to feel well-versed in my asthma, moderate depression and anxiety laced with premenstrual dysphoric disorder, and chronic migraine.
I could easily rattle off my proven treatments for all my ailments: albuterol and Advair for my lungs, low-estrogen birth control and anti-depressants to keep my mood stable, and the Botox I received quarterly had cut my migraine count from 22 episodes a month to no more than three. I was fully active, frequently walking to and from work, to and from my child's school with our dog, and then playing tennis four to five times a week after a long day of doing experiments as a biomedical doctoral student. Hydration, nutrition, and sunshine were my best natural friends.
But starting late 2019 into early 2020 I was having more pain issues in my back and feet than normal. I just assumed I needed to rest, get more foot massages, enjoy some Epsom salt soaks — a general self-care routine, but one that's not always easy for a single mom pursuing a PhD in neuroscience and immunology.
Instead of getting better, my issues got worse. I fell in the shower not once, but twice, injuring myself further. I had to crawl across my apartment floor to ambulate for a couple weeks. And I suffered a lot of this alone, because COVID-19 had shut down every doctor's office and hospital in Houston, Texas.
Over that year, I sought medical treatment from dozens of doctors in eight different specialties trying to figure out what was wrong. I did months of physical therapy, chiropractic work, and steroid treatments, essentially depleting my entire immune system in the middle of the pandemic. I double-masked with a KN-95 and either cloth or surgical mask if I could find them to go to the doctor. I ordered my groceries and food and I stopped seeing my friends. When the option for virtual school was offered for our family, I took it the first opportunity I could.
I was holding onto the glimmer of hope that this was all going to be temporary, that the pandemic would go away, and I would get better — until I got my RA diagnosis the last day of 2020.
What It Means to Be High Risk
I still go through waves of grief trying to reconcile my thoughts of what my life should be compared to what it is now. But I also realized that the life I had lived over the last year was not the end for me. As someone deemed an essential worker, I was at the top of the list to get the COVID-19 vaccine. In fact, I was one of the first in the state of Texas to receive it back in January 2021.
And though I was grateful for whatever protection it could offer; I knew my struggles weren't over.
As an asthmatic who has dealt with both bronchitis and pneumonia, I knew what it felt like to literally fight for air — one thing I imagined I would be entitled to as a human. But there is so much in my deck that is stacked against me. My RA medications suppress my immune system. I'm obese. I'm a single parent, so I must stay relatively healthy — at least functional — so I can raise my child. And until now, my child has been too young to get the vaccine, so they have remained at risk for catching COVID, and possibly giving it to me.
In fact, my health became so poor during this time that I had to send my child away to be with their father for six months, which devastated me. I had never been so vulnerable in the 10 years of their life, having gradually been weaned off some of the help we had when we used to live closer to family.
While we were always cautious and conservative since the start of the pandemic, the Delta variant threw us for a loop this summer. And in a cruel twist, just as things seemed to be getting worse for the unvaccinated — like my 10-year-old child — our options for staying safe were shrinking. Texas removed virtual schooling options for the 2021-2022 school year, so I was in a massive panic trying to find an online option for my unvaccinated child.
As the main source of scientific research to lots of my personal network, I didn't have the luxury of fully decompressing from the news of children starting to die from this devastating disease. The leading children's hospital in Houston had a full ICU with ONLY children who had been mostly healthy up to this point. I couldn't come to terms with such little souls being irreversibly damaged by a virus that, in most cases, was forced on them because of a lack of infrastructure and support to keep children safe.
I was absolutely terrified. My anxiety had spiked. I required more therapy sessions. How could I allow my child to be exposed to this and possibly get us both sick? I couldn't stomach it. And it still makes me sick thinking about it. We went back on a full lockdown. I used the privilege I could: ordering groceries and food for delivery, changing the times I take the dog out to avoid human interaction, only leaving home for doctor's appointments.
As a mother, I felt it was my fault. If only my body would have cooperated, if only I hadn't been diagnosed with this disease, maybe we could do a little more.
My Child's Life, Disrupted
My genderfluid child (she/he/they) is the most compassionate person you'll meet. (While they prefer to use pronouns interchangeably, for the sake of clarity in this article, I am using "they/them.")
My child and I have a unique relationship where they are fully aware they have contribution to household decisions. In fact, I got their approval to write this article. Of the two of us, they are definitely the extrovert — fearlessly holding conversations with children and adults alike and not afraid to ask for the things they need
So, imagine the devastation when I had to keep explaining that we would continue to be stuck at home for the foreseeable future, not only to keep ourselves safe but also caring for our friends, family, and neighbors. They were aware that I was immunosuppressed. After every doctor's appointment they want to know what happened, what medical changes occurred, what does this mean for our future?
But as I knew my RA therapy was affecting my immune system, I knew we had to keep staying home as much as possible to keep us both safe. We did what we safely could do from home: playing video games, reading the same books, watching TV together, but I could tell the lack of human interaction was starting to wear away at them.
As the pandemic continued, I could tell their trust in humanity was starting to fade. Anger melted away to fear and apprehension. One day, they had a conversation with their grandmother about how they didn't know how to make friends anymore. They just couldn't comprehend it. And I knew we had to figure out something fast. Their light was dimming — and I have a responsibility as a parent to continue kindling it.
Thankfully, the virtual school my child attends is working well for us, and we found new online friends for the both of us. But we are both longing for some semblance of the social life we once knew. We are both longing to stop living in fear of getting sick. We are both longing to reimagine a life that doesn't center around home. Is it home if it starts to feel like a prison?
Will my child receiving the COVID-19 vaccine be the answer? As a scientist, I know the answer isn't as simple as "yes." But it is an important piece in the puzzle to reestablish our "normal."
And it's the best shot that we've got – pun fully intended.
We Will Both Breathe Easier
I have been paying special interest to the COVID-19 vaccine for kids for some time. My child is 10, so they haven't been eligible to receive the vaccine until the most recent authorization for the Pfizer vaccine in children 5 to 11.
And now that my child can get the vaccine, the possibility of our near future has me elated and yet cautious.
Concerns of myocarditis or other side effects are not to be taken lightly, but giving my child some immune protection over none is my determining factor. We have had candid conversations about what the COVID-19 vaccine means to our family and what things will and won't change. They've been waiting to take tennis lessons — we can definitely start that. We can venture out to the parks, arboretum, and botanical gardens. For now, the possibility of in-person school is still tabled, and the likelihood of our being active with my international community choir again is still slim.
My disease and treatments are still too unstable to be around lots of people indoors for extended periods of time. It's a risk neither of us is comfortable taking yet.
As an immunologist, I must practice what I preach. My child is getting vaccinated – in fact, this week. They hate the pain of shots, but as we talked about the risk and benefits of vaccination, they know they'll be a local superhero. They're helping protect themself first and foremost but also are continuing to add to the pool of people who can keep others safe — including their mother.
I can't say that all our fears will be erased, but I know we will breathe easier knowing everyone in our home is vaccinated.
Get Free Coronavirus Support for Chronic Illness Patients
Join the Global Healthy Living Foundation's free COVID-19 Support Program for chronic illness patients and their families. We will be providing updated information, community support, and other resources tailored specifically to your health and safety.