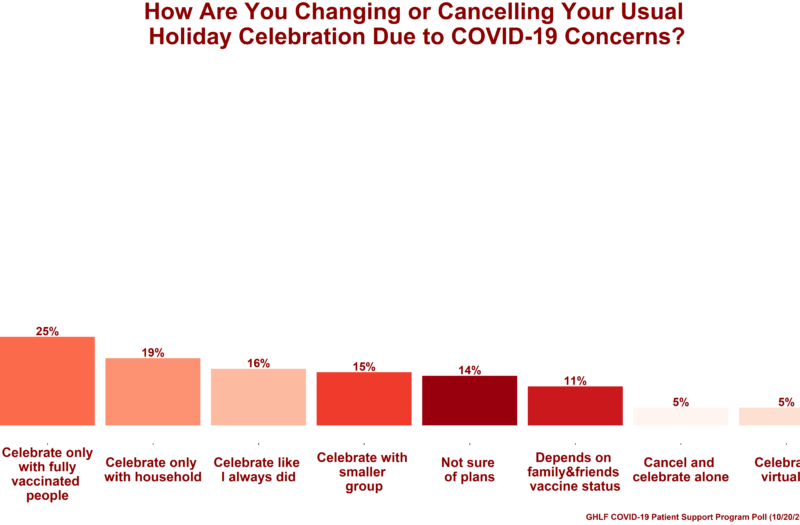 Although the availability of the bivalent COVID-19 boosters should make holiday planning a little easier this year than last, people are still struggling to decide what is and isn't okay to do. The U.S. Centers for Disease Control and Prevention (CDC) has not released suggestions for safely celebrating the holidays yet, unlike previous years where we typically had guidance at this time. This leaves much up in the air as people plan for holiday gatherings in yet another year of COVID. 
In our latest poll, the Global Healthy Living Foundation's COVID-19 Patient Support Program aimed to gain insight into our community's plans for celebrating the holidays (or not). 
Of the 802 respondents, 93 percent are up to date on all eligible COVID-19 vaccines or have taken pre-exposure prevention medicine (e.g. Evusheld). Overall, the findings were similar to a poll we conducted this time last year about holiday plans. 
Here are some other key learning and insights from the poll. 
Many immunocompromised people will celebrate the holidays in person, while still taking COVID-19 precautions
The poll asked whether and how people would change their usual holiday celebrations due to ongoing COVID-19 concerns. They were given eight options to choose from, and able to select all options that applied to their holiday plans. 
25% will celebrate in person with their usual family and/or friends but take COVID-19 precautions 

 

19% will celebrate with their household (no outside family or friends)

 

16% will celebrate like they did before the pandemic

 

15% will celebrate in person with a smaller group than usual

 

14% are not sure of their plans yet

 

11% will determine plans based on family and friend's vaccination status

 

5% will cancel usual holiday plans and celebrate alone

 

5% will celebrate virtually with family and/or friends

 
Due to the COVID-19 vaccine bivalent boosters, many feel more comfortable to get together this year compared to last year. In the free response section of the poll, many elaborated that they will be taking COVID tests prior to the plans, only be around vaccinated people, and increase caution leading up to the event. 
"A bit shaky but family will take COVID tests before they arrive."

 

"

A bit timid about it but much better than last year."

 

"

A little nervous, but I have received the COVID booster and plan on getting the flu shot before I see family members."

 

"Apprehensive but doing it with precautions such as negative test the day of the event."

 
For others, it will be a game-time decision, as one person wrote: "I feel like it will be a last-minute decision given the unpredictability of the COVID variants and the fluctuation in incidence."  
Mental health and feeling left behind remains a prominent emotion for people with chronic illness
Many continue to feel left behind and wish there was an overall practice of COVID precautions as that would help them feel more comfortable with holiday gatherings: 
"Concerned about exposure to illness but recognize that social interaction is important for my overall health."

 

"I'm saddened that another holiday season is coming where I must be extra cautious because most people are not cautious!"

 

"Fraught and a little frustrated. I'm still feeling left behind this holiday season. I wish I could be less worried about COVID, but with decreasing COVID consciousness across the community and policies I don't feel protected enough from an unintended exposure.  If we still had public masking like in the grocery store or entertainment venues I'd feel more comfortable to gather with trusted friends with less COVID precautions."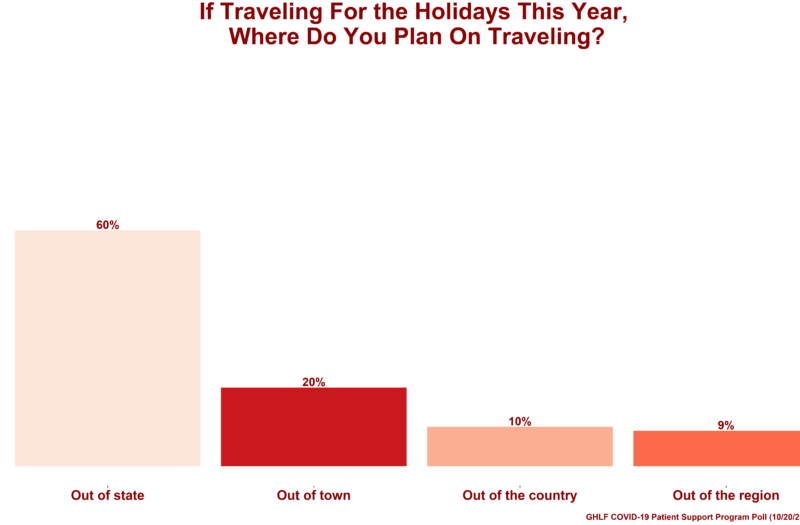 Most immunocompromised people are not traveling for the 2022 holidays
Survey participants were also asked if they would be traveling for the upcoming holidays and an overwhelming majority (83 percent) said they would not be traveling.
Of those who do plan on traveling: 
60% will travel out of state

 

20% will travel out of town

 

10% will travel out of the country

 

9% will travel out of the region

 
From the free response section of the poll, we learned that those who are traveling are taking COVID-19 precautions, and feeling nervous: 
"I am driving and will be with a very small gathering of family who are all up to date on vaccines and boosters."

 

"

A bit uneasy but we are all vaccinated and will test during the holidays as well. We will mask while we fly."

 

"I am very nervous about traveling this Christmas and staying with my son and his family. We've not been together for a Christmas celebration in several years and I have not seen my grandchildren in two plus years because they have not been vaccinated against COVID. Taking as many precautions as possible and praying for the best outcome."

 
About the Patient Support Program Quick Poll
Members of our program have underlying health issues – such as inflammatory arthritis and other autoimmune conditions, heart disease, lung disease, diabetes, and more — that may increase their risk for COVID-19 complications. They are interested in understanding the best ways to stay safe during the pandemic and to be part of a community of people with similar concerns, questions, and fears.  
We regularly poll members, who live in the U.S. as well as around the globe, about a variety of topics, including how the pandemic is affecting their lifestyle, mental health, chronic disease management, medication adherence, and more.  
We use this information to inform the educational resources we provide and to inform other stakeholders — such as public health experts, policymakers, advocacy groups, health care professionals, and pharmaceutical companies — about chronic illness patients' needs and concerns. You can participate in ongoing poll by joining the support program here.