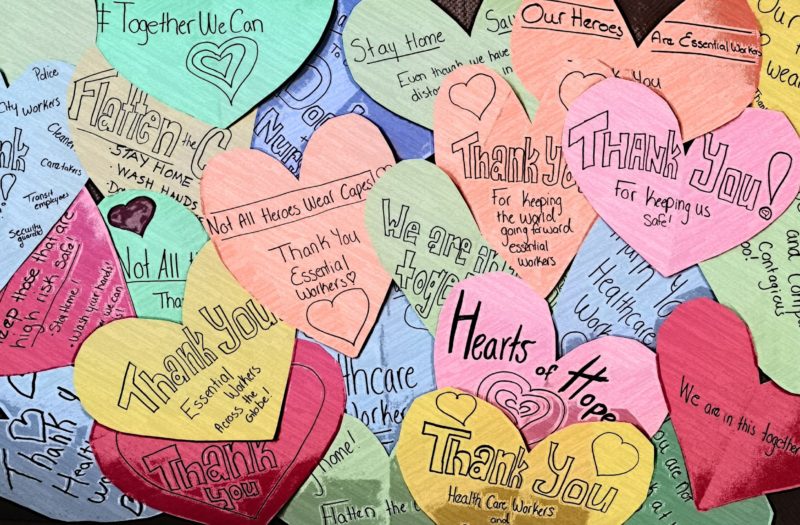 Not all heroes wear capes. I love this saying now more than ever.
Right now, our world's heroes are wearing scrubs and other uniforms. They don't fight bad guys with super powers nor do they come with green skin like my son's Hulk figurine. (Unless green scrubs count, that is.) Our current superheroes are spending their days and nights fighting the coronavirus pandemic wreaking havoc over our entire society — and, frankly, life as we know it.
These heroes are tirelessly trying to help those most vulnerable across the world.
In addition to doctors, nurses, emergency medical technicians, hospital administrators, and other health care professionals, today's heroes might be wearing a uniform you may have never associated with heroism before. They are known as essential workers and they are courageously working to keep the world going while risking personal exposure to this growing COVID-19 outbreak.
While some of us have been laid off or asked to work from home for an eerily unknown amount of time, some don't get the choice to stay in pajamas for days on end and snack all day on their quarantine food they hoarded in the pandemic rush. Some never had the opportunity to stock up on toilet paper because they were busy helping others. They are putting their lives at risk every day to keep the world in some semblance of order.
My coronavirus heroes include prestigious doctors and scientists, government officials and custodians, grocery store clerks and truck drivers filling those grocery stores with goods, and so many others who are keeping us moving forward. It's not just the career of the person we recognize, but the heart and support they are giving back to their community during these unprecedented times is heroic.
Life Lessons from Chronic Illness
Living with rheumatoid arthritis for the last five years has taught me to really show gratitude for those who are treating my illness. They don't have to do this job; they chose to. It is a job that not everyone is capable of doing.
My compromised immune system means I am not putting myself out there during this time. I wish I could, but my heroes are those who are keeping people like me safe and with the supplies and services we all need.
Chronic illness has shown me a lot of ugly in my life. I think we can all say that the coronavirus is leaving its dark and devastating mark on the world, but humanity has also shown some beautiful moments of love, kindness, compassion, and support over these past few months. This pandemic has brought many of us together because we can't fight it unless we do this together (while social distancing, of course).

A Huge Thank-You
So please join me in saying a huge thank-you to all the essential workers who are putting themselves at risk so we can have access to medical care, food, transportation, and other vital services.
Thank you to all those working in the medical field right now. Thank you to the doctors and nurses who have come out of retirement to save lives while risking your own. Thank you to the doctors having to make unspeakable decisions under extreme pressure. May we have the support system to help you after this worldwide tragedy. Thank you to those continuously putting themselves at risk to save lives. And thank you to those who have lost their lives to save others.
Let us recognize the pharmacists making sure people get their lifesaving medicine. Thank you to the first responders on the front line. Thank you for helping the victims of COVID-19, helping to maintain order in our communities, and stopping situations that would allow the virus to keep spreading.
Thank you to those who are creating telehealth services so that we can all maintain access to routine health care in these crucial times. And thank you to those who are switching to these platforms to help flatten the curve. Change is never easy.
Thank you to those who are staying at home in self-isolation to do their part in flattening this curve. Your actions are saving lives, like mine and those of millions of others across the globe. Thank you to the journalists and public health officials who spend countless hours keeping us informed with truthful news and advice to keep us safe, even when it is difficult to give.
Thank you to the under-appreciated and underpaid jobs such as cleaners. You help shield our immune system from invisible predators and save lives by doing so, you shine above any celebrity or athlete. Thank you to the grocery workers keeping our shelves stocked and helping worried customers to make sure they have their essential supplies. Thank you to the people who implemented restrictions to stop hoarding and special shopping hours for those most at risk. Thank you for showing us, the #HighRiskCovid19, that our lives matter.
Millions across the world have lost their jobs, with an uncertain future as to what to do next. Thank you to those who have made the change from doing something to which they were accustomed to assuming new roles in order to provide for their family and keep the community going through these unprecedented times. Thank you to those who are able to sew face masks as supplies on the front lines rapidly run out.
Please join me and the millions of #HighRiskCovid19 patients around the world in thanking those who are keeping us going during these difficult times.
Many communities have a set time each evening to cheer for our heroes on the frontline. Grab those pots and pans, use your voice, use an air horn, and — as long as you are staying in social distancing guidelines — each night cheer for those keeping us going. Grab some chalk and thank them on the sidewalk for a kind message they can see on their way to or from work.
Take to social media to express your thank-yous with such hashtags as #Cheer4HealthWorkers because #TogetherWeCanDoIt. Make sure you continue to give gratitude and cheer them on. They are getting all of us through this.
Get Free Coronavirus Support for Chronic Illness Patients

Join the Global Healthy Living Foundation's free COVID-19 Support Program for chronic illness patients and their families. We will be providing updated information, community support, and other resources tailored specifically to your health and safety. Join now.