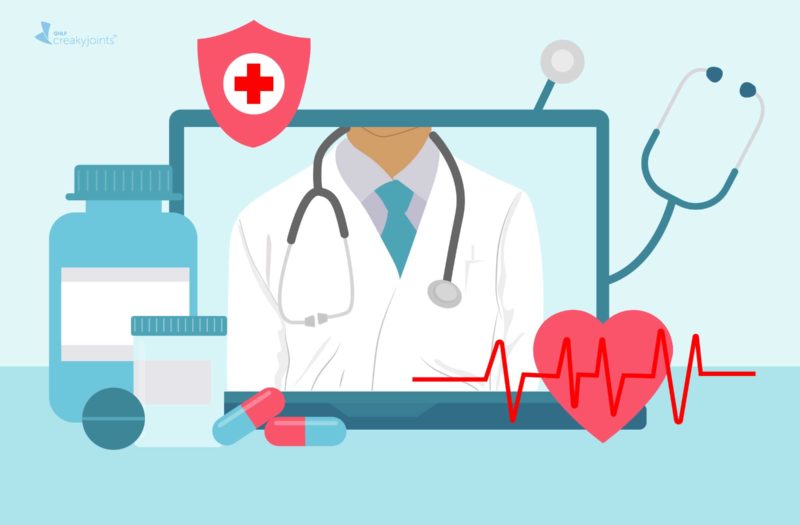 The COVID-19 pandemic undoubtedly changed the way outpatient care is delivered. When the pandemic first hit, providers deferred elective and preventive visits to help reduce the transmission of the virus. When possible, they also converted in-person visits to telemedicine visits. Patients also cancelled or delayed appointments to avoid COVID, and many utilized telehealth for the first time.
Now, we've witnessed both — a return of in-person appointments along with the continuation of virtual visits. Given the changes to outpatient care over the last few years, we sought to learn more about the patient experience with care received.
In our latest poll, the Global Healthy Living Foundation's COVID-19 Patient Support Program aimed to gain insight on whether our community has ever been unhappy with the care they received for their condition, what they've done to improve the situation, and what happened as a result.
Here are key learning and insights from the poll.
Less than half of patients are happy with the care they receive.
As part of the poll, we asked "If you have not been happy with the care you received for your condition, what did you do to improve the situation?" Participants were able to select all that apply with one exclusive choice of "I'm happy with the care I receive."
Of the 1,021 respondents, only 36 percent indicated this answer, which tells us that within our chronic illness community, the majority of patients are not happy with the care they receive.
When patients are unhappy with their care, they take action.
 For those who are unhappy and selected from all that apply, it is clear that patients took action in the following ways:
Changed providers (34%)
Talked to their specialist about concerns (33%)
Got information about their symptoms and/or condition online (33%)
Less common answers included:
Got information about their symptoms and/or condition from other patients (13%)
Completed a feedback survey (11%)
Talked to a nurse about their concerns (10%)
Talked to the office staff about their concerns (7%)
Filed a complaint (6%)
Talked to their pharmacist (6%)
Wrote a negative review online or social media (4%)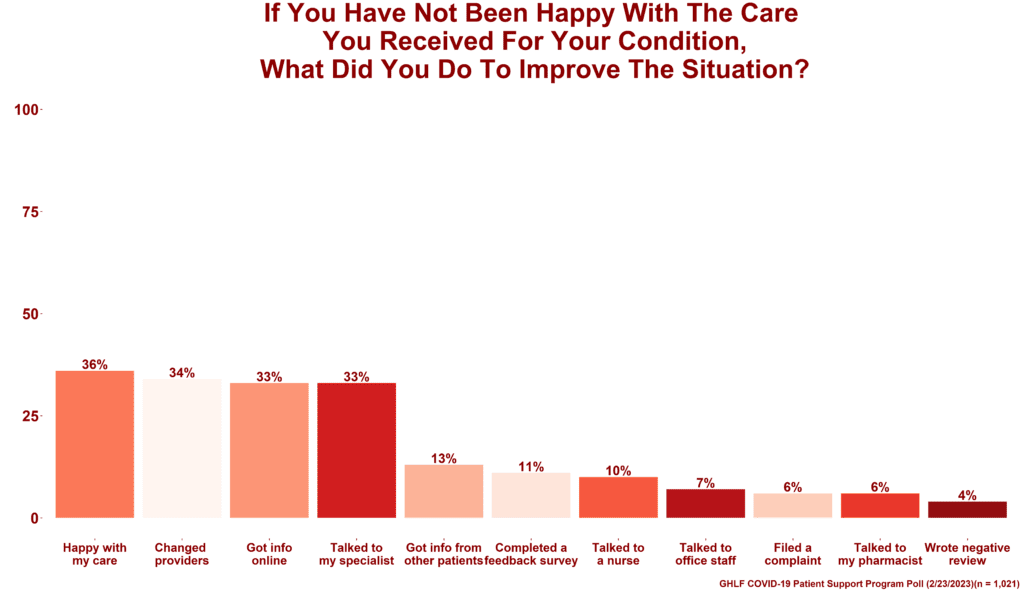 Patients turn to friends, family, and other providers for support.
From the free response section of the poll where respondents could elaborate on their answers, it' clear that many turn to others in their life to ask for help and talk about their concerns:
"Consulted a family friend who is an MD for a recommendation for another provider."
"Complained to my family but did nothing about it and still went to that doctor."
"Complained to friends, stayed with the doctor, and bumped up my research."
"Got information from other doctors."
"Joined online support groups of people who shared similar concerns."
"Received help from my GP to change my specialist."
"Talked about it informally with friends."
After speaking up, patient care and confidence improved.
For all those who took action, we then asked how their care changed afterward. Only 12 percent reported that their care did not change.
Most reported an improvement in their care:
I felt more confident when talking about my symptoms (37%)
My treatment plan changed (33%)
I asked more questions during my visit (31%)
My relationship with my specialist improved (29%)
My experience in the office improved (8%)
My relationship with my pharmacist improved (3%)
A minority of respondents said their relationship worsened.
My relationship with my specialist worsened (8%)
My experience in the office worsened (5%)
My relationship with my pharmacist worsened (less than 1%)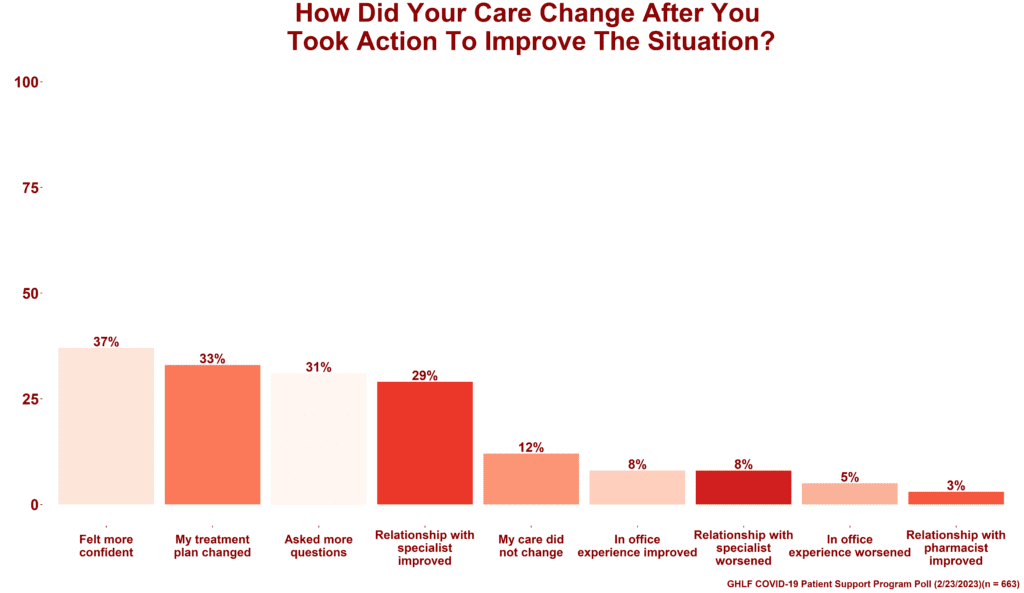 In the free response section of the poll, many shared that that they found a new provider. Some even pay out-of-pocket or travel far distances to get better care.
"I see a new rheumatologist now. I am very careful about being prepared for appointments. Our communication seems good so far and I feel like I'm getting my questions answered, which is helpful. I now drive two hours to see a rheumatologist, but it's worth it so far."
"I pay out-of-pocket to see a functional care doctor."
"I've had a very different experience once I found a caring and competent specialist. Specialist care is very limited where I live, so I had to travel out of state to Mayo Clinic. So happy I did!"
The Global Healthy Living Foundation is committed to providing ongoing education about COVID-19 vaccines for the chronic illness and immunocompromised community.
To stay informed about the latest COVID-19 vaccine news for people who are immunocompromised, take immunosuppressant medications, or have autoimmune conditions, follow all of our COVID-19 vaccine coverage here.
About the Patient Support Program Quick Poll
Members of our program have underlying health issues – such as inflammatory arthritis and other autoimmune conditions, heart disease, lung disease, diabetes, and more — that may increase their risk for COVID-19 complications. They are interested in understanding the best ways to stay safe during the pandemic and to be part of a community of people with similar concerns, questions, and fears.  
We regularly poll members, who live in the U.S. as well as around the globe, about a variety of topics, including how the pandemic is affecting their lifestyle, mental health, chronic disease management, medication adherence, and more.  
We use this information to inform the educational resources we provide and to inform other stakeholders — such as public health experts, policymakers, advocacy groups, health care professionals, and pharmaceutical companies — about chronic illness patients' needs and concerns. You can participate in ongoing poll by joining the support program here.