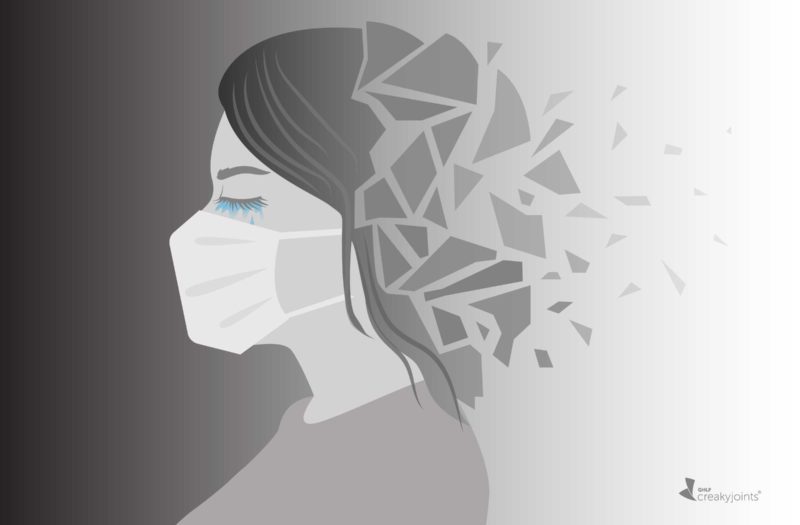 It's been a year now since I first heard about COVID-19. Some "super flu" was going around Asia and places were going into extreme lockdown. Sounded terrifying, I thought. Little did I know that I — and the rest of the world — would soon be experiencing the same unimaginable reality.
Now that we've somehow fast-forwarded through 2020, I can't help but reflect on the difficult changes the pandemic has created in my own personal life. Taking care of a chronic illness — I have rheumatoid arthritis and other health issues — is a full-time job to begin with. The COVID-19 pandemic has made me feel the consequences of that job being upended. This year has changed how I am able to care for my health. This, in turn, has had some negative consequences on how well I feel.
I've shared my silver linings of the pandemic in a previous article, but I don't want to deny the major impact that that COVID-19 has had on my health. Thankfully, I have not gotten sick with the coronavirus (nor has my son Jacob, 8). But the pandemic has wreaked havoc on my well-being in considerable other ways. I know many other arthritis and chronic illness patients have had similar experiences too.
1. My disease activity increased
Chronic illness is bumpy and has a mind of its own. We can't control when we flare. True to form, my rheumatoid arthritis didn't get the memo about quieting down during lockdown. My RA disease activity went up for a number of reasons, which troubles me as I started the year so close to being in remission:
Access to my regular medications was paused and then switched from a monthly infusion to weekly injection. RA medication is so precise that changes like this can throw a patient into a flare and may cause a medication addition or switch. I have had to reexamine my biologic efficacy now.
Access to exams and in-person care became difficult or delayed altogether, even if I really needed it. To access a neurologist, I had to go to the emergency room. I will never forget my rheumatologist calling me from her home — while sick herself with COVID-19 — to try to give me care.
Much of the usual treatment I rely on to manage my RA isn't suited to telehealth or virtual care, such as a chiropractor, physiotherapist, occupational therapist, or registered massage therapist. I depend on the gym (including the sauna and the pool) to manage my RA. Exercise is particularly important for stress and fatigue and I know it also helps with pain. I was able to go to the gym in person for a short time when coronavirus numbers were lower, but not lately.
I've experienced increased levels of stress, anxiety, depression, insomnia or oversleeping, and loneliness. These are all incredibly bad for overall health and especially those living with a chronic illness.
Because of lack of gym access (and now, cold Canadian winter weather) I've had a big drop in my usual physical activity. My motivation has become completely zapped out of me and my body just wants to hibernate the winter and pandemic away.
Consumption: Who here hasn't eaten more junk food or drank more during the pandemic because they are bored out of their mind?
2. My depression and anxiety have increased
My emotions have been rather unstable this year. There's no doubt that a pandemic is a scary situation for everyone. But being considered higher risk for COVID-19 complications has triggered a new level of anxiety in me.
At the same time, there's an incredible amount of sadness enveloping the world and it's been hard to not get lost in a dark depression, especially as the winter and rising levels of cases have made me and my son hibernate all over again. I've found myself coping with stages of grief and the mourning process again because of the pandemic at large and my own personal health struggles.
3. My lifestyle and consumption habits have taken a turn for the worse
Alcohol, sugar, marijuana, snacks, binge-watching TV, sitting, and sleeping have all increased because of how bored I am. I have a lot less to do. When you're stuck at home all the time there isn't much else to do but consume something for entertainment or try escape how rotten I feel this year. But in a vicious cycle, these habits are only increasing my feelings of rottenness. I lost a lot of weight after I was diagnosed with rheumatoid arthritis because I started exercising regularly and eating nutritious foods. I love how I feel when I'm doing good things for my body. The pandemic is really messing with that.
4. I gained the COVID-15
Not being as physically active as I usually am has led to some major setbacks. My pain and fatigue increased, as has the number on the scale. I've gained back weight that I worked so hard to lose.
And it's not for lack of trying. I bought a treadmill and other various at-home exercise items so I could avoid going to the gym, but I severely lack the motivation (thanks depression and anxiety) because I have nowhere to go and nothing to really look forward to. Not to mention in my home comes with a lot of distraction and procrastination. And unlike at the gym, there's no social pressure of being around others while exercising.
5. My sleep is suffering; 'painsomnia' has increased
I always went to bed fairly early and woke up way before the sun, but lately my sleep schedule is screwy. I find myself struggling to stay awake after sunset, and because I'm going to bed earlier, some nights I'm wide awake at 2 a.m., ready to start the day. Because I am less active and eating worse, my pain levels have increased, which in turn affects my sleep, which then affects my fatigue and then my mood.
It can feel like everything is spiraling out of my control when the debilitating fatigue takes hold.
6. My stress has increased due to major lifestyle changes
Deciding to keep my son home from school and learn virtually has not been easy. I'm not going to sugarcoat here: It's been a challenge and a half managing  his schoolwork and Zoom learning to his every meal and need — while navigating my own rocky health struggles. As a single mother, I'm used to being there for my son and spending a lot of time with him. But it's been a whole new level of his dependence on me while we've been staying home as much as possible. I've had to learn a whole new level of patience I have never experienced before. And I am feeling a whole new level of mom guilt that is incredibly hard to shake off.
Let's Speak Up and Support Each Other
If you are struggling in similar ways because of the pandemic, know that you are not alone in those struggles. We tend to shy away from talking about our challenges, especially when we know others out there are doing far worse, but I am a firm believer in self-expression and speaking up about our troubles. We shouldn't suffer in silence. None of us is alone in how we are feeling right now. It's important to recognize how this year has impacted us, negatively and  positively.
I believe that doing so also allows us to fight and move forward with every hardship.
Even though this year has been physically and emotionally challenging, to say the least, I am grateful that years of living with chronic illness — including undergoing different kinds of therapy and participating in medical research — have given me coping skills that I know have helped during this difficult year.
You don't know strong until you know chronic illness strong — and 2020 reminds me of that.
Get Free Coronavirus Support for Chronic Illness Patients

Join the Global Healthy Living Foundation's free COVID-19 Support Program for chronic illness patients and their families. We will be providing updated information, community support, and other resources tailored specifically to your health and safety. Join now.