Early in the pandemic, the Global Healthy Living Foundation (GHLF) started an online COVID-19 Patient Support Program to provide news, information, advice, and support for people living with chronic illness. The program is free and you can still sign up here.
Members of our program have underlying health issues — such as inflammatory arthritis and other autoimmune conditions, heart disease, lung disease, diabetes, and more — that may increase their risk for COVID-19 complications. They are interested in understanding the best ways to stay safe during the pandemic and to be part of a community of people with similar concerns, questions, and fears.
We regularly poll members, who live in the U.S. as well as around the globe, about a variety of topics, including how the pandemic is affecting their lifestyle, mental health, chronic disease management, medication adherence, and more.
We use this information to inform the educational resources we provide and to inform other stakeholders — such as public health experts, policymakers, advocacy groups, health care professionals, and pharmaceutical companies — about chronic illness patients' needs and concerns.
Here are the results of our poll about current pandemic concerns amid rising cases.
Conducted: November 10-13, 2020
Number of respondents: 467
What We Asked
The United States is currently battling an alarming resurgence in COVID-19 infections, deemed by many public health experts as a "third wave." Other countries are seeing troubling upticks as well, causing many cities, states, and countries to return to more restrictive strategies to combat the spread of the coronavirus.
The GHLF COVID-19 Patient Support Program was interested to see how this has affected our community's behaviors and level of concern about the state of the pandemic.
We asked:
For U.S.-based members: How has the nationwide 'third wave' of cases affected your everyday behavior and choices?
For non-U.S.-based members: Do you feel the pandemic is being handled appropriately in the country you currently reside?
What is your level of concern about the state of the pandemic?
We also gave participants the opportunity to share open-ended responses about their main current concerns regarding the pandemic.
What We Learned
Of the 466 participants who took the poll, 384 (82%) were from the United States.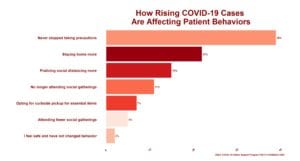 The top responses to the question about how rising cases are affecting behavior were:
It has not changed my behavior because I never stopped taking all appropriate precautions (39%)
I am staying home more (22%)
I am practicing social distancing more (15%)
I am no longer attending social gatherings (11%)
Only 2 percent of respondents said that the third wave of coronavirus cases has not changed their behavior because they feel safe.
In addition to our U.S. members we also had 82 (18%) participants from other countries globally, whom we asked to report on how they felt their country is handling the pandemic. Many of them are expressing caution:
I am cautiously comfortable with how their country is handling the pandemic (34%)
I am moderately comfortable with how their country is handling the pandemic (26%)
I am not at all comfortable with how their country is handling the pandemic (16%)
Only 24 percent reported being comfortable to confident with how their country is handling the pandemic.
Concerns About the State of the Pandemic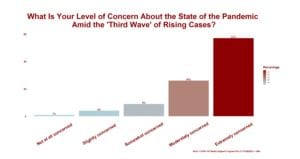 The majority of all participants from the U.S. — regardless of state/region and abroad — expressed concerns about the state of the pandemic.
57% said they were extremely concerned about the current state of the pandemic
26% said they were moderately concerned about the current state of the pandemic
What This Tells Us
The poll results suggest that many of our members are stepping up their efforts to be safe and prevent COVID-19 infection.
Some free responses suggest that people are less worried about their own behavior and more worried about the actions of others:
"Because of being immune-compromised, I am concerned that I have more chance of being exposed since people are NOT consistent [with] following safety guidelines."
"I am afraid of getting sick with it. Even if I were to get thru it, it is hard to imagine that I wouldn't be left with remnant effects. Even after vaccinations get going, it is a long-term worry for the foreseeable future for people like me (which I really try not to think about)."
"I worry that I will not be able to reintegrate into the outside world for a long time"
"I am concerned because I am a UPS driver coming into our busiest season. I have several risk factors and my daughter also has several."
The results of this poll indicate that Global Healthy Living Foundation members continue to take the appropriate steps to protect themselves from the coronavirus and many have started taking even more precautions as the virus is spreading rampantly and many people continue to downplay its risks.
These responses show that there is solidarity in the chronic illness community, regardless of where people live and how widespread COVID-19 transmission is in their area. With similar responses and behaviors towards the mitigating risks during pandemic, our community has continuously shown the courage necessary to stay safe and combat the spread of this vicious virus.
Get Free Coronavirus Support for Chronic Illness Patients

Join the Global Healthy Living Foundation's free COVID-19 Support Program for chronic illness patients and their families. We will be providing updated information, community support, and other resources tailored specifically to your health and safety. Join now.