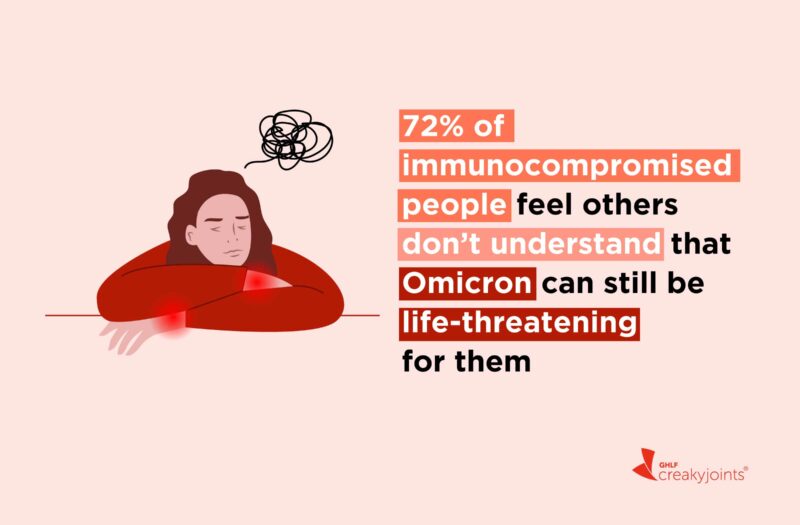 Many generally healthy people believe that catching Omicron is no big deal because of its mild symptoms. But people who are immunocompromised or high-risk because of underlying conditions don't have the luxury to ignore the surge in cases and drop preventative safety measures.
In fact, a recent study found that while COVID-19 vaccines are highly effective against preventing hospitalization and death, your age, level of immunosuppression, and other underlying conditions can put you at risk for complications even after being fully vaccinated.
In our latest poll, the Global Healthy Living Foundation's COVID-19 Patient Support Program aimed to gain insight into how our community is coping and navigating life while the Omicron variant surges.
Of the 1,722 survey respondents, 89 percent reported that their medical condition and/or medications put them at high risk for severe coronavirus illness.
Here are key learning and insights from the poll.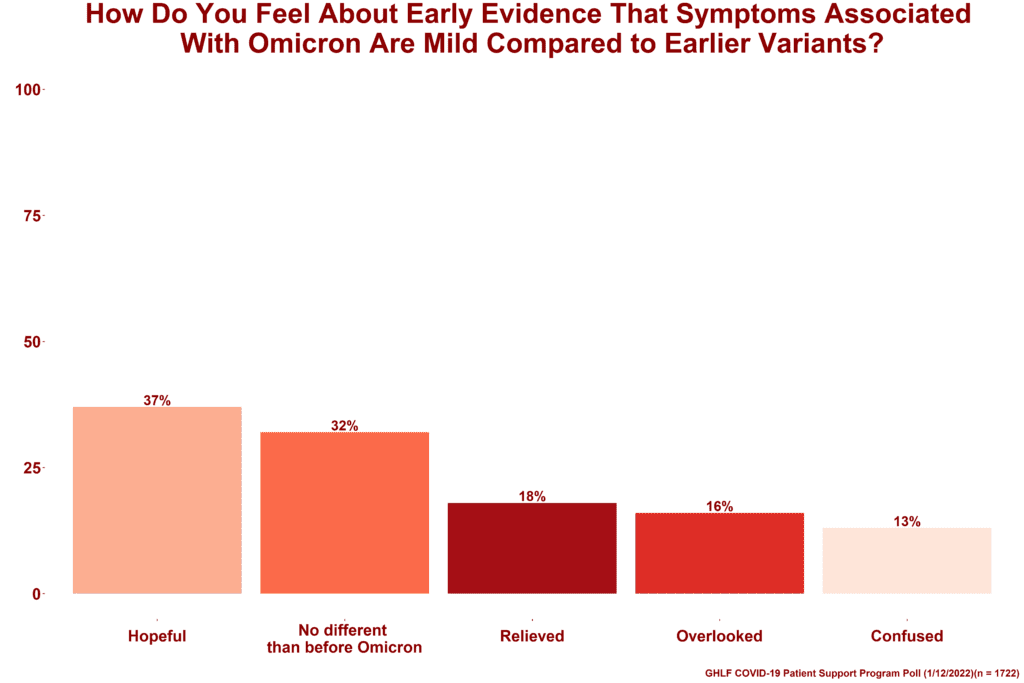 Many high-risk people feel uncertain about Omicron's symptoms
As part of the poll, people were asked how they feel about the early evidence and general perception that symptoms associated with the Omicron variant are mild compared to earlier variants. Participants were given five options and able to select all that apply:
37% reported feeling hopeful
32% reported feeling no different
18% reported feeling relieved
16% reported feeling overlooked
13% reported feeling confused
In an accompanying free response section, one concern was abundantly clear: immunocompromised people are unsure of what Omicron symptoms would be like for them. While they may be hopeful that symptoms are mild in general, high-risk patients still feel the same as they did with other variants because as one person wrote, "symptoms may be mild but there's no guarantee that symptoms will be mild for me." Another echoed this, saying, "I hope they're correct but there is still limited data on immunocompromised people who get COVID."
Along with feeling uncertain, many are feeling left behind by the lack of research about Omicron and immunocompromised. "There isn't any discussion on how it affects the immunocompromised," said one person.
Another lamented on how hard it is to live with an unpredictable condition in the face of any virus. "Mild is relative, and even 'mild' viruses and other infections can be debilitating to me because my immune system is unreliable at best," they shared.
The majority of high-risk patients feel others don't understand their experience as someone who is high-risk
We asked respondents what they think people misunderstand about their experience as someone who is at higher risk during the pandemic. Not surprisingly, most reported feeling misunderstood with only 5 percent choosing none of the above. The most common answer was "why the virus is still life-threatening for me": 72 percent of respondents said they feel that people misunderstand this.
Other factors that immunocompromised people feel others misunderstand:
66% said why I always wear a mask
61% said why I avoid crowds
55% said why I avoid socializing with others outside of my household
55% said why life feels very disrupted for me
41% said why I feel isolated and lonely
32% said why I only socialize with vaccinated people
When it comes to feeling misunderstood, people also reported feeling a lack of care from others. "Don't think they realize how frightening and isolating it is," one person wrote.
Another said, "I don't think I am misunderstood; people honestly don't care because it isn't them."
Invisible illness — having a chronic disease that others can't see on the outside — plays a part of feeling misunderstood. One person wrote, "I look fine and try to act fine so people cannot imagine that I am in this pool that I'm in. They don't understand my condition at all, and they can't understand when I try to explain."
"I had to be careful before the pandemic — and will always have to be — and people are only now seeing my precautions because it personally affected them," another respondent shared. "My life hasn't changed much, theirs did, and they don't like the taste of what I have to deal with permanently."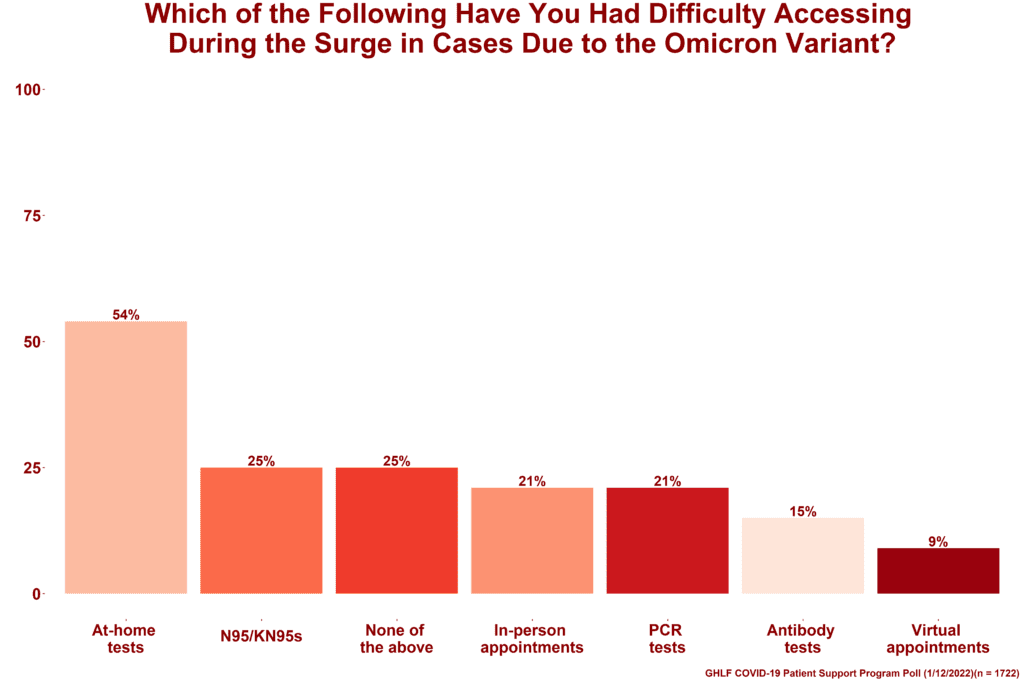 More than half of high-risk respondents have trouble accessing at-home COVID-19 tests
As Omicron surges, using COVID precautions to stay safe is especially important for people who are immunocompromised or high-risk because of underlying health conditions. At many points in the pandemic, supplies have been in shortage, so we asked in the poll about access issues. The most common issue reported was difficulty accessing at-home tests, at 54 percent. Participants were given seven options and able to select all that apply.
Other access issued included:
25% reported none of the above
25% had difficulty accessing N95 or KN95 masks
21% had difficulty accessing in-person appointments with health care providers
21% had difficulty accessing PCR tests
15% had difficulty accessing antibody tests
9% had difficulty accessing virtual appointments with health care providers
The reasoning behind the "none of the above" option became clear in the free response section of the question, where people elaborated that they have stayed home and therefore not sought out any of these. For example, one person wrote "Have still been isolating so not really seeking a lot of these items" and another mentioned "I haven't tried to do most of the above. I'm staying away from people as much as possible, including doctors."
The Global Healthy Living Foundation is committed to providing ongoing education about COVID-19 vaccines for the chronic illness and immunocompromised community.
To stay informed about the latest COVID-19 vaccine news for people who are immunocompromised, take immunosuppressant medications, or have autoimmune conditions, follow all of our COVID-19 vaccine coverage here.
Get Free Coronavirus Support for Chronic Illness Patients
Join the Global Healthy Living Foundation's free COVID-19 Support Program for chronic illness patients and their families. We will be providing updated information, community support, and other resources tailored specifically to your health and safety.
About the Patient Support Program Quick Poll
Members of our program have underlying health issues — such as inflammatory arthritis and other autoimmune conditions, heart disease, lung disease, diabetes, and more — that may increase their risk for COVID-19 complications. They are interested in understanding the best ways to stay safe during the pandemic and to be part of a community of people with similar concerns, questions, and fears.
We regularly poll members, who live in the U.S. as well as around the globe, about a variety of topics, including how the pandemic is affecting their lifestyle, mental health, chronic disease management, medication adherence, and more.
We use this information to inform the educational resources we provide and to inform other stakeholders — such as public health experts, policymakers, advocacy groups, health care professionals, and pharmaceutical companies — about chronic illness patients' needs and concerns. You can participate in ongoing polls by joining the support program here.