Early in the pandemic, the Global Healthy Living Foundation (GHLF) started an online COVID-19 Patient Support Program to provide news, information, advice, and support for people living with chronic illness. The program is free and you can still sign up here.
Members of our program have underlying health issues — such as inflammatory arthritis and other autoimmune conditions, heart disease, lung disease, diabetes, and more — that may increase their risk for COVID-19 complications. They are interested in understanding the best ways to stay safe during the pandemic and to be part of a community of people with similar concerns, questions, and fears.
We regularly poll members, who live in the U.S. as well as around the globe, about a variety of topics, including how the pandemic is affecting their lifestyle, mental health, chronic disease management, medication adherence, and more.
We use this information to inform the educational resources we provide and to inform other stakeholders — such as public health experts, policymakers, advocacy groups, health care professionals, and pharmaceutical companies — about chronic illness patients' needs and concerns.
Here are the results of our poll on how our members feel about the coronavirus (COVID-19) vaccine and our content on autoimmune patients receiving the vaccine.
Conducted: January 4-7, 2020
Number of respondents: 520
What We Asked
With coronavirus (COVID-19) vaccines beginning to be administered across the U.S. and around the world, we wanted to get an idea of our members' beliefs and feelings toward getting the vaccine. We know that many people in our patient community have had questions about getting the vaccine because of their autoimmune conditions and immunosuppressant medications and, in the beginning, trusted information geared toward this patient community was lacking.
CreakyJoints and the Global Healthy Living Foundation have been speaking with leading experts in to produce ongoing educational resources about the COVID-19 vaccine and how it affects those who are immunocompromised or have autoimmune conditions. We have also shared personal stories of several community members who have received the vaccine so others can learn about their experiences.
We wanted to understand how information like this may have affected peoples' decisions and feelings about getting a COVID-19 when available to them.
We asked:
Are you planning on getting a coronavirus (COVID-19) vaccine when you are eligible?
The last time we polled our Patient Support Program about COVID-19 vaccines was at the end of November 2020, before the Pfizer and Moderna vaccines received emergency use authorization and started to be widely distributed. So we were also interested to know if the authorization and distribution of multiple COVID-19 vaccines has affected peoples' views toward getting them by asking:
Have your views toward the COVID-19 vaccine changed now that multiple vaccines have been authorized for emergency use in the U.S. and in other countries?
To understand whether our educational content has affected respondents' feelings toward getting the vaccine, we asked:
How has the content we have provided you about the COVID-19 vaccines in immunocompromised and autoimmune patients affected your thoughts about getting the vaccine when it is available to you?
In addition to these questions, we gave participants the opportunity to share their thoughts about the COVID-19 vaccine in an open-ended response.
What We Learned
There were 520 respondents to the poll. The majority of respondents say they plan to get the vaccine as soon as they become eligible (71 percent).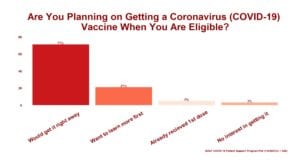 Already received at least the first dose of the COVID-19 vaccine (5%)
Interested but would like to learn more about the vaccine before getting it (21%)
No interest in getting the vaccine when eligible (3%)
Have Views Changed Since Authorization of the Vaccines?
Most our members' opinions on the vaccine remain unchanged after the emergency authorization use in the U.S. and other countries.
My views have toward the COVID-19 vaccine have not changed (79%)
Not sure at first, but now believe I should (19%)
Previously thought I should get the vaccine but now I should not (less than 3%)
The Effect of Educational Content on Deciding to Get the Vaccine
The feedback on our COVID-19 vaccine educational content has been positive, according to the responses.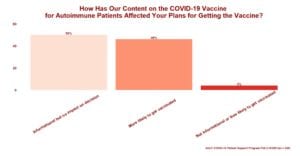 Almost half of all respondents (46%) expressed that the content has made them more likely to get the vaccine. Fifty percent of the respondents expressed that they felt the content was informational even though it did not affect their decision to get the vaccine or not, and 4% of respondents said the content either made them less likely to get the vaccine or that it was not informational enough to impact their decision.
This feedback has allowed us to better understand what our members' informational needs are, and how we can better serve them.
Here are some of the top educational resources about the COVID-19 vaccine in immunocompromised and autoimmune patients:
What This Tells Us
Many poll respondents expressed concerns and questions related to their specific health conditions and wanted data about how effective the vaccine is in autoimmune and immunocompromised patients. We know researchers are starting to study this, but it will take some time before we have data we can use to inform shared decision-making with patients and health care providers. Examples of patients' free responses included:
"I have already received the first Moderna shot on 12/30. I have four different autoimmune diseases and experienced some side effects, they were tolerable. There should be a test for antibodies for immunocompromised people like myself after the second shot. I am currently on Remicade [and] would like to know if I mount antibodies."
"The best thing lupus patients can do is get valid reliable information to make an informed decision. I had no adverse effects so I'm interested in knowing whether there will be follow-up for immunocompromised patients to determine the effectiveness of the vaccine in our population, as I've had to have the hepatitis B series four times because of my insufficient immunity response."
"I am not concerned about getting the vaccine. I am concerned about efficacy – that vaccine effectiveness could be compromised/minimized for people with autoimmune disorders."
"Thank you for putting out the information for those of us with RA. It's difficult to find otherwise!"
"I am very concerned about having the vaccine. I have severe allergies to medications and carry EpiPens. I will have it in a medical setting, where I can be watched. The risk of getting COVID are greater for me than not having the vaccine. Please trust your physician on this one. I am immun0compromised as well: asthma, RA, fibromyalgia, advanced giant cell arteritis and a few other things. Allergic to all medications that help that except prednisone."
As data on these specific medical conditions and medications emerges, we will continue to provide our members more information about the vaccine and how it pertains to the immunocompromised and autoimmune patient communities. With many U.S. states beginning to expand their distribution to more categories of high-risk people, we hope more data will become available on its efficacy.
Get Free Coronavirus Support for Chronic Illness Patients

Join the Global Healthy Living Foundation's free COVID-19 Support Program for chronic illness patients and their families. We will be providing updated information, community support, and other resources tailored specifically to your health and safety. Join now.