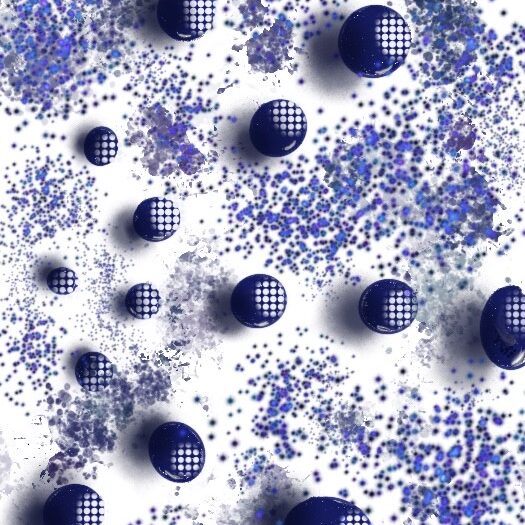 We are all coping in different ways with the drastic life changes caused by the coronavirus pandemic. One beautiful way some CreakyJoints and Global Healthy Living Foundation patients are spending some of their quarantine time is creating artwork. Of course, Jennifer Walker, a GHLF and CJ member who has been sharing her artwork for years with our community, is among them.
Jennifer, who lives with rheumatoid arthritis, axial spondyloarthritis, fibromyalgia, asthma, and osteoarthritis — among other chronic conditions — was advocating from the earliest days of the coronavirus pandemic for more attention to be paid to the unique needs of immunocompromised and chronically ill. Jennifer has been using her art throughout this crisis to help her address the many emotional ups and downs she's experiencing. We asked her to share pieces that symbolize them.
To see more of Jennifer's art and purchase it, visit her Etsy shop JWalker Art.
Here, a Q & A about Jennifer's work in general and her above piece titled 'Sadness in Chaos.'
Q: How is creating art helping you cope with your coronavirus pandemic emotions?
A: Art is helping me cope with quarantine and the coronavirus pandemic by giving me a tangible outlet to process the shock, dismay, pain — and more — that I am feeling right now. I very often have an image to express long before I have the words. So this helps me get to those words.
Q: Do you find your approach to art has changed at all during this crisis compared to what you normally create?
A: Yes, it has. When I get overwhelmed emotionally and/or mentally I shut down. I won't create and have no desire to do so. This is common with creative types. Since I know this about myself, I have entered into an art challenge with a fellow patient advocate and we take turns giving each other prompts. This has kept me fresh and our topics have been fun. So it has become a great, easy and fun way to destress. I get to focus on what I am creating and shut it all out. And the prompts are interesting, funny, light topics. We don't do anything serious. It has kept me creative.
Q: Is there anything else about your art in the time of coronavirus you'd like us to know about?
A: My art allows me to touch others when we are social distancing. It allows me to get close when I can't do that with anyone outside of my quarantined space. And since so many folks are tuned in to social media, it gives me the chance to shout even louder and further about the patient experience in such a precarious and uncertain time.
All pieces are digital art. Charis Hill, a fellow patient advocate, is my model/inspiration as usual.
Q: Tell us about 'Sadness in Chaos.' What emotion is this representing?

A: The biggest emotion I feel with this piece is sadness in the middle of chaos. I'm so sad for those who have lost their lives. And life feels chaotic because we have a new normal and won't be able to go back to the way we lived before.
Q: Can you describe what's happening and why you chose to depict desperation in this way?
A: The circles/acorns are people and the spatter in between is the virus that is keeping us apart.
This just kind of came out of me. I didn't have a plan. I knew I wanted to create an abstract piece that showed people and the separation that is being created because of the virus. So I started playing with textures and depth and shadow. This is the result.
Q: How are you personally coping with your sadness right now?
A: I am seeing a therapist and spending my time balancing how I feel with regular tasks that I still need to get done. So I can still have order in some way or another. I am allowing myself to feel but trying to keep myself from wallowing so that depression does not take over. And I am doing a lot of talking to help me process what is happening.
Q: What do you wish this piece to convey to others who are not #HighRiskCovid19?
A: I want them to see the danger. I want them to realize the spatter is the invisible virus in a visible form. I want them to know we are drenched in this and we cannot just go back to the way we were. The risks for us #HighRiskCovid19 folks will be even greater now day to day.
Stay in touch with Jennifer and other patient advocates through our GHLF Patient Support Program for the Coronavirus Pandemic for chronic illness patients and their families. We will be providing updated information, community support, and other resources tailored specifically to your health and safety. Join now.