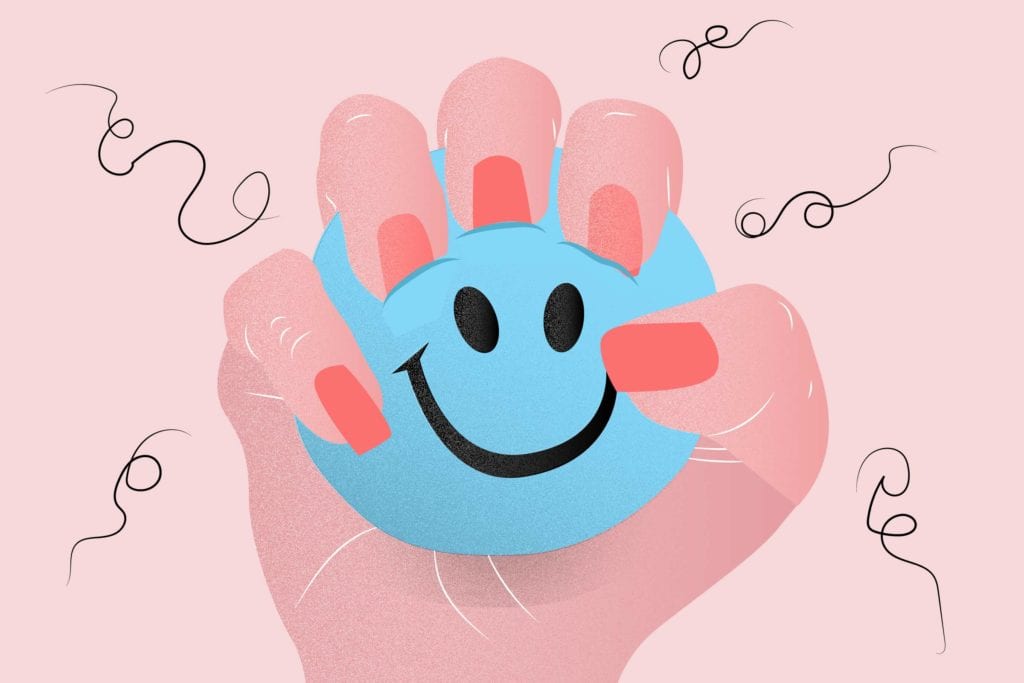 The COVID-19 pandemic has caused a lot of stress in our lives. The fear of getting sick, social isolation, coping with new variants, and the unpredictability of the pandemic have all contributed to high levels of stress. 
Even outside of COVID, chronic illness can be a source of stress, which can make symptoms worse. That's why it's important to find strategies to cope with stress and break this vicious cycle. 
The Global Healthy Living Foundation's COVID-19 Patient Support Program recently conducted a poll to gain insight into our community's stress levels and coping strategies. 
The findings: Most people with chronic illness are moderately to very stressed. The poll found that out of 3,442 respondents, nearly 76 percent reported being moderately to very stressed in the past seven days due to chronic illness.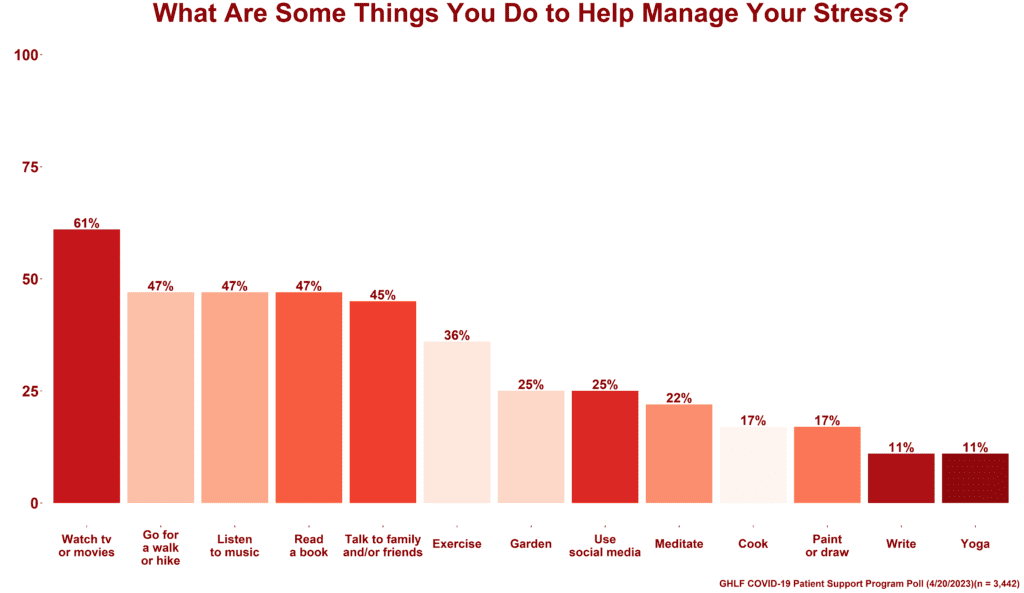 The most common method for dealing with stress is watching tv or movies
We also wanted to understand how our community copes with stress. The most popular response was watching TV or movies, with 61 percent of respondents selecting this option. Nearly half (47%) said they go for a walk or hike, listen to music, or read a book. 
Participants were able to select all that apply, and other ways to manage stress included: 
45% talk to family and/or friends

 

36% exercise

 

25% garden

 

25% use social media

 

22% meditate

 

17% cook

 

17% paint or draw

11% write

 

11% practice yoga

 
Respondents who selected "other" were able to provide additional details in the free response section of the poll. Other ways that people with chronic illness manage stress include: 
Crocheting, knitting, or sewing

 

Doing puzzles, crossword and jigsaw

 

Eating

 

Playing games

 

Praying 

 

Sleeping or resting

 
The bottom line: Living with chronic illness can be challenging, and finding ways to cope with stress is essential for managing your condition. However, it's not always easy to know what strategies will work best for you. That's why it's important to talk to your health care provider about stress management techniques that may help. 
The Global Healthy Living Foundation is committed to providing ongoing education about COVID-19 vaccines for the chronic illness and immunocompromised community.
To stay informed about the latest COVID-19 vaccine news for people who are immunocompromised, take immunosuppressant medications, or have autoimmune conditions, follow all of our COVID-19 vaccine coverage here.
About the Patient Support Program Quick Poll
Members of our program have underlying health issues – such as inflammatory arthritis and other autoimmune conditions, heart disease, lung disease, diabetes, and more — that may increase their risk for COVID-19 complications. They are interested in understanding the best ways to stay safe during the pandemic and to be part of a community of people with similar concerns, questions, and fears.  
We regularly poll members, who live in the U.S. as well as around the globe, about a variety of topics, including how the pandemic is affecting their lifestyle, mental health, chronic disease management, medication adherence, and more.  
We use this information to inform the educational resources we provide and to inform other stakeholders — such as public health experts, policymakers, advocacy groups, health care professionals, and pharmaceutical companies — about chronic illness patients' needs and concerns. You can participate in ongoing poll by joining the support program here.