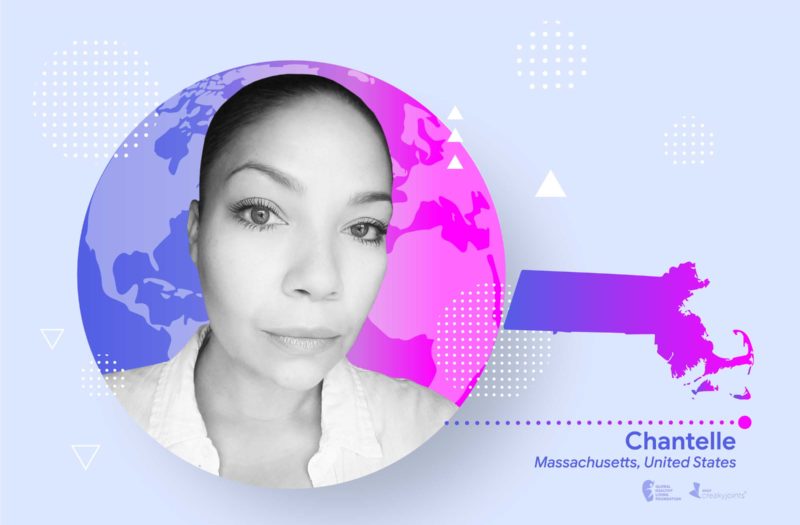 This World Arthritis Day project is presented with CreakyJoints, CreakyJoints Australia, and the Canadian Arthritis Patient Alliance (CAPA).
This COVID-19 Time Capsule is meant to capture a snapshot of what it's been like to live with a chronic illness during the pandemic among people living all over the globe. The questions are an intentional mix of light and serious.
Everyone's responses reflect the many ways having a chronic illness is a shared experience that knows no boundaries. At the same time, you'll find some very distinct differences in how the pandemic has been experienced from place to place.
Respondents answered questions via email and responses may be lightly edited for clarity.
Name: Chantelle Marcial
Location: Boston, Massachusetts
Age: 41
Primary health condition: Rheumatoid arthritis
Daily Living
What were/are your go-to foods during the pandemic?
As a (damn good) home cook, it's usually something I've made. Lots of comfort foods and recipes from childhood. Bags of frozen jumbo shrimp have been on sale at one of our local supermarkets and I find myself grabbing a 2# bag almost every time I'm there. We've had a lot of shrimp!!! (They're really good seared then tossed with sautéed grape tomatoes, lemon, garlic & spinach over lentils — I'm gonna have that for lunch.) Also, supporting local restaurants that we have been going to for decades has been important. The breakfast & lunch spot near where we grew up has been key in getting me through. (Thank you, Billy's.)
How many rolls of toilet paper do you currently have?
Six — Looks like it's time to restock. And on another note, I'd like better paper towels please. These no-name rolls are not cutting it. #BringBackBounty!
How do you feel about Zoom and digital meetings/events?
OK, so this is an odd one for me. For the purpose of webinars, etc., I'm fine with them. I have loved learning about RA, COVID, MIT's response to the pandemic [Chantelle works for the Massachusetts Institute of Technology], etc. But for work, just call me. We all have phones and if I'm on a long call I tend to either pace the apartment or my sun deck (if it's nice out).
Now here's where it gets dark. On the day my mother passed from COVID-19, my family had a Zoom call scheduled so that I could update them on my mom and dad's state. My uncle (an elder in their religion) was to offer a prayer. I got the call probably 20 mins before the Zoom was scheduled. I watched as family from California, Las Vegas, Atlanta, Maryland, and here in Massachusetts all logged in. Pleasantries were exchanged and everyone was happy to see each other. I had texted a few folks prior to let them know. Then my uncle gave me the floor, my cousin muted everyone, and I dropped the news. Now, I have a HUGE family. My mother was one of nine (actually 11, but two passed as children). My grandmother had just died the month prior in March. And here I am telling everyone that my mom, the one who fought hard for 40 years and always won her health battles, was gone.
Shocked doesn't even begin to describe that moment. We stayed on the Zoom for about an hour and we cried, laughed, told stories, and loved on one another. It was the most powerful time I've had with my family and it was facilitated by Zoom. So…there's that.
Do you have a favorite face mask? If yes tell us about it.
Not yet. I'm hoping to have one made by local designer David Josef. He designs the most beautiful gowns but when the pandemic hit, he and his husband stopped everything and pivoted to mask making. He has donated so many and his swatches are fabulous! Check him out if you have a chance.
Where do you mainly get your COVID-19 information from?
MIT has been great at keeping our community updated. I listen to the mayor of Boston the governor of Massachusetts a couple times a week on their briefings. ABC Nightly News. Oh — and CreakyJoints, of course.
Pop Culture
What TV shows and/or movies got you through lockdown/quarantine?
We're Here on HBO (laughed and cried every episode)
Desus & Mero (podcast and Showtime show)
The Joe Budden Podcast
A League of Their Own (cry every time; it was one of mom's favorites)
Below Deck Mediterranean and the recap show with Kate Chastain
ALL the Housewives (y'all gonna watch the Salt Lake City one, or nah?)
YouTube vloggers (Funky Dineva, DJ Richie Skye, Jackie Aina, Nyma Tang)
Baseball (go Yankees)
Share five songs from your pandemic playlist.
"Mood 4Eva" (Beyonce)
"Outstanding" (The Gap Band)
The Gold Experience album (can't pick a track) (Prince)
"WAP" (Cardi B and Megan Thee Stallion)
"Home Sweet Home" (Passport Gift X Parks) (the album No Vaccine is flames!)
Health
How has your health generally been during the pandemic?
Other than migraine and hay fever, pretty good. I accredit this to no longer having to commute via public transit. The stress of it all could throw me into a flare, coupled with carrying heavy bags, etc. It just always got me feeling awful by the end of the week. Minor flares here and there, but I'm not complaining.
Have you used telehealth? Tell us about your best and/or worst appointment.
Once and I have another scheduled this month. It was cool; my doc and I have known each other for a long time so it was chill. I did have to go in to be seen at my primary care doctor's office and the visit was great. The fact that earbuds gave me a double ear infection was not good. (Brand new, sanitized regularly, but they were a hard plastic and they caused abrasions… I'm oversharing again…).
What do you wish other people knew about what it's like to have arthritis during a pandemic?
That it sucks. No really, it sucks. We were already isolated in one way with the RA, right? Then you add in that it is super risky to be outside, so we are doubly isolated. Then you see folks not taking it seriously (ahem…) and you just end up screaming at the television!
Pandemic Management
How has your country handled social distancing and mask wearing?
Depends on where you are here. The virus has been politicized to the point where wearing or not wearing a mask in public can cause arguments. So I guess, poorly.
How has your country handled unemployment or disability/illness caused by COVID-19?
From what I see, poorly.
How do you generally feel about your country's response to the pandemic?
Dumpster fire. Is that good enough?
Self-Reflection
What has been the most challenging thing about navigating the pandemic for you personally?
Work. Since we are all working from home, we get emails and calls at all hours of the day and night when, before the pandemic, semi-normal business hours were observed. Work is driving my me and colleagues and to the brink. It's a daily mind game to open the laptop, check the phone, and turn on the desktop to get the day started. I wish a message of compassion for those in the position to assist was able to be telegraphed out there. We can only hope.
Have you experienced anything positive or any surprising upsides during the pandemic?
I've learned that I have a natural ability to tell dad jokes. I'm also surprised that we didn't all prize essential workers before all this. My mom had to start and stop her nursing school education repeatedly due to illness. When she finally became a registered nurse it was already crystal clear to me that these are the folks you should thank every time. Bus drivers, train conductors, janitors, grocery store workers, delivery drivers — they always had my utmost respect. Glad to see them get their flowers.
If you could go back to January 2020, what would you tell your future self?
Take that vacation, you'll thank me later, doll. Get the paperwork taken care of with Mom and Dad, the banks and the attorney. Also, no need to get any more red lipstick or nude gloss, trust me on this one.
Check Out More Patient Perspectives in Our COVID-19 Time Capsule
Get Free Coronavirus Support for Chronic Illness Patients

Join the Global Healthy Living Foundation's free COVID-19 Support Program for chronic illness patients and their families. We will be providing updated information, community support, and other resources tailored specifically to your health and safety. Join now.