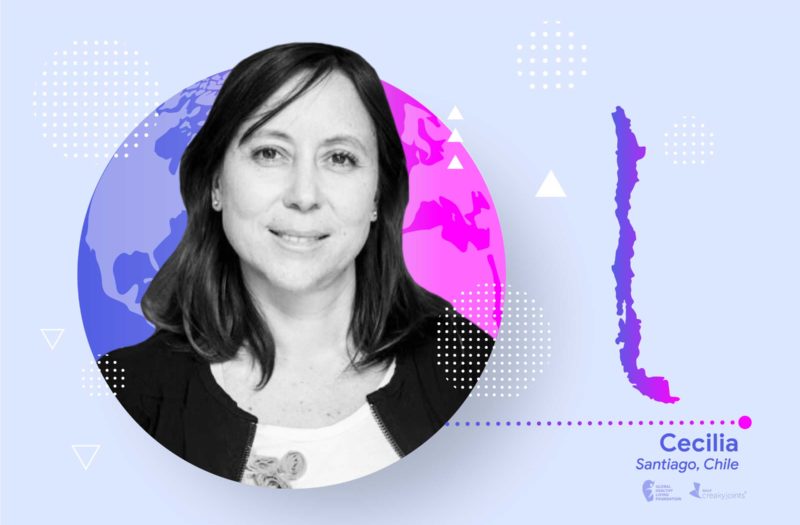 This World Arthritis Day project is presented with CreakyJoints, CreakyJoints Australia, and the Canadian Arthritis Patient Alliance (CAPA).
This COVID-19 Time Capsule is meant to capture a snapshot of what it's been like to live with a chronic illness during the pandemic among people living all over the globe. The questions are an intentional mix of light and serious.
Everyone's responses reflect the many ways having a chronic illness is a shared experience that knows no boundaries. At the same time, you'll find some very distinct differences in how the pandemic has been experienced from place to place.
Respondents answered questions via email and responses may be lightly edited for clarity.
Name: Cecilia Rodriguez
Age: 45
Location: Santiago, Chile
Primary health condition: Rheumatoid arthritis
Daily Living
What was/is your go-to foods during the pandemic?
During winter, chocolate (too much now that I look back!)
How many rolls of toilet paper do you currently have?
Mmmm like 16, but this is because a couple of years ago in Chile there was a collusion with the price of toilet paper. You have to buy in bigger amounts.
How do you feel about Zoom and digital meetings/events?
Mixed feelings. Happy because we have been able to keep working with people from all around the world, but also exhausted because it never stops.  Digital meetings seem to 'have to fit' always in your agenda.  Need to watch more trees, more 'green' rather than my screen.
Do you have a favorite face mask? If yes tell us about it.
One of my best friends is doing masks and they fit SO well, I love them all. My favorite one had stars, but my dog ripped it, but I still have three beautiful others to go.
Where do you mainly get your COVID-19 information from?
Every Tuesday our non-profit foundation is having small talks with health professionals that keep us updated on health care during pandemic. [Cecilia works for Me Muevo Fundacion, a non-profit whose mission is to influence public policies and promote practices aimed at improving the quality of life of those living with rheumatoid arthritis.]
Also, the health department has a site with numbers.  And sites from other places, were I can trust information.
Pop Culture
What TV shows and/or movies got you through lockdown/quarantine?
This Is Us. OMG, why have I never heard of this series before?
Share five songs from your pandemic playlist.
"Don't Stop Me Now" (Queen)
"Zona de Promesas" (Mercedes Sosa y Gustavo Cerati)
"Solo le pido a dios" (León Gieco)
"Sambalandó" (Inti Illimani)
"y Seguiremos" (Macaco)
Health
How has your health generally been during the pandemic?
Better than in non-pandemic times. My RA has been very stable.
Have you used telehealth? Tell us about your best and/or worst appointment.
Only once, for a particular issue and everything went just fine.  What I missed though (as it was not my regular doctor) was having my clinical notes with me.
What do you wish other people knew about what it's like to have arthritis during a pandemic?
About being afraid (at least the first months), about the impact of stress and how that may trigger fatigue, and the impact of moving less. We really need to put our bodies in movement again.
Pandemic Management
How has your country handled social distancing and mask wearing?
We are just getting out of quarantines.  I haven´t been out a lot, but for what I have noticed, everybody wears a mask, but distancing is not that easy in public transportation.  And we still have a lot to learn on how to wear the mask so that it really protects.
How has your country handled unemployment or disability/illness caused by COVID-19?
There have been a couple of special policies to address unemployment, but still a long way to go. Unformal employment was, and still is, an issue.  For disability, nothing.
How do you generally feel about your country's response to the pandemic?
A weak response that still puts us near the top of deaths per hundred thousand people. It's too centered on the last part of the chain (assisted ventilation) and not on contact tracing.
Self-Reflection
What has been the most challenging thing about navigating the pandemic for you personally?
Emotionally, losing people you love and having to stay home is extremely challenging. And in simpler things, I used to walk a lot, and now staying home is making me stiff. I have gained weight. I really need to get moving!
Have you experienced anything positive or any surprising upsides during the pandemic?
We have received some really good news for our work on Me Muevo during pandemic. I couldn't imagine opportunities would come in this context.  Also, the communication we established with my family has been really good. We have stayed together through FaceTime, even with my younger nephew who turned 2 a couple of months ago. And at home, we have been keeping organized, something I am very grateful for.
If you could go back to January 2020, what would you tell your future self?
I will seem very hard, but be patient and confident about how you can manage this. You will make it through.
Check Out More Patient Perspectives in Our COVID-19 Time Capsule
Get Free Coronavirus Support for Chronic Illness Patients

Join the Global Healthy Living Foundation's free COVID-19 Support Program for chronic illness patients and their families. We will be providing updated information, community support, and other resources tailored specifically to your health and safety. Join now.