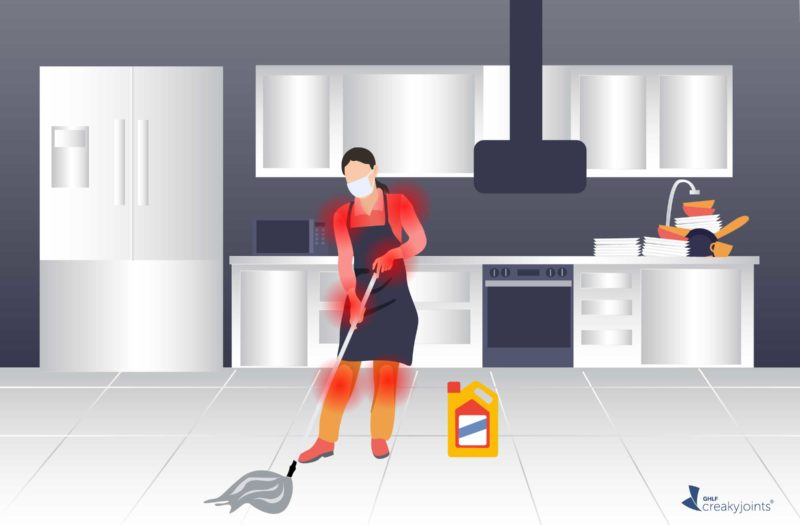 Pain. Swelling. Stiffness. Fatigue.
Feeling. Like. Total. Crap.
Yes, arthritis flares can make you miserable, regardless of what else is going on in the world. But what happens when your most unwelcome symptoms return during the coronavirus pandemic?
Although it's hard to say whether a greater number of rheumatic disease patients than ususal are experiencing flares at this time, it's certainly possible. For example, in a recent CreakyJoints Instagram poll of 145 people, 69 percent reported they have experienced a flare since being under self-quarantine.
"Quarantine won't eliminate disease activity," Katrina R. shared on the CreakyJoints Facebook page. "I flared in time for my infusion on Friday. It was one of the scarier times to receive it since starting."
There are many possible reasons for increases in arthritis disease activity right now. Stress is an obvious and important one. Others may include:
Changes in medication access (such as with shortages of hydroxychloroquine)
Fatigue from being in quarantine
Eating less healthy food
Poor sleep due to anxiety and depression
Less physical activity due to not leaving home as much
More exertion due to cleaning and chores
Lack of access to providers like physical therapy, chiropractic care, or massage
Denise M., for one, suspects too much housework is contributing to inflammation of her hands. "I can't bend my fingers because my knuckles are so swollen and painful at the moment," she says. Another factor: having too little to do for distraction. "It's hard to sit quietly and rest. Keeping busy keeps my mind occupied."
For Hannah M., lack of exercise is a big factor. "[I've had a] major flare-up all last week. It's a combination of stress, as well as a lack of commuting to and from work, which is usually my exercise for the day. I've tried to go for short walks but once that flare hits, it's hard to get up and do anything. Lots of baths, heating pads, lying on the couch not doing much."
Multiple patients brought up lack of access to hydroxychloroquine (Plaquenil) as a main reason for their flares.
Most people who have experienced a flare felt that it was due to a perfect storm of circumstances. As Heather V. put it, "[it's] the stress, the concern for lack of finances. The emotional toll is having an impact on my body. Plus, I'm unable to get the normal care that keeps me comfortable and functioning. My rheumatoid arthritis is acting up a lot. Pain, swelling, and stiffness."
Whatever the reasons for your flares, the resulting symptoms are very real and need to be addressed, says rheumatologist Joseph Huffstutter, MD, partner with Arthritis Associates in Hixson, Tennessee.
Here's how to get the help you need to get through a flare during the coronavirus pandemic.
Step One: Call Your Rheumatologist
Many rheumatology practices are offering a combination of telemedicine and in-person visits. (If yours has closed due to the COVID-19 pandemic, your rheumatologist should connect you with another specialist, or you can reach out to your primary care physician for help.) Jonathan Greer, MD, president of Arthritis and Rheumatology Associates of Palm Beach, Florida is still seeing some patients in the office, although he is connecting with many others through telephone appointments (usually brief check-ins) and telemedicine.
Many rheumatologists are encouraging patients to take advantage of new telemedicine guidelines that make it easier for doctors to treat patients either over the phone or over video chat, such as Skype, FaceTime, or specific telemedicine apps through the practice's electronic medical record software.
This might be the best way of getting prompt help during a flare.
How Telemedicine Works
Telemedicine (aka a virtual visit) typically involves both audio and video. Your rheumatologist might ask you to use a specific app or website, but many are now using regular video chat tools like FaceTime, says Dr. Greer. If this is not possible or too challenging for you, phone calls are also a possibility.  Read more here about how telehealth for rheumatology works.
A virtual visit to discuss a flare would be similar to a real-life appointment in many ways. Your doctor will ask you about your symptoms and might ask to see (through your phone or computer camera) an affected joint. "You can still show me your hands, your range of motion, and your gait," says Dr. Greer.
After confirming that you're having a flare and reviewing your current medications, your doctor will make recommendations about what to do next. "In some cases, you might not even have to go to a drugstore," says Dr. Greer. "If you're on methotrexate, we could talk about increasing your dose. If you're on prednisone, we might increase the dose for a few days and then bring it back down." This is a temporary measure that's known as bridge therapy, he says.
In some instances, of course, your doctor will have to send a new prescription to your pharmacy and/or tell you that you need to come into the office for more testing or to get treatment such as a steroid injection.
A virtual visit is also a good time to ask your doctor about any home remedies you'd like to try to ease your symptoms. Some — like ice to calm swollen joints or heat to ease stiff ones — are safe for almost anyone to try. Others, like dietary supplements, may or may not be advisable, so be sure to check. (Dr. Greer says he often recommends turmeric, boswellia, and fish oil because of their anti-inflammatory properties. But other supplements, including high doses of vitamins, could be dangerous.)
CreakyJoints members reported using various home remedies to help them cope with flares, including:
Heating pads
Hot showers and baths
Yoga
CBD and medical marijuana
Neck, wrist, and knee braces
Signs You Need to See a Doctor in Person
Dr. Huffstutter is also seeing many patients via telemedicine, but he notes that this is not an appropriate option for every patient. "It depends what kind of flare you're having," he says. Patients who have symptoms of vasculitis (inflammation of the blood vessels), for instance, will need to be seen in person because they'll need lab tests. Same goes for patients who have had problems with their blood cell counts or liver enzymes in the past.
Patients with a single hot/swollen joint will likely need to come into the office as well. "We'll need to do aspiration to check for infection," says Dr. Huffstutter.
Patients will also have to come into the office if they require medication via infusion or injections they can't self-administer — whether they regularly get these treatments or need to start them now because the doctor believes it's the best way to control their flares.
What to Expect If You Go to Your Doctor's Office
Because of the COVID-19 pandemic, health care practices are taking extra precautions. At Dr. Huffstutter's office, anyone who tries to enter gets asked about COVID-19 exposure and possible symptoms like fever, shortness of breath, and loss of taste or smell. Other practices, including Dr. Greer's, have implemented similar measures in order to protect staff and other patients. If you have symptoms such as a fever, your rheumatologist will probably not see you. You may be told to quarantine at home or go for COVID-19 testing.
Assuming you are brought into the office, expect things to look a bit different. At Dr. Greer's practice, for instance, all the providers doing infusions are wearing masks, gowns, gloves, and protective eyewear.  They have also temporarily suspended use of their regular infusion center — a large room where patients would sit in close proximity to one another — and are instead administering infusions in private exam rooms that are normally used for check-ups.
If you have concerns, it's a good idea to call your doctor's office ahead of time to ask about what to expect in terms of new procedures. Examples of procedural changes include:
Screen for coronavirus symptoms among office staff and patients
Ensure social distancing in waiting rooms or eliminate waiting rooms altogether (ask patients to wait outside the facility, such as in their car)
Limit the number of patients and staff in the office at one time
Use thorough disinfecting measures, including cleaning all equipment and high-touch surfaces between each patient use
Use personal protective equipment (PPE)
The most important thing to remember is that you don't need to suffer through a flare alone. "Patients need to stay connected to their physician and continue their care," says Lynette Byrnes, senior vice president of practice management services at United Rheumatology, a New York-based rheumatology care management organization that serves more than 600 independent rheumatologists across the U.S.
Remain on Your Medication Regimen to Avoid Flares
Some patients may be having flares because they've stopped taking certain medications over worries about how they may impact immune system function.
While it is natural to have concerns about taking medications that can affect the immune system, do not stop taking any medications or adjust your dose of any medications without first talking to your doctor.
In general, if you don't have a COVID-19 infection and are stable on your regimen, the American College of Rheumatology (ACR) recommends that you stick with the current medications you use to treat your inflammatory arthritis or related conditions.
If you have changed your medication regimen on your own, such as stopping your disease-modifying medication (DMARD) or biologic, make sure to be candid with your doctor about what's happening so they can best advise on how to get your current flare under control and prevent future issues.
To the extent that good mental health care, stress management, and community support can help, CreakyJoints and the Global Healthy Living Foundation are here for you.
Get Free Coronavirus Support for Chronic Illness Patients

Join the Global Healthy Living Foundation's free COVID-19 Support Program for chronic illness patients and their families. We will be providing updated information, community support, and other resources tailored specifically to your health and safety. Join now.
ACR Infusion Guidance During COVID-19 Crisis. American College of Rheumatology. April 11, 2020. https://www.rheumatology.org/Portals/0/Files/ACR-Infusion-Guidance-COVID-19.pdf.
Interview with Jonathan Greer, MD, rheumatologist and president of Arthritis and Rheumatology Associates of Palm Beach, Florida
Interview with Joseph Huffstutter, MD, rheumatologist and partner with Arthritis Associates in Hixson, Tennessee
Interview with Lynette Byrnes, senior vice president of practice management services at United Rheumatology
Mikuls TR, et al. American College of Rheumatology Guidance for the Management of Adult Patients with Rheumatic Disease During the COVID-19 Pandemic. April 29, 2020. doi: https://doi.org/10.1002/art.41301.