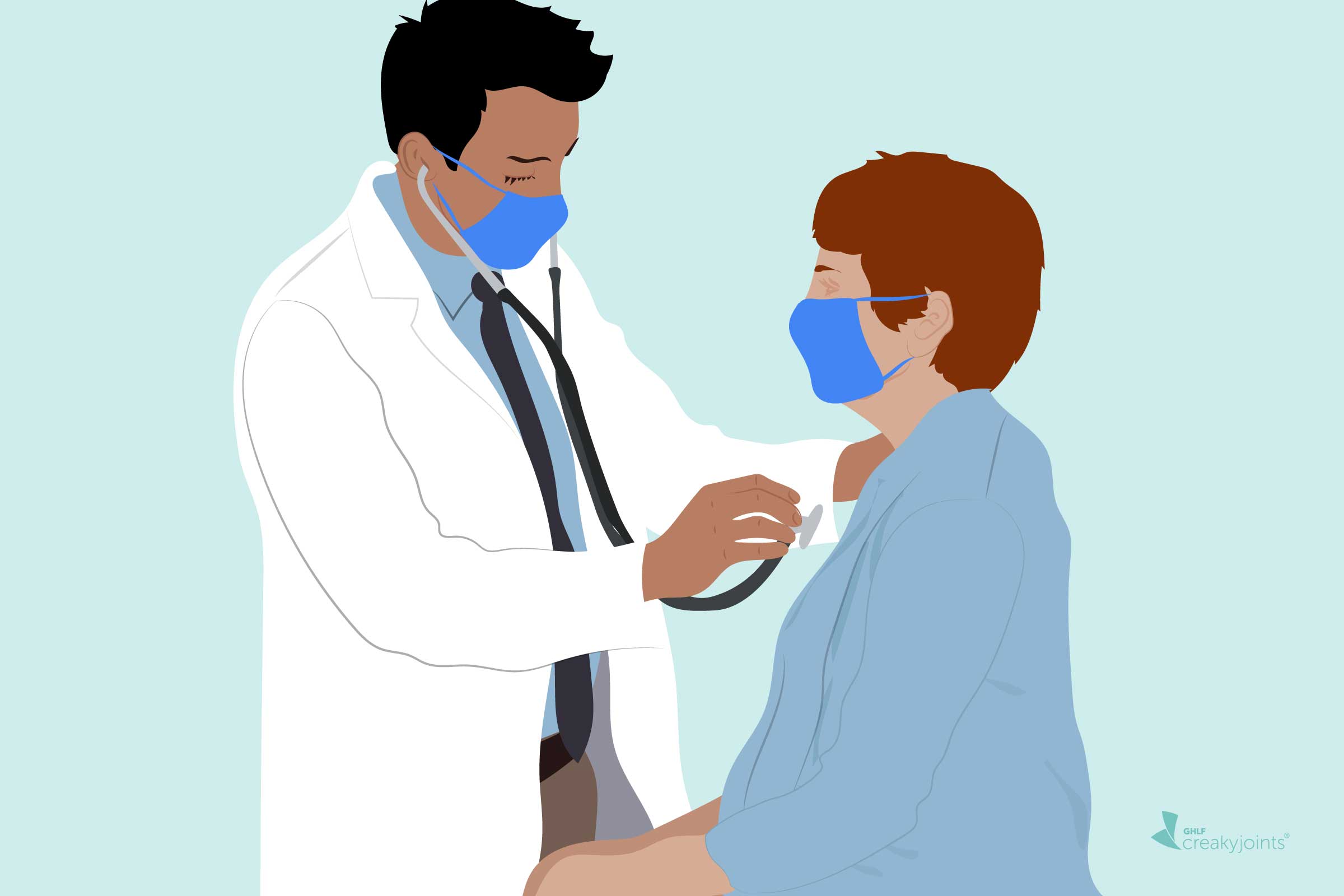 When you first realize you've tested positive for COVID-19, you may experience rushing thoughts and feelings, including:
How can I keep this from getting worse?

How do I get the treatment I need if I can't leave home?

Am I even eligible for treatment, and if so, which one? 

 
This can be a lot to sort out when you're already feeling under the weather, but not getting the answers you need can affect your outcomes and the severity of your infection. That's why it's important to strategize a treatment plan with your doctor before you get infected, especially if you're immunocompromised and at high risk for severe illness. 
"There's no doubt that if you find yourself infected, you may get a lot of anxiety about what happens or what to do next," says William Schaffner, MD, Professor of Infectious Disease at Vanderbilt University Medical Center. "It's very reassuring to have a plan worked out in advance with your provider, because you can bring that forward and then proceed in the best way." 
This is true even if you've already gotten COVID-19 and have recovered. You can be infected with COVID-19 multiple times, and although reinfections are often mild, they can be severe, per the U.S. Centers for Disease Control and Prevention (CDC). Starting treatment within days of developing symptoms can help reduce your risk of severe illness from reinfection.  
"Anyone can get recurrent COVID-19, as we have seen with many patients," says Norman B. Gaylis MD, FACP, MACR, a rheumatologist based in Aventura, Fla. "There are a number of strains of the virus, and those who are immunocompromised are at higher risk and should therefore work with their doctor for a treatment plan for potential future infections." 
This can also reduce stress for you when you're sick. Dr. Schaffner points to his own experience of getting infected with his wife last summer. Although he knew what to do next, he didn't have a specific plan, which sparked added worries and scrambling — particularly because he has an immunocompromised family member who also tested positive.  
"The next couple of hours were anxiety-provoking until my wife and I got our prescriptions for Paxlovid and our immunocompromised family member got to the clinic and received his treatment," says Dr. Schaffner. "If we had a plan in place, including writing down who to call and what the phone numbers were, a whole lot of anxiety would have been spared."  
To avoid finding yourself in a similar situation, here are five simple questions to ask your doctor today to create a plan for treatment options. 
How and when should I test for COVID-19 if I get symptoms?
Although you may have testing sites available near you, traveling outside of the home may be the last thing you want to do when you feel unwell (and may make it less likely that you test in time to receive treatment). If you can, stock up on testing kits at home, so you don't have to scramble to find testing when you start feeling ill.  
"Have a conversation with your physician about which symptoms should encourage you to take a test," says Dr. Schaffner. "And if there are symptoms that appear in your family members or caregivers, ask when they should be tested."  
Symptoms of COVID-19 can appear two to 14 days after exposure and may include, per the Mayo Clinic:
Notorious fever

Cough

Tiredness associated with the infection

Nausea

Diarrhea

Pink eye or rash
If you have an underlying condition that causes symptoms like fatigue, keep a symptom log so you know when you're experiencing something out of the ordinary. Have a conversation with your doctor about what symptoms should prompt you to take a COVID-19 test — and when in doubt, play it safe by testing.  
Keep in mind that the U.S. Food and Drug Administration (FDA) has extended the expiration dates for most at-home tests, so even if you've had a few stashed away for a while, you may still be able to use them.  
To find out, consult this table from the FDA. If the shelf life has been extended, you'll find a link to updated expiration dates. If the table does not say the shelf life is extended, you should still go by the expiration date on the label of the test's box. 
What treatments am I eligible for?
Regardless of your vaccination status, guidance from the CDC notes that symptomatic people who are immunocompromised, their household members, and their close contacts should be tested for SARS-CoV-2 infection as soon as possible and receive treatment within five to seven days of symptom onset. 
Early treatment of mild to moderate COVID-19 with a recommended therapy like ritonavir-boosted nirmatrelvir (Paxlovid) or remdesivir (Veklury) — or the second-line therapy, molnupiravir (Lagevrio) — have been shown to reduce the risk for severe COVID-19, including hospitalization and death, per the CDC.  
Paxlovid is Pfizer's antiviral pill for COVID-19 and involves taking three pills twice daily for five days. The FDA compiled an eligibility screening checklist for prescribers to use as a tool when deciding if a patient should receive Paxlovid:   
A positive SARS-coV-2 test

 

Age over 18 years or over 12 years and weighing at least 40 kilograms (about 88 pounds) 

 

Has one or more risk factors for progression to severe COVID-19, such as having an immunocompromised condition or weakened immune system

 

Symptoms consistent with mild to moderate COVID-19 

 

Symptom onset within five days

 

Not requiring hospitalization due to severe or critical COVID-19 at treatment initiation

 

No known or suspected severe renal impairment 

 

No known or suspected severe hepatic impairment

 

No history of clinically significant hypersensitivity reactions to the active ingredients or other components of the product

 
(Read more about what to know if you're prescribed Paxlovid.) 
Meanwhile, Veklury (remdesivir) is still used by many U.S. hospitals, per Yale Medicine. Although it was originally authorized for critically ill patients receiving oxygen treatment, that authorization later expanded to other groups and, in January 2022, it was authorized to treat non-hospitalized patients. Remdesivir is administered via injection or IV.  
Finally, there's the antiviral pill Lagrevio, developed by Merck and Ridgeback Biotherapeutics. It involves taking four capsules every 12 hours for five days, and like Paxlovid, it must be taken within five days of symptom onset.  
When you're creating your action plan with your doctor, ask about what role your current medications may play in your susceptibility to COVID-19 and the treatments you may be prescribed if you're infected.  
"Patients should ask their physician if they are able to tolerate the treatment plan itself," says Dr. Gaylis. "They should ask if they are more susceptible to COVID-19 and, if they contract it, if they can continue other treatments such as those for rheumatic conditions." 
Who should I call to get these medications prescribed if I test positive?
It's important to get treatments as soon as possible after symptoms appear. If you need to wait days to book a doctor's appointment to get a prescription, you miss out on your window of opportunity.  
"Know what you should do next after you test positive, including who you should call or email, and if you are eligible for Paxlovid or another treatment," says Dr. Schaffner. "Have it all down on paper as part of the plan — and make sure you know who to report to in order to initiate the treatment and prevent more severe disease."  
COVID-19 medications must be prescribed by a healthcare professional, per the U.S. Food & Drug Administration. (In July 2022, the FDA authorized state-licensed pharmacists to prescribe Paxlovid.) 
Also ask your doctor about the best way to communicate with them about your symptoms, so you know when treatment needs to be escalated. For instance: Should you contact your doctor via a patient portal, calling their office, emailing, or something else? What should you do if it's a weekend or holiday and their office is closed?  
What options are available for accessing these treatments?
You can get prescriptions for treatment like Paxlovid through your health care professional, pharmacies, hospitals, and health clinics. 
Some pharmacies can deliver medication like Paxlovid. If this isn't an option for you, ask a family member or friend in your close network can pick up your prescription for you and leave it at your doorstep if you're sick with COVID-19.  
There are also test-to-treat locations where you can test for COVID-19 and get treatment, if eligible, all in one spot — you can find one using this locator. 
Am I up to date on all vaccine recommendations?
Talk to your doctor now about all possible precautions you can take to avoid severe illness. Asking if you're up to date on your vaccinations and boosters should be part of a larger conversation about your risk mitigation efforts.
"Anyone, including the immunocompromised, should use the standard precautions to keep themselves safe from COVID-19," says Dr. Gaylis. "At the top of that list would be to avoid situations that involve crowds of people where distancing is not an option." 
When Evusheld was no longer authorized to prevent COVID-19 due to its waning efficacy against new variants, the CDC underscored the importance of preventive measures for immunocompromised patients — which include learning about treatment locations and options before getting sick.  
Taking these steps will make it more likely that you recover from COVID-19 quickly and without severe symptoms. 
Get Free Coronavirus Support for Chronic Illness Patients

Join the Global Healthy Living Foundation's free COVID-19 Support Program for chronic illness patients and their families. We will be providing updated information, community support, and other resources tailored specifically to your health and safety. Join now.
At-Home OTC COVID-19 Diagnostic Tests. U.S. Food & Drug Administration. March 13, 2023. https://www.fda.gov/medical-devices/coronavirus-covid-19-and-medical-devices/home-otc-covid-19-diagnostic-tests.  
Coronavirus (COVID-19) Update: FDA Authorizes Pharmacists to Prescribe Paxlovid with Certain Limitations. U.S. Food & Drug Administration. July 6, 2022. https://www.fda.gov/news-events/press-announcements/coronavirus-covid-19-update-fda-authorizes-pharmacists-prescribe-paxlovid-certain-limitations.  
Coronavirus disease 2019 (COVID-19). Mayo Clinic. January 20, 2023. https://www.mayoclinic.org/diseases-conditions/coronavirus/symptoms-causes/syc-20479963. 
COVID-19 Treatments: What We Know So Far. Yale Medicine. January 27, 2023. https://www.yalemedicine.org/news/covid-19-treatment-drugs.  
Interview with William Schaffner, MD, Professor of Infectious Disease at Vanderbilt University Medical Center.
Interview with Norman B. Gaylis MD, FACP, MACR, a rheumatologist based in Aventura, Fla. 
Know Your Treatment Options for COVID-19. U.S. Food & Drug Administration. March 14, 2023. https://www.fda.gov/consumers/consumer-updates/know-your-treatment-options-covid-19.  
Patel P, et al. Information for Persons Who Are Immunocompromised Regarding Prevention and Treatment of SARS-CoV-2 Infection in the Context of Currently Circulating Omicron Sublineages — United States, January 2023. Morbidity and Mortality Weekly Report (MMWR). U.S. Centers for Disease Control and Prevention. February 3, 2023. doi: http://dx.doi.org/10.15585/mmwr.mm7205e3.     
PAXLOVID Patient Eligibility Screening Checklist Tool for Prescribers. U.S. Food & Drug Administration. Accessed March 29, 2023. https://www.fda.gov/media/158165/download.  
What is COVID-19 Reinfection? COVID-19. U.S. Centers for Disease Control and Prevention. March 15, 2023. https://www.cdc.gov/coronavirus/2019-ncov/your-health/reinfection.html.