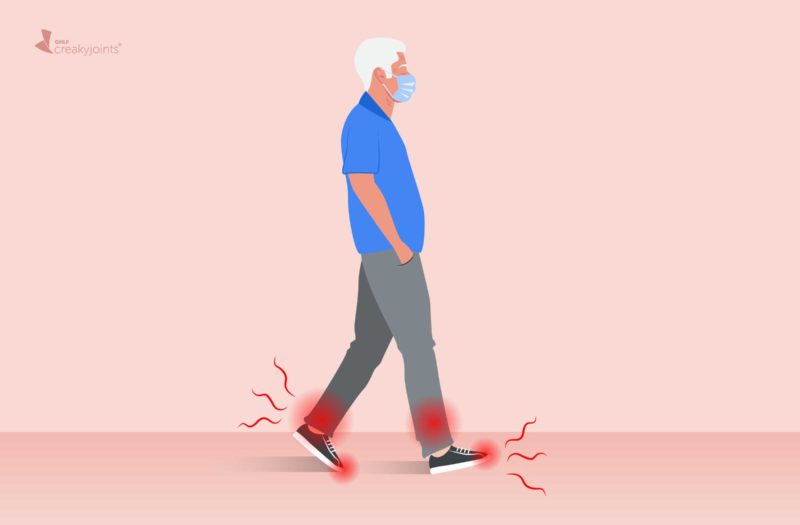 Living with gout — a form of arthritis — means coping with intermittent episodes of a sudden onset of red, hot, painful, and swollen joints, often affecting the big toe as well as the knees, ankles, wrists, or elbows, and more.
But how does having gout affect your risk of COVID-19 complications and your ability to treat and manage flares and stay safe and healthy through the pandemic?
People with gout may be considered in a higher-risk group for potential COVID-19 complications, although there is not yet a large amount of data on this patient population to know how patients fare when infected with coronavirus compared to people without gout.
Here is what rheumatology experts want gout patients to know — based on what is known so far — about staying safe and managing their condition as the coronavirus pandemic continues.
Does Gout Make You High-Risk for Coronavirus?
Unlike autoimmune conditions like rheumatoid arthritis or lupus, gout does not typically affect immune system function, says Theodore R. Fields, MD, a rheumatologist at the Hospital for Special Surgery in New York City. This is most likely because with gout, inflammation is local — in areas where there are deposits of uric acid crystals, he explains.
 "People with gout don't have a greater risk of getting coronavirus than the general population," says Shailendra Singh, MD, Rheumatology Medical Director at White River Medical Center in Batesville, Arkansas, "but they do have an increased risk of complications if they do get it."
That's primarily because people with gout tend to have more co-occurring conditions that have been associated with COVID-19 complications than the general population, including obesity, chronic kidney disease, diabetes, and heart disease.
"Sixty to 80 percent of patients with gout have hypertension and roughly 40 to 60 percent have obesity, and more than 50 percent have chronic kidney disease. Between those conditions as well as heart disease and lung disease, probably eight out of 10 gout patients are already in the high-risk category," says Jasvinder Singh, MD, a rheumatologist in Birmingham, Alabama, affiliated with the University of Alabama at Birmingham Hospital. "That said, everybody has to take precautions regarding COVID-19."
In guidance recently issued from the American College of Rheumatology (ACR) and published in the journal Arthritis & Rheumatology, the authors state:
"To our knowledge, there is currently no evidence identifying risk factors of poor outcome with COVID-19 that are specific to rheumatic disease … risk factors of poor outcome with COVID-19 include older age and select comorbidity such as chronic lung disease, hypertension, cardiovascular disease (CVD), chronic kidney disease (CKD), obesity and diabetes mellitus, conditions frequently overrepresented in patients with rheumatic disease."
In other words, based on what is known right now, age and comorbidities seem to be bigger influences on poor outcomes from COVID-19 than having an inflammatory condition like gout alone.
Let's take a closer look at the facts about gout and COVID-19.
Risk Factors that Affect Both Gout and COVID-19
Sex
Men are reported to have gout more frequently than women, and men also tend to have worse COVID-19 outcomes. Although the CDC doesn't report deaths by sex, figures from the New York City Health Department show that there are nearly 42 COVID-19 deaths for every 100,000 men compared with 23 deaths for every 100,000 women with COVID-19.
Obesity
"Obesity is more common in gout patients [overweight people produce more uric acid, which is what accumulates in the joints and triggers inflammation] than in the general population. There is evidence that obesity is also a risk factor for having more complications of COVID-19," says Dr. Fields.
Obesity can also impact lung function, which can exacerbate the symptoms of COVID-19 and increase your risk of developing pneumonia, adds Dr. S Singh.
Chronic kidney disease
"There is evidence that people with chronic kidney disease are at risk for more complications of COVID-19, and we know that some people with COVID-19 develop kidney disease as part of the COVID-19 illness," says Dr. Fields.
If you have gout, ask your doctor if you should be tested for kidney disease. Many people with kidney disease, especially in the early stages, do not know that they have it. The risk goes both ways: Elevated uric acid in gout can cause kidney problems, and kidney problems can cause gout, explains Dr. Shailendra Singh.
Diabetes
People with diabetes have more gout than the general population, and those with diabetes are more prone to gout. Having diabetes also increases the risk of severe COVID-19 complications and mortality. A Chinese study of 72,314 people with COVID-19 (including suspected cases, clinically diagnosed cases, and asymptomatic cases) found that people with diabetes had the second-highest fatality rate (7.3 percent) among those with comorbid conditions. Cardiovascular disease was the highest, with a rate of 10.5 percent.
Cardiovascular disease
Heart disease is more common in people with gout, and it is also linked with increased complications of COVID-19, says Dr. Fields. This may relate to uric acid deposits in the coronary arteries that cause inflammation, and inflammation can predispose to deposits of cholesterol and hardening of the arteries.
"Elevated uric acid [in gout] may also raise blood pressure," he says. Dr. Singh notes the people with high blood pressure and gout should also be aware of the signs of stroke, especially since young and middle-aged people with COVID-19 have been suffering severe stroke.
He urges his patients to be aware of the acronym F.A.S.T:
Face: Does one side of the face droop or is it numb?
Arm weakness: Is one arm weak or numb?
Speech: Is speech slurred?
Time to call 911
The takeaway: If you have gout plus such comorbidities, you may be more susceptible to complications if you were to contract COVID-19. This isn't meant to scare you, but to urge you (and, importantly, those around you) to continue to practice social distancing and maintain hygiene measures, even as economies begin to reopen in many U.S. states.
"Unfortunately, now is not the time for hugs," says Dr. S Singh. "But if people love you, they will understand."
It is, however, the time to "work on improving any comorbidities you have that can make COVID-19 even more risky," says Dr. Fields, "such as being overweight or having untreated hypertension."
Gout vs. 'COVID Toes'
While coronavirus symptoms may affect everyone differently, some patients are experiencing pernio-like red bumps and lesions on toes and sometimes hands. This condition, known as "COVID toes," is very different from a gout flare that impacts the big toe, at the bunion joint.
A gout flare in big toe would be hot, often red, and extremely tender.
On the other hand, "COVID toes tend to involve multiple toes, and is more diffusely on the skin of the toes rather than localized in a joint," says Dr. Fields.
Do Not Stop Taking Medications on Your Own
Here's what our experts have to say about common medications used to treat gout:
If you are otherwise healthy, you should not stop taking your gout medications. And, like always, treat gout flares quickly, says Dr. Fields.  "It's like a book of matches; if the whole book is lit, it's hard to put it out. One match is easier to put out, so start treatment early." (He acknowledges rheumatologist Robert Wortmann, MD, for this analogy.)
Uric acid-lowering medication
"If you are on a medication to lower uric acid, such as allopurinol or febuxostat(Uloric), stay on it," says Dr. Fields. "There is no reason these medications would make COVID-19 worse, and they can help you prevent gout flares."
Nonsteroidal anti-inflammatory drugs (NSAIDs)
If you don't have kidney problems or hypertension, and you have been successfully using ibuprofen (or naproxen or other similar non-steroidal anti-inflammatory agent) for your gout, it is okay to continue using NSAIDS, says Dr. Fields.
 Corticosteroids
According to guidance from the American College of Rheumatology, patients should use glucocorticoids such as prednisone at the lowest dose possible — and should not abruptly stop the medication, regardless of exposure or COVID-19 infection status.
If you need to use prednisone for gout flares because you can't tolerate other medications or have other underlying medical problems, talk to your rheumatologist, says Dr. Fields. "Prednisone does make you more susceptible to infection, but often you can get away with taking the prednisone for a day or two, so the risk is pretty low."
Read more here about prednisone and coronavirus.
Oral colchicine
If you get a gout flare and you usually take colchicine, you should be able to take it without worrying about COVID-19, says Dr. Fields.
A recent study of 6,000 hospitalized patients, called COLCORONA, is examining whether this gout medication can prevent the "cytokine storm" — a severe overreaction of the immune system — that can occur in COVID-patients with serious complications.
Many people worry if these clinical trials will mean colchicine shortages for people with gout, similar to what occurred with hydroxychloroquine (Plaquenil). If you're worried, call your rheumatologist, says Dr. J Singh, who recommends 90-day prescriptions for his patients. "Stay up to date on your medications and don't wait until the last minute for refills," he says.
What to Know About Getting Infusions
 Patients who take or are considering taking pegloticase (Krystexxa), an infused medication that is used for chronic gout, may be concerned about continuing to receive these treatments, as they require going into a doctor's office, outpatient clinic, or hospital. This medication is typically given every two weeks for six months until gout build-up is gone or your doctor decides you can stop treatment.
However, with this treatment, sticking to the recommended schedule can be critical. "There is some evidence that if Krystexxa doses are spaced out longer than the usual two weeks, the likelihood of your body forming antibodies to Krystexxa® increases," says Dr. Fields. "If that happens, Krystexxa may stop working for you."
You and your doctor need to strike the best balance for you in terms of continuing important therapy for your condition with avoiding coronavirus exposure, he adds.
If you have concerns, it's a good idea to call your doctor's office ahead of time to ask about what to expect in terms of new procedures. Examples of procedural changes for infusions include:
Screen for coronavirus symptoms among office staff and patients
Ensure social distancing in waiting rooms or eliminate waiting rooms altogether (ask
patients to wait outside the facility, such as in their car)
Limit the number of patients and staff in the office at one time
Use thorough disinfecting measures, including cleaning all equipment and high-
touch surfaces between each patient use
Use personal protective equipment (PPE)
How to Manage Gout During the Coronavirus Pandemic
 As a patient with gout, your most important health goals right now are:
Avoid getting COVID-19
Stay on top of your gout to avoid flares or complications
Here is how rheumatologists are advising gout patients to stay healthy (in both mind and body) during the COVID-19 pandemic.
Follow public health guidance
It is important to continue to follow recommendations from the U.S. Centers for Disease Control and Prevention for people who may be at a higher risk of complications, even as economies begin to reopen. This includes:
Stay home as much as possible
Follow social distancing when near others
Wash hands thoroughly and often
Disinfect frequently touched surfaces
Take advantage of telehealth
Most primary care doctors and rheumatologists are offering telehealth visits as an alternative to in-person visits — and they're encouraging patients to reach out with any questions and concerns between visits, too. It's important to see your rheumatologist every three to six months and get regular lab work to monitor your disease and your medications, says Dr. Jasvinder Singh.
Not sure how remote care works? The American College of Rheumatology put together some guidance for patients on how to navigate telehealth and you can read more here about how some practices are implementing telehealth.
Read how to make your telehealth visit as successful as possible.
Do not fear in-person doctor visits
If your doctor wants you to come for an in-person visit, know that offices have dramatically changed their environments and systems to ensure safety for patients (as well as for their doctors, nurses, and staff). Ask your doctor in advance about what to expect in terms of new procedures, which should help you feel more reassured.
Lean on loved ones
Although many places have measures in place to limit customers, grocery stores can still be crowded and are best avoided if you are at a higher risk for COVID-19 complications. If possible, ask a family member or close friend to pick up essentials for you, or try to book a grocery delivery service or curbside pick-up.
Get moving
Exercise is an important part of gout management as it can help you lose weight and reduce your risk of gout-associated complications, such as hypertension and heart disease, says Dr. Fields. Go for a walk, walk your dog, or try online yoga, tai chi, or strength-training classes.
The only time you shouldn't exercise, says Dr. Fields, is if you're experiencing a flare in your foot, ankle, or knee. "Pressure on an inflamed gout joint only prolongs the flare. Treat the flare quickly, and when it is over, get back to exercise," he says.
Be mindful of stress eating
Remember that diet changes alone are usually not enough to treat gout. Research shows that gout is much more likely due to genetics and kidney problems than from eating certain foods. That said, it's a good idea try to follow guidance from the American College of Rheumatology to help reduce gout flares as part of your overall treatment plan:
Avoid eating a lot of meat, shellfish, high-fructose corn syrup (as in regularly sweetened sodas), and alcohol
Limit high-purine foods
Eat whole grains, fruits and vegetables, and lean protein sources (turkey, chicken, salmon)
"When you're at home, it may be harder to be careful about your diet, especially when there is increased stress as we are all seeing during the pandemic," says Dr. Fields. "This is a good time for people with gout to try to be as careful as they can about their diet."
Prioritize sleep
Pain from gout can wake you up in the middle of the night and prevent you from falling back to sleep — "no one can sleep through a gout attack," says Dr. Shailendra Singh — and anxiety over coronavirus can make it even harder to get a restorative night's rest. Sleep apnea is also common in people with gout.
Continue to take your medications, says Dr. Shailendra Singh. And if you're struggling with sleep apnea, make an appointment with a specialist via telehealth.
Read more here about managing painsomnia during the age of COVID-19.
Stop smoking
There has never been a better time to quit smoking. "Gout patients have higher risk of heart disease, which is clearly worsened by smoking," says Dr. Fields.
Smoking can also increase your risk of transmission of the virus from hand to mouth (as you bring the cigarette to your lips), and it also causes lung disease and COPD, which reduces your lung capacity and decreases your body's ability to fight COVID-19 infection, says Dr. Shailendra Singh.
Limit alcohol
"All types of alcohol limit your ability to get rid of uric acid via the kidneys and increase the risk of gout flares," says Dr. Fields. This is especially important if you are not taking medication to lower your uric acid, or if it is the first six months after starting a uric acid-lowering medication such as allopurinol to manage it, he adds.
Read more here about the link between alcohol intake and gout.
Manage stress
While living through the coronavirus brings its own set of stressors, chronic pain associated with repeated gout attacks can also lead to stress, anxiety, and depression. Stress, in turn, can affect other aspects of gout management. For example, "stress is also associated with weight gain, which is bad for gout," says Dr. Fields. He recommends exercise, meditation, and psychotherapy to help manage your stress.
Dr. Jasvinder Singh also warns against too much media consumption. "Spending most of your time listening to the news is going to lead to stress and anxiety," he says. Instead, carve out time to connect with loved ones, whether that means calling a friend, FaceTiming, Skyping, or arranging a weekly Zoom meeting with family.
The bottom line for now: The coronavirus has certainly dramatically changed all of our lives and continues to raise concerns for those who may be at a higher risk for complications. But one thing that hasn't changed: You still need to care for your mental health and wellness and prevent flares. For now, do your best to practice social distancing, maintain a gout-friendly lifestyle, take your medications, and stay in touch with your doctor.
Get Free Coronavirus Support for Chronic Illness Patients

Join the Global Healthy Living Foundation's free COVID-19 Support Program for chronic illness patients and their families. We will be providing updated information, community support, and other resources tailored specifically to your health and safety. Join now.
Colchicine Coronavirus SARS-CoV2 Trial (COLCORONA) (COVID-19). U.S. National Library of Medicine. ClinicalTrials.gov. https://clinicaltrials.gov/ct2/show/NCT04322682.
Groups at Higher Risk for Severe Illness. Coronavirus Disease 2019 (COVID-19). U.S. Centers for Disease Control and Prevention. May 14, 2020. https://www.cdc.gov/coronavirus/2019-ncov/need-extra-precautions/groups-at-higher-risk.html.
Interview with Jasvinder Singh, MD, a rheumatologist in Birmingham, Alabama, affiliated with the University of Alabama at Birmingham Hospital
Interview with Shailendra Singh, MD, Rheumatology Medical Director at White River Medical Center in Batesville, Arkansas
Interview with Theodore R. Fields, MD, a rheumatologist at the Hospital for Special Surgery in New York City
Mikuls TR, et al. American College of Rheumatology Guidance for the Management of Adult Patients with Rheumatic Disease During the COVID-19 Pandemic. April 29, 2020. doi: https://doi.org/10.1002/art.41301.
Pan A, et al. Bidirectional Association between Diabetes and Gout: the Singapore Chinese Health Study.Scientific Reports. May 2016. doi: https://doi.org/10.1038/srep25766.
Rabin RC. In N.Y.C., the Coronavirus Is Killing Men at Twice the Rate of Women. The New York Times. April 7, 2020. https://www.nytimes.com/2020/04/07/health/coronavirus-new-york-men.html.
The Novel Coronavirus Pneumonia Emergency Response Epidemiology Team. Vital Surveillances: The Epidemiological Characteristics of an Outbreak of 2019 Novel Coronavirus Diseases (COVID-19) — China, 2020. China CDC Weekly. February 17, 2020. http://weekly.chinacdc.cn/en/article/doi/10.46234/ccdcw2020.032.