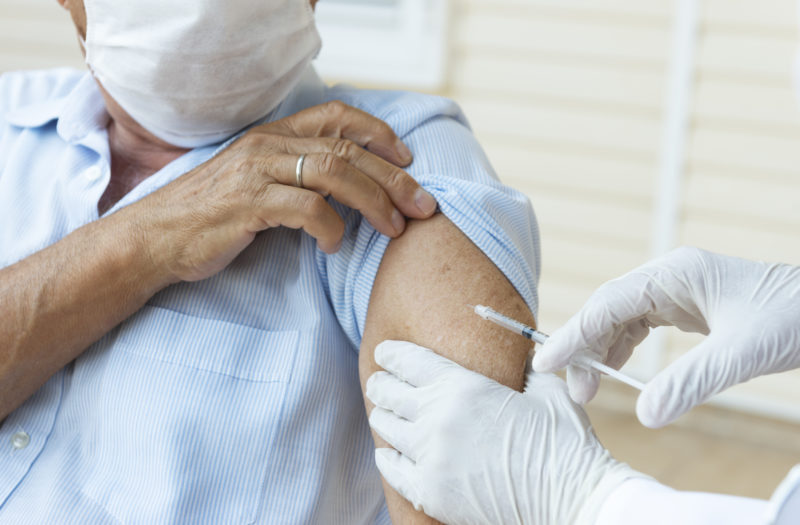 By now, you've heard about how important it is to get the flu vaccine, especially when you have underlying health issues that can raise your risk of pneumonia and other flu complications. In the midst of the COVID-19 pandemic, the U.S. Centers for Disease Control and Prevention (CDC) states that it's more important than ever to get vaccinated for flu this year.
Even though the flu vaccine won't protect against COVID-19 infection, it has been shown to reduce the risk of flu, hospitalization, and death. Protecting yourself against the flu will also save health care resources for the care of COVID-19 patients. (Here's everything you need to know about the flu vaccine, inflammatory arthritis, and COVID-19.)
Despite this, if you've been strictly isolating since the start of the COVID-19 pandemic, you might think — why bother? One CreakyJoints member expressed this sentiment on Facebook, noting that they haven't left home since March and don't plan to, even to get the flu vaccine.
It's understandable why this might cross your mind, but it's not your most low-risk strategy.
People who have inflammatory arthritis are already at substantially higher risk of getting flu or subsequent pneumonia (the flu shot can help protect you from both), and from having more complications and hospitalizations as a result. It's unknown what the consequences of having the flu and COVID-19 at the same time might be, but it's possible this could occur and be quite serious — especially for those with underlying health conditions.
Influenza causes between 12,000 and 61,000 deaths in the United States yearly, per the CDC.
According to a recent survey of members of the CreakyJoints and Global Healthy Living Foundation's COVID-19 Patient Support Program (a free program that provides information, advice, and support to help people with underlying health issues navigate the pandemic), 85 percent of 780 respondents said they were planning to get a flu vaccine this fall. About 10 percent said they did not plan to, and 5 percent did not know if they would get the flu vaccine this fall.
"Despite what we're doing to reduce the risk of contracting COVID-19, it's really the best advice to get the flu shot too," says David Aronoff, MD, director of the Division of Infectious Diseases at Vanderbilt University School of Medicine in Nashville, Tennessee.
Even if you insist that there's no way you could possibly get the flu because of how strictly you're isolating this year, consider these five convincing reasons to get vaccinated for flu. 
1. You can't guarantee you'll be able to isolate throughout the entire flu season
Maybe you've stayed inside since March, and you plan to do so until the COVID-19 pandemic is contained. However, you can't be certain there's absolutely no reason you'll have to leave your home. In those unplanned scenarios, you'll be at higher risk of contracting influenza if you aren't vaccinated.
"Life isn't always what it seems, and sometimes things come up that we don't anticipate," says Lynn Ludmer, MD, medical director of rheumatology at Mercy Medical Center in Baltimore. "For example, let's say a patient suddenly develops appendicitis or has a heart attack and needs medical care. They will need to come outside of their secure bubble and won't have the protection of having had a flu shot."
There are several potential emergencies that may require you to go into public spaces (plus less severe issues that might require medical attention, like a tooth fracture or badly sprained ankle). Your rheumatologist may also get more stringent about coming in for routine appointments if you've been skipping them this year.
"We were very lenient about how often patients with rheumatoid arthritis needed to get labs at first when COVID-19 case numbers were rising, since we did not understand the impact of the virus on them," says Dr. Ludmer. "However, at this point, we are encouraging routine follow-up visits and blood work to monitor for medication side effects since we are not seeing a disproportionate number of our patients having severe COVID-19 complications."
Of course, you'll still be expected to follow CDC guidelines — which include wearing a mask, social distancing, and frequent handwashing — to prevent the spread of coronavirus (and flu) when you go in for your appointment.
It's also admittedly difficult to have absolutely no interaction with the outside world, especially if you live with others who might be leaving your home and coming back (and possibly bringing home germs with them). Even if you live alone, you may still need to unexpectedly interact with a delivery person, a repair person if something needs to be fixed in your home, or a neighbor who might need urgent help.
2. COVID-19 cases may drop in your region before flu season is over
The future course of COVID-19 is uncertain, but if you start to feel safe to venture out because COVID-19 cases have significantly decreased in your region later in the flu season, you'll be unprotected against the flu without the flu vaccine.
"If the coast becomes more clear related to COVID-19, and people start to poke their heads out and go out more and more, they will have wished they had their flu shot," says Dr. Aronoff. "Otherwise, they may be at greater risk of getting influenza late in the season."
What's more, if you were to contract the flu, you could be putting yourself at greater risk of getting COVID-19.
"Getting the flu could weaken your immunity and increase your susceptibility to COVID-19," says Dr. Ludmer. "So yes, you need the flu shot — whether or not you're going out right now."
3. There's a chance the flu shot could protect you in future flu seasons
Although you need a flu shot each year for the most protection, there may be some form of immunity that carries over to future flu seasons.
"The flu shot this year immunizes against four different strains of influenza," says Dr. Aronoff. "Every year that we get the flu shot, we build up a little bit of memory in our immune system against the flu strains that are included in the vaccine. There may be a cumulative benefit to getting our flu shot year over year to provide protection from strains that may be circulating in the future."
There is some evidence that people who get flu shots annually have some protection against certain strains, even when there isn't a match between the flu shot strains and a circulating strain the particular year they received the vaccine, adds Dr. Aronoff.
For instance, some patients who missed the vaccine during the 2012-2013 flu season but had received the previous year's version still appeared to have some protection in a study published in The Journal of Infectious Diseases. However, more research is needed and, again, it's still important to get your flu shot annually.
4. The risk of getting infected with COVID-19 during a trip to get the flu vaccine is fairly low
You may be weighing the risk of not getting your flu shot with the risk of getting COVID-19 during a trip to your doctor's office or a pharmacy.
"It's important to remember that just like COVID-19, influenza can be a severe disease, particularly in people who are older or who have compromised immune systems or multiple medical problems," says Dr. Aronoff. "Given that, it remains the best medical advice to try to stack as many cards in our favor as we can to reduce the likelihood that we will get infected with either SARS-CoV-2 or influenza."
While you have a higher risk of getting the flu when living with inflammatory arthritis — which the flu shot can reduce — you have a low risk of getting COVID-19 when you make a quick trip to the doctor's office or pharmacy to get your flu shot, especially if you take the appropriate precautions.
"The risk of contracting COVID-19 will be very low if someone gets in, gets out, and doesn't spend time interacting with other people and respects their distance from others," says Dr. Aronoff.
Here are a few important precautions you can take while getting your flu shot:
Call ahead to ask what the off-hours are for a given pharmacy or doctor's office, and then make an appointment or plan to stop by when it's the least busy.
Ask if it's possible for you to wait in your car until the flu shot is ready to be administered.
Wear a face covering over your mouth and nose the entire time.
Maintain a social distance of six feet or more from others whenever possible.
Wash or sanitize your hands frequently before, after, and perhaps even during your appointment when possible.
Avoid chatting with others in the waiting room.
5. You'll be protecting yourself and others.
For those unexpected moments when you do have to leave your home, if you are vaccinated from flu, you'll be helping to keep others safe from the flu as well.
"By protecting ourselves, we're also protecting others," says Dr. Aronoff. "Every year, people have a choice as to whether to get a flu shot or not. My advice as an infectious disease expert is unless a licensed health care professional advises someone against getting a flu shot, we really should get our flu vaccines every year."
If you do everything you can to avoid getting the flu yourself, you'll also be saving valuable medical resources for COVID-19 patients. By getting the flu shot, you even shorten the amount of time you're contagious if you were to get the flu, which means you could be less likely to pass it on to others.
Don't wait much longer: The CDC recommends that you get your flu shot by the end of October, before influenza spreads in your area. That said, even if you get vaccinated later in the flu season, it will still help to protect you and others around you.
Get Free Coronavirus Support for Chronic Illness Patients

Join the Global Healthy Living Foundation's free COVID-19 Support Program for chronic illness patients and their families. We will be providing updated information, community support, and other resources tailored specifically to your health and safety. Join now.