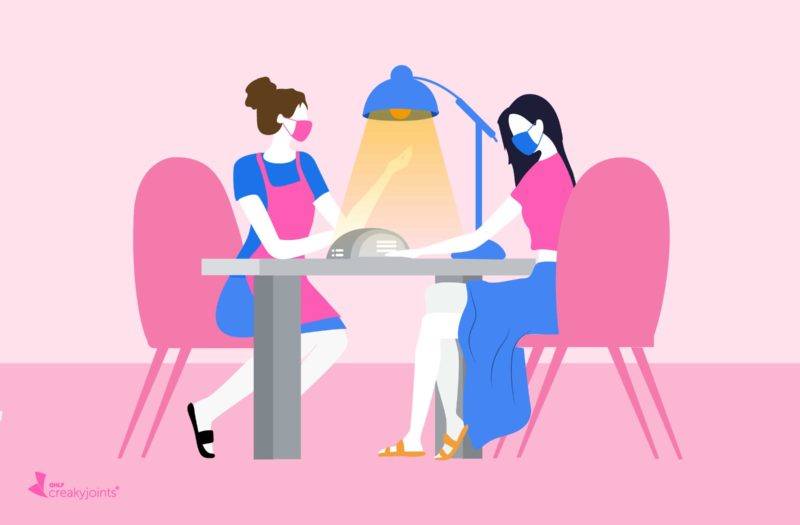 Going to the nail salon may be a particularly longed-for activity for you, especially if you haven't been able to over the past few months because of business closures during the COVID-19 pandemic.
If you live with a chronic illness like inflammatory arthritis, it may also be an essential way to maintain your nail hygiene if your joints are too painful or stiff for DIY manicures or pedicures.
"I know many people who want to get their nails done because they rely on that for nail hygiene," says Andrea LaCroix, PhD, distinguished professor and chief of epidemiology in the Department of Family Medicine and Public Health at University of California San Diego School of Medicine. "If you have arthritis, for example, it can be very hard to reach your toes and have the full dexterity you need."
That said, going to a nail salon during the COVID-19 pandemic presents its own risks, especially since proper social distancing (a major way to prevent coronavirus infection) is impossible during a manicure or pedicure.
The Global Healthy Living Foundation and CreakyJoints recently conducted a poll of our members — many of whom live with underlying health conditions that increase the risk of severe illness from COVID-19 — to understand what risks people living with chronic illness are willing to take when it comes to resuming everyday activities.
While 40 percent of respondents said they have gone to a salon like a nail salon during COVID-19 or would in the next month or two, 60 percent preferred to wait until the threat was much lower or completely gone.
Respondents were more likely to go to a salon than to eat outside at a restaurant, swim in an outdoor pool, or go to a shopping mall. However, they were less likely to go to a salon than get takeout from curbside pickup, go for a walk with others, or shop in-person at a small business.
If you live with underlying medical conditions or take medication that can affect your immune system, you're likely well aware of the risks you need to balance when deciding what to do and where to go during the COVID-19 pandemic. The general guidance to follow is simple, yet not always easy to adhere to:
Maintain a social distance of six feet or more from people outside of your household whenever possible.
Wear face coverings when out in public and when you can't be socially distant.
Wash or sanitize your hands frequently and disinfect commonly touched surfaces.
Avoid large groups or situations when it will be hard to be socially distant.
When spending time with others, being outdoors is safer than indoors.
Not only are nail salons tricky because it's impossible to maintain social distancing during an appointment, but also because small nail salons may have poor ventilation, which increases the risk of COVID-19 transmission.
However, if you're living with a condition like rheumatoid arthritis or psoriatic arthritis, getting your nails done may not just be a luxury, but an essential part of your self-care routine. So, just how safe are nail salons right now? Here are the risk factors and safety precautions to take into consideration.
Nail Salon Risks During COVID-19
You've heard it over and over again during the COVID-19 pandemic: Practice social distancing by staying six feet or more away from those you don't live with.
"The biggest risk in a nail salon is going to be sitting close to other people," says LaCroix. "If they're not wearing masks, face shields, or both, you could potentially be exposed to infection for a fairly prolonged period of time."
The main way COVID-19 spreads is through respiratory droplets from an infected person traveling via coughing, sneezing, or talking and infecting people nearby, per the U.S. Centers for Disease Control & Prevention (CDC). The virus may be spread by those who do not show symptoms.
Overall, the virus that causes COVID-19 spreads very easily between people, and data suggests that it does so even more efficiently than influenza (but not as efficiently as measles, which is highly contagious). It's also possible a person can get COVID-19 by touching a surface or object that has the virus on it and then touching their own mouth, nose, or eyes, per the CDC.
"Shared surfaces in nail salons do present risks, but you can get rid of those risks by not touching your face and washing your hands," says LaCroix. "I don't worry so much about surfaces because they have not been shown to be a major route of transmission in COVID-19."
That said, there are many shared surfaces that you touch in a nail salon, from nail polish bottles to the nail dryers you place your hands in. It can be easy to forget you haven't washed your hands and touch your face to move a hair or scratch an itch during your appointment.
Nail salons that are small and poorly ventilated may also pose a risk. Better ventilation substantially lowers the airborne time of respiratory droplets, which have been shown to contain viral particles that can remain infectious in aerosols (tiny droplets suspended in the air) for three hours, per a May 2020 study published in The Lancet Respiratory Medicine.
"If you smell a strong acetone smell, that tells you there isn't good ventilation because those fumes are hanging in the air," says LaCroix.
Going to a nail salon may be important to you, especially if you have trouble keeping up nail hygiene on your own because of stiff joints or pain. But it's important to recognize that going to a nail salon does involve a certain level of risk, especially if you have chronic illness that makes you prone to COVID-19 complications.
Signs a Nail Salon Is Following Guidelines
Take time to read reviews online, call ahead to speak with staff, or ask friends who have been to a particular salon to investigate what measures are being taken to prevent the spread of COVID-19.
"You should be aware of precautions that each salon is taking before visiting," says Shari Sperling, DO, a board-certified dermatologist in New Jersey. "If you are at a higher risk for COVID-19 complications, you need to put more research into finding a safe salon."
The CDC has issued guidance for all nail salons, which includes guidelines such as:
Move, change, or adjust workstations to help workers maintain social distancing of at least six feet between each other and customers they are not servicing.
Install transparent shields or other physical barriers where social distancing is not an option.
Remove chairs from the waiting area to make sure customers do not sit close together or wait in groups.
Use ventilated tables or portable ventilation units if possible.
Consider using portable high efficiency particulate air (HEPA) filtration units to remove contaminants and clean the air.
Consider doing daily in-person or virtual health checks of employees before they enter the facility.
Telephone screen all clients for symptoms of COVID-19, and limit services to clients with an appointment when there is known COVID-19 spread in the community.
Clean and disinfect high-touch surfaces.
Provide handwashing stations for clients, and ask clients to wash their hands with soap and water immediately before their salon service.
How to Stay Safe at a Nail Salon Right Now
Since it's impossible to social distance at a nail salon, make sure both employees and clients are required to wear face masks before entering the salon.
"If I were to get my nails done, I would wear both a mask and a face shield, and make sure that my manicurist was wearing one or both," says Dr. LaCroix.
While face masks protect your nose and mouth, they do not protect your eyes – which may also provide an avenue for infection. Glasses can help protect your eyes, but face shields provide better coverage.
It's also important to clean your hands regularly since you'll be touching multiple shared surfaces and may accidentally touch your mouth, nose, or eyes.
"If there's a clean bathroom, I would wash my hands at the salon and then again as soon as I got home," says LaCroix. "If there's not, I would use hand sanitizer right after the appointment and then wash my hands once I came into the house."
Look for a nail salon that seems to be properly ventilated. Sometimes it can be difficult to tell, but you generally shouldn't smell very strong fumes in the air. It may be a good sign if a door or window is open to allow outdoor air in.
It can also be helpful to limit conversation with your manicurist, since speaking (especially for an extended period of time, such as a 30-minute manicure) can extend the distance respiratory droplets travel.
Also, consider going to a nail salon at off-peak hours when fewer customers are present.
Research reviews of any given nail salon, even if they were posted before the pandemic, says LaCroix. If there are any reports of customers getting skin infections or having other problems related to cleanliness, steer clear of it. After all, it can be a reflection of how they would handle prevention of germ spread during the pandemic, too.
"If getting your nails done is really important to you, then you'll invest a little risk," says Dr. LaCroix. "For the next year or so, we have to make our risk investments carefully to keep our risk as low as possible. If you go to a nail salon but there are other things you care less about doing, then skip those other activities."
Speak to your doctor for help assessing your risk level of complications due to COVID-19, and for more safety precautions that may be specific to your particular city or condition.
"Before visiting, the first thing you have to do is get the approval from your doctor and make sure that it is safe for you to visit, depending on the severity of your condition," says Dr. Sperling. "You have to be more careful than usual if you have an underlying medical condition."
Get Free Coronavirus Support for Chronic Illness Patients

Join the Global Healthy Living Foundation's free COVID-19 Support Program for chronic illness patients and their families. We will be providing updated information, community support, and other resources tailored specifically to your health and safety. Join now.