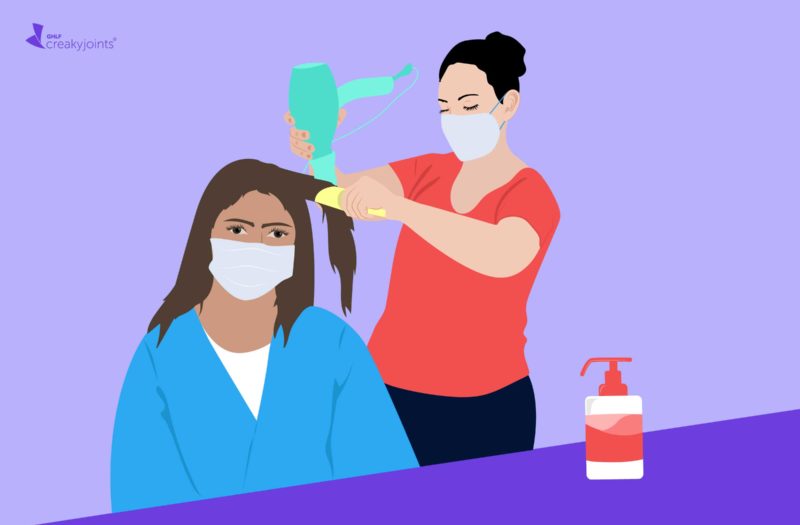 You might feel like a haircut or root touch-up is long overdue after staying home for months during the COVID-19 pandemic. However, if you're in a high-risk group for COVID-19 complications, it can be difficult to decide if it's really worth it to get that trim — even as hair salons reopen across the country.
The Global Healthy Living Foundation and CreakyJoints recently conducted a poll of our members — many of whom live with underlying health conditions that increase the risk of severe illness from COVID-19 — to understand what risks people living with chronic illness are willing to take when it comes to resuming everyday activities.
While 40 percent of respondents said they have gone to a salon or would in the next month or two, 60 percent said they would only do so once the threat is much lower or completely gone.
However, many individuals felt more comfortable going to a hair salon than doing a number of other activities. Respondents were more likely to go say they would go to a salon (such as a hair salon or nail salon) than to eat outside at a restaurant, go to the beach, or swim at an outdoor pool.
Individuals living in the Midwest were more likely to say that they have or would soon go to a salon compared to respondents as a whole (47 percent versus 40 percent). Those living in the western United States or outside of the country were most likely to wait until the threat is much lower or completely gone.
If you live with underlying medical conditions or take medication that can affect your immune system, you're likely well aware of the risks you need to balance when deciding what to do and where to go during the COVID-19 pandemic. The general guidance to follow is simple, yet not always easy to adhere to:
Maintain a social distance of six feet or more from people outside of your household whenever possible.
Wear face coverings when out in public and when you can't be socially distant.
Wash or sanitize your hands frequently and disinfect commonly touched surfaces.
Avoid large groups or situations when it will be hard to be socially distant.
When spending time with others, being outdoors is safer than indoors.
Getting a haircut is tricky because it usually means you'll be indoors and in close contact with others. Here are the risk factors and safety precautions you need to take into consideration.
Hair Salon Risks During COVID-19
Although many individuals may feel more comfortable going to a hair salon than stretching out at the beach right now, the close proximity to your hairdresser during an appointment means you can't practice social distancing. The U.S. Centers for Disease Control and Prevention considers social distancing — staying at least six feet from other people — one of the best tools available right now to avoid being exposed to coronavirus.
"A hair salon is a place that, by its nature, requires close contact between at least two people, either of whom could be infected with the virus and not know it," says David Aronoff, MD, director of the Division of Infectious Diseases at Vanderbilt University School of Medicine in Nashville, Tennessee. "The biggest challenge with COVID-19 is that transmission can occur between people who appear healthy and feel well."
The main way COVID-19 spreads is through people who are in close contact for a prolonged period when an infected person coughs, sneezes, or talks, and their respiratory droplets infect people nearby.
A haircut or color job requires you to be next to your hairdresser for an extended period of time.  What's more, there may be periods in your appointment in which it's impossible for you to wear a mask (say, during a hair wash). Speaking to your hairdresser, a common part of hair appointments, can also promote the transmission of respiratory droplets, says Dr. Aronoff.
COVID-19 may also spread when you touch a surface or object that has the virus on it, then touch your mouth, nose, or eyes. Hair salons are filled with shared items: Think hand mirrors, chairs, capes, or bottles of shampoo and conditioner on a shelf.
However, if a salon is following generally recommended guidelines, most of these shared items will be sanitized between appointments.
"Virus does not get into us through our skin, so having it on our fingertips in and of itself is not dangerous," says Dr. Aronoff. "However, every time you touch something that somebody else recently touched, you create an opportunity to forget that you haven't washed your hands and then go on to touch your eyes, nose, or mouth."
Signs a Hair Salon is Following Guidelines
There are a number of things you can look out for when considering a salon for your next haircut.
"If I were to go to a salon, I would want to make sure that salon employees were all wearing masks or face shields, and that customers were wearing masks until points in the appointment when it's not possible," says Dr. Aronoff. "Also, reducing the capacity of clients and employees at the salon at any given time will maximize space between people, and lower the likelihood of transmission events."
While the CDC hasn't published guidelines specific to hair salons and barbershops, several state governments have. For instance, the New York State Department of Health has issued interim guidance for hair salons to protect against the spread of COVID-19 during reopening.
The guidance states that:
Customers and employees must wear face coverings. Staff should encourage customers to wear a face covering that loops around the ears so they don't need to remove it during services. If one loop must be removed momentarily for the stylist to reach a certain spot, the customer must hold the face covering in front of their nose and mouth.
Capacity must be limited to no more than 50 percent of the maximum occupancy.
Employees and customers must maintain six feet of separation, except during the haircutting service.
Salons may consider implementing a "by appointment only" policy to limit walk-in customers and congregation.
The hair salon must be regularly cleaned and disinfected, and a period of time (such as 15 minutes) must be left between appointments for full workstation cleaning.
Shared equipment must be cleaned and disinfected between uses, and employees must sanitize or wash hands before and after contact with shared items.
How to Stay Safe at a Hair Salon Right Now
There are two main ways to lower your risk of getting COVID-19 if you go to a hair salon:
Call ahead or talk to friends who have been there to learn how the salon is mitigating risk.
Take your own personal safety precautions during the appointment.
When you call the hair salon, you may want to ask questions such as:
What are you doing to mitigate the risk of COVID-19?
How are you reducing the capacity of employees and clients at the salon?
Are all employees and clients required to wear masks when possible?
How is risk mitigated when clients can't wear masks? (For instance, some hair stylists may be able to place a clean towel over a client's nose and mouth to help protect against transmission or ask the customer to hold the mask in place.)
Are you requiring all clients to make appointments, rather than walking in and waiting?
If it's a small salon, is there a window or door that can be opened to ventilate the space?
Better ventilation of spaces substantially lowers the airborne time of respiratory droplets that may be infectious, per a May 2020 study published in The Lancet Respiratory Medicine.
Also reconsider if you hear loud music in the background when you call. This may mean clients and hairdressers need to raise their voices while in the salon, which may increase the distance respiratory droplets travel, says Dr. Aronoff.
Beyond talking to the salon staff, also ask your friends or family who have been to the salon what they notice about the precautions being taken.
"If you're high-risk for COVID-19 complications, talk to those you know who have already been to the business," says Chunhuei Chi, MPH, ScD, director of the Center for Global Health at Oregon State University in Corvallis. "Ask them about its best practices, and also ask about how the customers act. You want to go to a business where everybody is wearing masks."
You can also take a few precautions of your own while at the hair salon:
Call ahead to make an appointment, even if the salon is accepting walk-ins.
Take hand sanitizer with you and use it after touching shared items.
Wear a mask whenever possible and hold it in place if you need to unloop it momentarily.
Limit conversation with those around you, especially if you need to speak loudly.
Make sure your hairstylist is also keeping their hands clean and wearing a mask.
If you're having trouble finding a hair salon that's following best practices, it may be worth considering if your hair appointment is truly a necessity right now. Also think about when you would need to return for a follow-up appointment soon (for instance, this might not be the time for high-maintenance bangs).
"You want to minimize the necessity of visiting indoor places," says Chi. "There is no activity that is 100 percent safe, so it's up to an individual to decide how much risk they're going to take for a particular activity versus waiting it out."
Speak to your doctor for help assessing your risk level of complications due to COVID-19, and for more safety precautions that may be specific to your particular city or condition.
Get Free Coronavirus Support for Chronic Illness Patients

Join the Global Healthy Living Foundation's free COVID-19 Support Program for chronic illness patients and their families. We will be providing updated information, community support, and other resources tailored specifically to your health and safety. Join now.