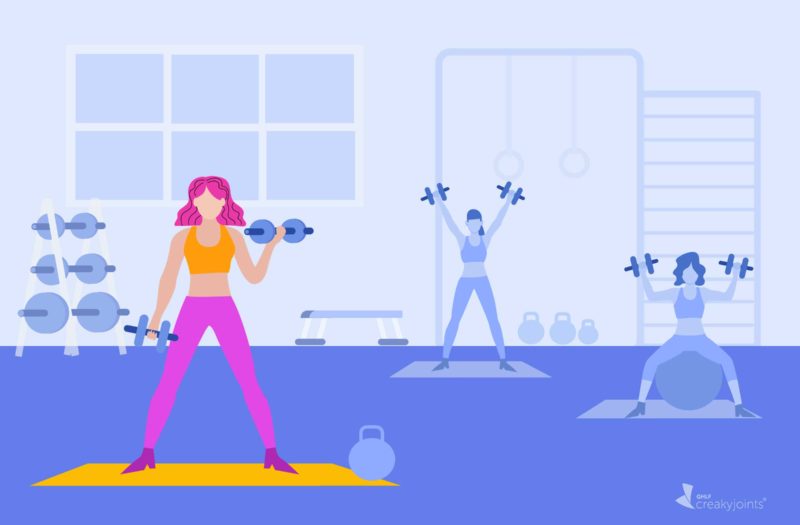 If you're living with rheumatoid arthritis or other chronic illness, you may feel stuck between a rock and a hard place, especially when it comes to fitness during the COVID-19 pandemic.
On one hand, you've likely been prescribed exercise as part of the treatment for your condition. If you have arthritis, for instance, exercise is key for boosting strength and flexibility, which can better support your joints and their function, per the Mayo Clinic. Regular physical activity is also an important part of managing fatigue and depression as well as preventing other chronic illnesses like diabetes and heart disease, which often accompany forms of inflammatory arthritis.
Many gyms offer opportunities for low-impact exercise, such as bicycling on a machine or swimming in a pool. (Read more here about how safe it is to swim in a public pool during COVID-19.)
But on the other hand, you might be wondering whether it's safe to go to a gym right now if you're in a high-risk group for COVID-19 complications. While exercise is incredibly important, you know you also need to consider the risk of contracting COVID-19 if you live with underlying medical conditions or take medication that can affect your immune system.
The Global Healthy Living Foundation and CreakyJoints recently conducted a poll of our members — many of whom live with underlying health conditions that increase the risk of severe illness from COVID-19 — to understand what risks people living with chronic illness are willing to take when it comes to resuming everyday activities.
Only 7 percent of respondents said they have gone to an indoor gym or would in the next month or two, while 93 percent said they would only do so once the threat is much lower or completely gone.
Respondents were more likely to go to an indoor gym than to go to a bar or play a high-contact sport like basketball, but less likely to go to an indoor gym than go to a salon, movie theater, or shopping mall.
Individuals living in the Midwest were more likely to say that they have or would soon go to a gym compared to respondents as a whole (9 percent versus 7 percent, respectively). Those living outside of the country or in the Northeast were most likely to wait until the threat is much lower or completely gone.
You're likely well aware of the risks you need to balance when deciding what to do and where to go during the COVID-19 pandemic. The general guidance to follow is simple, yet not always easy to adhere to:
Maintain a social distance of six feet or more from people outside of your household whenever possible.
Wear face coverings when out in public and when you can't be socially distant.
Wash or sanitize your hands frequently and disinfect commonly touched surfaces.
Avoid large groups or situations when it will be hard to be socially distant.
When spending time with others, being outdoors is safer than indoors.
Gyms are tricky because people may be exercising without wearing masks (depending on your state's guidelines) and breathing heavily, which may spread the virus further in the air. While you might be able to generally practice social distancing in a gym, you may still come in close contact with others at certain points during your visit, especially if you use facilities like locker rooms.
Exercising outdoors is usually much safer than being indoors at a gym because respiratory droplets are swept away by the wind and don't linger.
So just how safe are gyms right now, and what should you do if they're your only option for breaking a sweat? Here are the risk factors and safety precautions to take into consideration.
Gym Risks During COVID-19
Depending on your state's mandates for face coverings, you may encounter people who are not wearing masks as they run, jump, or do other exercises, plus plenty of shared surfaces and spaces like locker rooms that may be small or poorly ventilated.
"The SARS-CoV-2 virus [that causes COVID-19] is spread largely through droplets, so it's important to keep in mind that in a gym, people are often breathing a lot heavier and they might be expelling more droplets than they would normally in their breath," says Margaret E. McCort, MD, an infectious disease specialist at Montefiore Health System in the Bronx, New York.
COVID-19 spreads when an infected person coughs, sneezes, or talks, and their respiratory droplets infect people nearby. People who are in close contact for a prolonged period are at higher risk. For instance, it is likely riskier to be on a treadmill next to someone for 30 minutes than quickly passing by them in a grocery store aisle. This may also mean your favorite gym group exercise classes pose a particular risk.
Group Exercise Classes
In fact, a small study from South Korea tracked coronavirus spread at 12 different sports facilities. Yoga and Pilates classes with just seven or eight participants and little moving around saw no spread, but high-intensity fitness dance classes with up to 22 students experienced rapid infection spread. The researchers note that vigorous exercise in confined space should be minimized during COVID-19 outbreaks.
Most cases (about 51 percent) in the study were the result of an instructor spreading the virus to class participants. "Characteristics that might have led to transmission from the instructors in Cheonan [a city in South Korea] include large class sizes, small spaces, and intensity of the workouts," the researchers note. "The moist, warm atmosphere in a sports facility coupled with turbulent air flow generated by intense physical exercise can cause more dense transmission of isolated droplets."
Other small, poorly ventilated areas within the gym may also pose a particular risk.
Locker Rooms and Bathrooms
"I would definitely avoid the locker room if possible, or bathrooms that don't have good circulation," says Dr. McCort. "Closed spaces are higher risk than places with open windows and open space."
Shared Surfaces
COVID-19 may also spread when you touch a surface or object that has the virus on it, then touch your mouth, nose, or eyes. Of course, exercising at the gym includes sharing equipment like treadmills, weights, foam rollers, and mats with others. Although the virus does not get into the body through skin, it can still be easy to touch an infected surface and then touch your face, especially if you're wiping away sweat or drinking water.
If a gym is following generally recommended guidelines, most of these shared items will be sanitized regularly. Ideally, a gym will also provide disinfecting wipes so you can thoroughly clean the equipment right before and after you use it.
The Problem with *Not* Exercising
All of this said, there may also be risk involved in not working out if a gym is your only option to do so.
"It's a double-edged sword, because on one hand, it is really beneficial for people with various conditions to do exercise," says Brian Lima, MD, a cardiac surgeon who regularly works with chronic illness patients at the Sandra Atlas Bass Heart Hospital at North Shore University Hospital in Manhasset, New York. "But at the same time, you're also exposing yourself to different public areas, so you're putting yourself at risk for COVID-19."
When you're considering going to a gym, think about what level of fitness or type of exercise you're looking to do, and whether or not you can do that at home or in your neighborhood, adds Dr. Lima.
Signs a Gym Is Following Guidelines
Whether or not a gym is permitted to open right now varies by state and region, as do official guidelines for the safe reopening of those gyms.
Generally, guidance for preventing the spread of COVID-19 includes:
Limiting the capacity of a gym
Regularly disinfecting all equipment before and after use
Posting signs to reinforce hygiene practices
Ensuring social distancing on workout equipment (some gyms are restricting access to certain equipment for use to create more space between each machine, for instance).
"See what precautions the gym is taking to protect the people that go to it," says Dr. Lima. "Find out if they have social distancing in place, and if they have disinfecting wipes available so you can wipe down any piece of equipment before you use it."
Several states have issued their own guidelines for safely reopening gyms. For instance, the California Department of Public Health has issued guidance for fitness facilities in counties where they're currently permitted to operate. It includes guidelines such as:
Gyms must provide temperature and/or symptom screenings for all workers at the beginning of their shift.
Employees should wash hands once they get to work, after working with other employees, after touching their face covering, after using the restroom, and when leaving work.
If indoors, workers and patrons must follow the state's requirements for wearing face coverings at all times except when showering, and showering at home is encouraged when possible. (Note: Face coverings at gyms are not mandated in all states.)
If possible, gyms should implement a reservation system to reduce capacity.
Commonly used surfaces such as personal exercise machines and equipment, countertops, vending machines, doorknobs and hand washing facilities should be frequently disinfected.
Patrons are required to disinfect individual exercise equipment, mats, and machines before and after each use with provided disinfecting wipes.
Equipment should be spaced at least six feet apart, with greater distancing for treadmills and other high-exertion aerobic fitness equipment (machines might be arranged in an "X" pattern to provide greater distancing).
How to Stay Safe at a Gym Right Now
When you're at a gym, it's important to be mindful of how close you are to others. Keep in mind that heavy breathing and high-intensity exercise may make infected respiratory droplets travel further in the air.
Try to go at off-peak hours when the gym is emptier. If the workout floor seems crowded, even with reduced capacity, consider leaving and coming back at a time when there are not as many people.
It's also important to investigate what your gym is doing to prevent the transmission of COVID-19.
"Call the gym and see how often they're cleaning shared surfaces and equipment and ask them what else they are doing to try to minimize spread," says Dr. McCort. "They should have some plan in place and be able to tell you right away what they are doing to help."
When you call the gym, you may want to ask questions such as:
What are you doing to mitigate the risk of COVID-19?
Do you have a reservation system in place to minimize capacity?
How often is equipment and other shared items disinfected?
Do you have disinfectant wipes available for patrons to use?
Are you requiring your employees or patrons to wear masks?
Do you have air conditioning or fans running at all times?
Are your locker rooms and showers still open? (Avoid these if possible.)
"Wipe down equipment before and after you use it, and look for a sink where you can wash your hands right away after using equipment," says Dr. McCort. "Try to limit the amount of times you touch your face."
It's a good idea to bring your own disinfectant wipes in case your gym runs out or doesn't have them available.
If you're not sure your gym is following best practices, or you're concerned about the risk of contracting COVID-19, consider other ways to exercise while maintaining a safe social distance from others.
"If you can exercise outdoors or in your home safely and comfortably, that would probably be a better idea than going to a gym if you're particularly high-risk for complications due to COVID-19," says Dr. McCort. "But exercise is important for the rest of our health, including mental health. So if your only option to exercise is to go to the gym, see if you can do it safely."
Speak to your doctor for help assessing your risk level of complications due to COVID-19, and for more safety precautions that may be specific to your particular city or condition.
"First and foremost, play it safe," says Dr. Lima. "When in doubt, reach out to your provider for guidance. You may be able to do it online through a telehealth visit."
Remember: Just because you can go to a particular business doesn't necessarily mean it's safe without the proper precautions.
"The key is that even though we're reopening, the virus is still circulating," says Dr. McCort. "We still see cases, so be extremely cautious about hand washing and continue to maintain your distance from others."
Get Free Coronavirus Support for Chronic Illness Patients

Join the Global Healthy Living Foundation's free COVID-19 Support Program for chronic illness patients and their families. We will be providing updated information, community support, and other resources tailored specifically to your health and safety. Join now.
COVID-19 Industry Guidance: Fitness Facilities. California Department of Public Health. July 1, 2020. https://files.covid19.ca.gov/pdf/guidance-fitness.pdf.
Interview with Brian Lima, MD, a cardiac surgeon who regularly works with chronic illness patients at the Sandra Atlas Bass Heart Hospital at North Shore University Hospital in Manhasset, New York
Interview with Margaret E. McCort, MD, an infectious disease specialist at Montefiore Health System in Bronx, New York
 Jang S, et al. Coronavirus disease cluster associated with fitness dance classes, South Korea. Emerging Infectious Diseases. May 15, 2020. doi: https://doi.org/10.3201/eid2608.200633.
Rheumatoid arthritis: Is exercise important? Mayo Clinic. July 10, 2020. https://www.mayoclinic.org/diseases-conditions/rheumatoid-arthritis/in-depth/rheumatoid-arthritis-exercise/art-20096222.