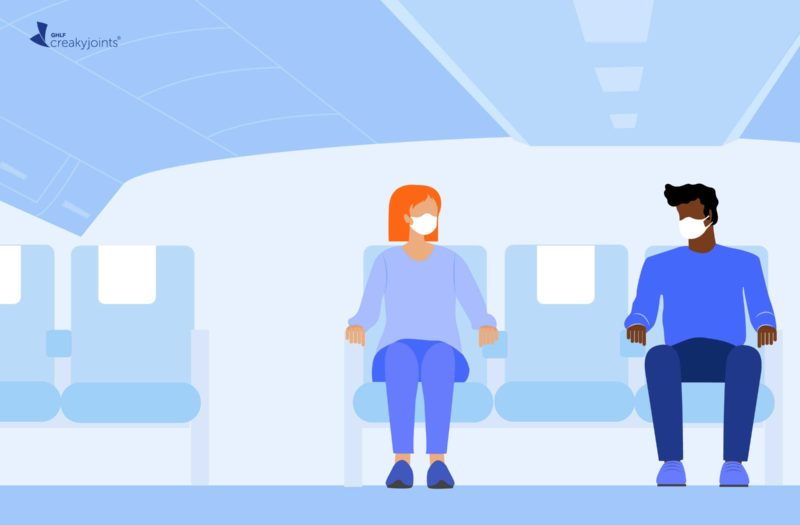 Flying by airplane may have been your go-to method of traveling, especially if your arthritis or other chronic illness makes it difficult to drive for long periods of time. You may also feel particularly tempted to travel if your loved ones live far away and you haven't seen them throughout the COVID-19 pandemic.
The Global Healthy Living Foundation and CreakyJoints conducted a poll of our members — many of whom live with underlying health conditions that increase the risk of severe illness from COVID-19 — to understand what risks people living with chronic illness are willing to take. While 8.5 percent of respondents said they have gotten on an airplane or train or would in the next month or two, 91.5 percent say they would only do so when the threat is much lower or completely gone.
Respondents were less likely to get on an airplane or train than attend an outdoor gathering of more than 20 people, eat inside at a restaurant, or stay at a hotel.
It's worth thinking carefully about taking a flight if you're in a high-risk group for COVID-19 complications or take medication that affects your immune system. The U.S. Centers for Disease Control and Prevention (CDC)advises those who have an increased risk of severe illness from COVID-19 to limit their travel during the pandemic — including by airplane.
You're likely well aware of the risks you need to balance when deciding what to do and where to go during the COVID-19 pandemic. The general guidance to follow is simple, yet not always easy to adhere to:
Maintain a social distance of six feet or more from people outside of your household whenever possible.
Wear face coverings when out in public and when you can't be socially distant.
Wash or sanitize your hands frequently and disinfect commonly touched surfaces.
Avoid large groups or situations when it will be hard to be socially distant.
When spending time with others, being outdoors is safer than indoors.
Traveling by plane is tricky because it requires you to be indoors (both on the plane and in the airport), sitting in a small space near other passengers for a prolonged period of time, and passing many others before and after your actual flight (in security lines, at baggage claim, and so forth).
This can be particularly concerning if you're in a high-risk group for COVID-19 complications.
Before you book your next flight, here are the risks to take into consideration, and how to stay safe if you do need to travel soon.
Air Travel Risks During COVID-19
 When you're on an airplane, it's practically impossible to properly practice social distancing (staying at least six feet from other people). Depending on which airline you travel, the middle seat may be left open to allow for more space between you and other passengers, but you'll likely still be within six feet of others.
In fact, the World Health Organization considers sitting within two rows of a person infected with a disease as "contact" with that person, and mask wearing may or may not be strictly enforced on your flight.
The reason social distancing and mask wearing are so important for the prevention of COVID-19 transmission is because the virus largely spreads when respiratory droplets travel from an infected person to another person nearby through coughing, sneezing, or talking. The CDC considers social distancing one of the most effective ways to avoid being exposed to the virus right now.
Even if you are lucky enough to not be seated near other passengers, people usually don't stay put during a flight. In a 2018 study published in the Proceedings of the National Academy of Sciences, researchers followed the movements of passengers on 10 transcontinental flights and simulated transmission of infectious diseases based on the data.
They found that 38 percent of people left their seats once during their flight, 13 percent left twice, and 11 percent left more than two times. The median amount of time spent out of the seat for each passenger who got up was more than five minutes.
The researchers did note that there is low probability of direct transmission to passengers who are not seated in close proximity to infected passengers. Because of the way air circulates and is filtered on airplanes, most viruses and other germs don't spread very easily on flights, per the CDC.
"Airplanes do a lot to keep the airflow in the airplane clean, and that's reassuring, but it's not a substitute for creating space and wearing masks," says David Aronoff, MD, director of the Division of Infectious Diseases at Vanderbilt University School of Medicine in Nashville, Tennessee. "I would try to avoid planes that are small if you can."
Even those with COVID-19 who are asymptomatic can contaminate their surroundings, per a June 2020 study published in the journal mSphere. Air travel, of course, also requires standing in security lines and waiting in airport terminals, which can bring you close to other travelers and frequently touched surfaces even when you're not in flight.
Although surfaces are considered to be a less common route for COVID-19 spread than respiratory droplets, it is possible to contract COVID-19 if you touch a surface or object that has the virus on it, then touch your mouth, nose, or eyes.
"Because of disease activity being as high as it is across the United States, I continue to urge people to travel only when necessary and limit recreational travel by airplane," says Dr. Aronoff. "Now is still the time to be prioritizing the need for travel based on when it really feels essential."
Guidelines That Airlines May Follow
Throughout the COVID-19 pandemic, airlines have implemented guidelines to different degrees of stringency. Many airlines have mandated that crew members and passengers wear face coverings (throughout check-in, boarding, and the flight itself), and some limit capacity or block middle seats to allow for more social distancing.
On your flight, you may be given a pre-packaged meal or snack in lieu of meal service, and wet wipes or hand sanitizer upon entering the plane or during your flight. The Transportation Security Administration is also now allowing one liquid hand sanitizer bottle up to 12 ounces per passenger in carry-on bags (until further notice).
The CDC has established guidance for airlines to handle sick travelers, which includes reporting travelers with COVID-19 symptoms and following routine operating procedures for sanitizing aircraft and wearing personal protective equipment.
How to Stay Safe During Air Travel
If you need to travel via airplane, do your research ahead of time to determine what the airline you're considering using is doing to reduce the spread of COVID-19.
"That can include pre-screening employees or travelers to reduce the likelihood that someone with signs or symptoms of COVID-19 is on a plane, creating opportunities for spacing, and making sure there are good opportunities for hand hygiene," says Dr. Aronoff. "I would also want to see that the company is requiring masks for customers and employees."
Once you get to the airport, keep your distance from other travelers as much as possible and clean your hands frequently. And of course, wear a face covering throughout the duration of your trip.
"While waiting, try to stand apart from people you are not traveling with," says Dr. Aronoff. "Use hand hygiene practices regularly, wear a mask, and avoid those who are not wearing a mask."
Wash your hands after going through security, and whenever else you touch a surface (using hand sanitizer with at least 60 percent alcohol can be helpful after you buckle your seatbelt or use the tray table, for instance).
It can also be beneficial to take the following precautions before and during your flight:
Bring your own snacks so you don't need to buy food at the airport (many restaurants may be closed at airports anyhow).
Feel free to buy a bottle of water at the airport to stay hydrated, but it could be helpful to clean the lid with a disinfectant wipe before opening it.
Minimize conversation with other travelers unless you're six feet apart and both wearing masks.
It may also be worth looking at your airline's policies for changing or cancelling a flight, in case community spread of COVID-19 spikes in the area you're traveling to. Importantly, be willing to cancel your trip if you're not feeling well before traveling.
Choosing Seats
Even if you're normally an aisle person, the window may be your best bet right now. According to the Proceedings of the National Academy of Sciences study, passengers in window seats appear to have the lowest likelihood of coming in contact with an infected person.
When you're seated by the window, you have less exposure to flight attendants and passengers who are walking the aisles of the plane. Flight attendants, in particular, spend a large amount of time speaking with passengers and walking throughout the plane. In fact, the researchers found that a sick crew member has a probability of infecting around five passengers.
The study showed that not only were window seat passengers less likely to get up during the flight than those in aisle seats (43 percent versus 80 percent, respectively), but they also had a median of 12 contacts compared to 58 for those in middle seats and 64 for those in aisle seats during their flight.
If your airline's policy is to reduce capacity or block middle seats, but you still get crammed between other passengers, it's worth asking if you can be reseated.
"To help justify that, it might be helpful to have an official letter from your doctor saying that you have a chronic illness, including the medications you're prescribed, since you'll need to take those with you in your carry-on," says Brian Lima, MD, a cardiac surgeon who regularly treats chronic illness patients at the Sandra Atlas Bass Heart Hospital at North Shore University Hospital in Manhasset, New York.
Have a Contingency Plan for Health Care at Your Destination
Before you take off, jot down a few notes about where you would go (and which doctor you would see) if you needed to seek health care at your travel destination. Your physician may be able to recommend colleagues or medical centers in the location you're going to.
It's also a general best practice to get clearance from your doctor before traveling, and make sure you have enough medications in your carry-on bag to last a few days in case your luggage gets lost.
Overall, if you're in a high-risk group for COVID-19 complications, think carefully about if air travel is truly essential right now. Speak to your doctor for help assessing your risk level of complications due to COVID-19, and for more safety precautions that may be specific to your particular city or condition.
"It's a challenging time to travel, and I think we're still figuring out how it's all going to go," says Dr. Lima. "If it's something you can put off, it may be a good idea to do so until we have a more solid handle on things moving forward."
Get Free Coronavirus Support for Chronic Illness Patients

Join the Global Healthy Living Foundation's free COVID-19 Support Program for chronic illness patients and their families. We will be providing updated information, community support, and other resources tailored specifically to your health and safety. Join now.
Considerations for Travelers—Coronavirus in the US. U.S. Centers for Disease Control and Prevention. June 28, 2020. https://www.cdc.gov/coronavirus/2019-ncov/travelers/travel-in-the-us.html.
Hertzberg VS, et al. Behaviors, movements, and transmission of droplet-mediated respiratory diseases during transcontinental airline flights. Proceedings of the National Academy of Sciences. February 13, 2018. https://doi.org/10.1073/pnas.1711611115.
Interview with Brian Lima, MD, a cardiac surgeon at the Sandra Atlas Bass Heart Hospital at North Shore University Hospital in Manhasset, New York
Interview with David Aronoff, MD, director of the Division of Infectious Diseases at Vanderbilt University School of Medicine in Nashville, Tennessee
TSA's tips for flying during the coronavirus pandemic. Transportation Security Administration. April 15, 2020. https://www.tsa.gov/news/press/releases/2020/04/15/tsas-tips-flying-during-coronavirus-pandemic.
Wei L, et al. Asymptomatic COVID-19 Patients Can Contaminate Their Surroundings: an Environment Sampling Study. mSphere. June 12, 2020. doi: https://doi.org/10.1128/mSphere.00442-20.
What Is Social Distancing? The U.S. Centers for Disease Control and Prevention. July 12, 2020. https://www.cdc.gov/coronavirus/2019-ncov/prevent-getting-sick/social-distancing.html.
WHO technical advice for case management of Influenza A (H1N1) in air transport. World Health Organization. May 13, 2009. https://www.who.int/ihr/travel/A(H1N1)_air_transport_guidance.pdf.