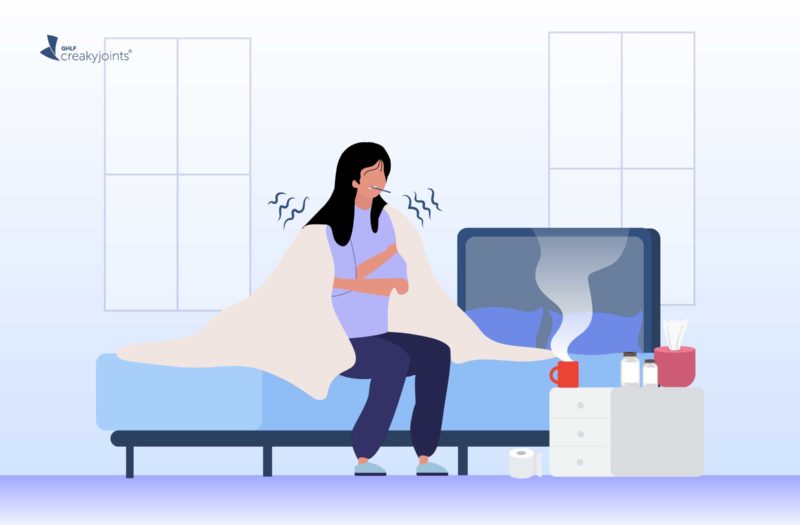 If your immune system is suppressed thanks to an autoimmune ailment or a medication you use to treat it, then you might worry that your risk of developing serious complications from COVID-19 is much higher than average.
Although it never hurts to take extra protections, no one really knows whether having an autoimmune condition puts people at a higher risk for COVID-19 infections or complications. Now emerging — though still preliminary — research suggests that autoimmune patients may not be.
While the currently available data is still limited, a new case series published as correspondence in the New England Journal of Medicine, a prestigious medical journal, looked at the impact COVID-19  has had on people with autoimmune disease and compared it to its impact on the general population in terms of the need for hospitalization.
The authors of the report identified 86 autoimmune disease patients in New York City who were diagnosed with COVID-19. Fourteen of those patients (16 percent) needed to be hospitalized, which was actually lower than the rate of hospitalization for people in the general population in New York who were diagnosed with COVID-19 (26 percent).
Autoimmune patients in the study — which included those with psoriasis, rheumatoid arthritis, psoriatic arthritis, and inflammatory bowel disease, among other conditions — were more apt to require hospitalization if they also had high blood pressure, diabetes, or chronic obstructive pulmonary disease (COPD). Those comorbidities have previously been linked to an increased risk of complications in people without autoimmune disease.
The authors also determined that "baseline use of biologics [in people with autoimmune disease] is not associated with worse COVID-19 findings."
While scientists are still learning about COVID-19 and how it affects different patient groups, the findings of this report are consistent with data gathered during outbreaks of SARS and MERS, which are related viruses to this new strain of coronavirus. Previous research had found that people with rheumatic disease taking immunosuppressive medication were not any more likely than others to die during SARS and MERS outbreaks.
More research on larger numbers of autoimmune patients is currently being conducted and we will share new data as it comes out.
Get Free Coronavirus Support for Chronic Illness Patients

Join the Global Healthy Living Foundation's free COVID-19 Support Program for chronic illness patients and their families. We will be providing updated information, community support, and other resources tailored specifically to your health and safety. Join now.
Haberman R, et al. Covid-19 in Immune-Mediated Inflammatory Diseases — Case Series from New York. New England Journal of Medicine. April 29, 2020. doi: https://doi.org/10.1056/NEJMc2009567.